Ah, Berlin.
I first visited Berlin in 1970 while a student at Stanford-in-Germany (Beutelsbach), on our spring field trip. There were then two Berlins, West and East, and on May 1st, the big communist holiday, I visited both. You could get a day pass to the east side, but woe unto you if you failed to get back by midnight! Lots of submachineguns at Checkpoint Charlie, held by very serious looking soldiers who looked quite willing to use them.
I took a commuter train out of East Berlin for fun (highly illegal). Dressed as a local, and with my good Polish looks and a decent command of German, everyone thought I must belong there, maybe a Pollack from the east? Taking pictures in a train station, a local person warned me that I could get arrested for doing that, as train stations were considered military assets. So I hopped back on a train and made my escape from East Germany unscathed. Stanford would not have appreciated me causing an international incident.
One of the riveting sights along Kurfürstendamm was the bombed out remains of Kaiser-Wilhelm-Gedächtnis-Kirche (Kaiser Wilhelm Memorial Church). Kudam has changed, and they have chosen to partially 'restore' it. I thought the original had more impact.
Today (2016). Somehow the shiny green covering of the roof removes the feeling of being burned out. It may be that it was necessary to keep it from deteriorating.
Judy and I visited Berlin in 2014, but she was rather weak by that point due to her multiple illnesses, and though we enjoyed the reunified city, our range was limited. So I decided to go back to see what we had missed.
We had stayed in the Wilmersdorf area of Berlin, south of the zoo, and liked the neighborhood, so I rented an AirBnB apartment there for a week. (I'm trying to stay at least a week in most places, so I have time to get to know them like a local).
My apartment is in one of the many old 5 story buildings in this neighborhood. No elevators. In this case, just a one floor walk up to a spacious, very old-fashioned apartment. This is the courtyard.
Just across the street is the Marie-Curie 'Gymnasium'. This is the German equivalent of high school and junior college combined. Gotta like the neighborhood with company like this. If you care about science, Marie-Curie is a huge heroine.
At the corner of the school, student artwork? A New Age totem pole?
This is the Reichstag building. There is a big glass dome you cannot see from this view, but which has panoramic views over Berlin. You can register and get to tour it for free.
What it used to look like.
A distant view where you can see the big glass dome with a spiral walkway to the top.
While up there I made some new friends (I offered to take a group picture for them, and it went from there).
They are from Tunisia, and extended a warm invitation to me to visit their country. As with most of the Muslims in the world, they were quite friendly and their only concern about America was if we were really likely to elect Donald Trump as president. I assured them that that was very unlikely.
Nearby is the very old Brandenburg Gate, first built here in the 1700s, as a real regulated access gate to the city.
Drinking fountain, old style.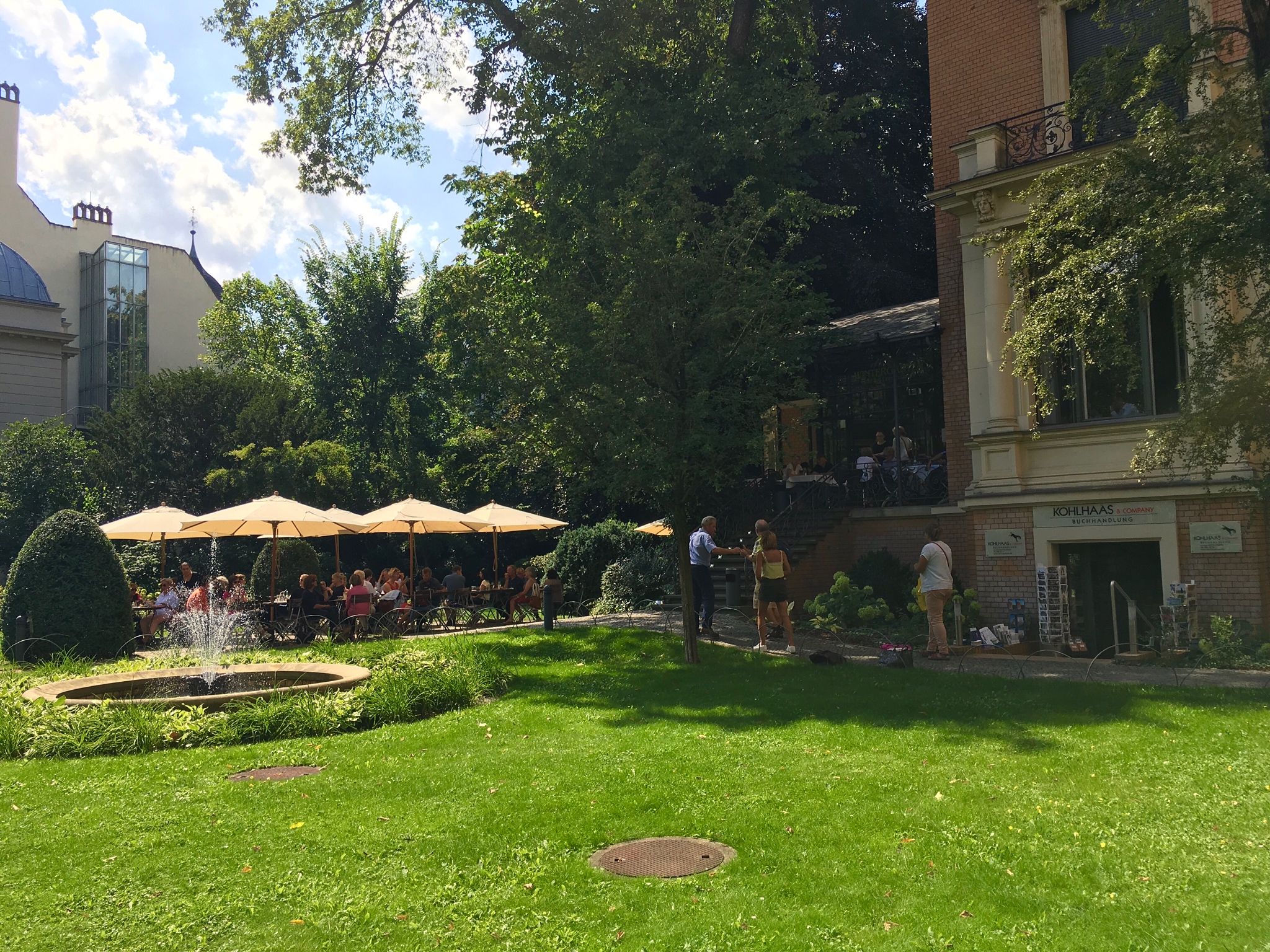 Many cafe choices
Lunch, Berlin-style.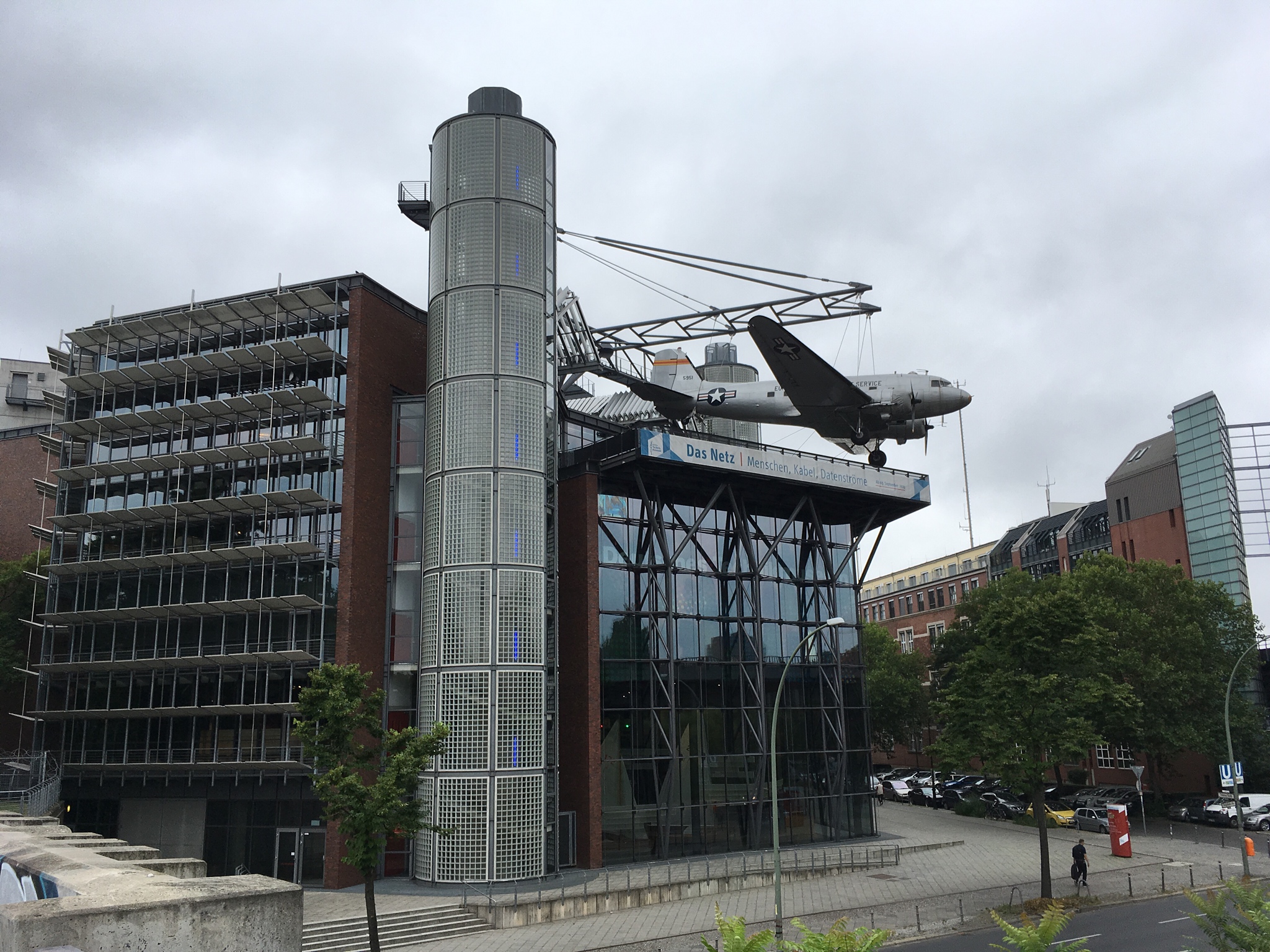 The German Technical Museum is a lot of fun. They even have a big collection of locomotives.
This is a single cylinder Diesel engine made in 1921.
As I walk the streets of Berlin again, it reminds me of how deep the cultural ties are between America and Europe. We may sometimes forget, but for a long time, we were primarily made up of a whole bunch of European immigrants. They were us. We didn't always treat the newest wave of arrivals well, but it pretty much worked out. In some ways, things have not changed.
A dream story:  (skip on to the next pictures if you prefer)
Dreams are one of of the miraculous oddities of our brains (along with humor). How amazing it is that our sleeping brain can put together movies with sound and color by itself, without our conscious control, and that we can often remember them. We have them, but do not control them. They probably serve a purpose, but it is hard to be sure exactly what that is. Certainly, sometimes worries that you consciously suppress come out in dreams, and perhaps release the anxieties.
A few nights ago, sleeping in Berlin, I had this dream:
Judy was down at a cove at the beach (somewhere vague, dreams are often like that) and I drove the rental car I had down to join her. After awhile, we walked back from the beach, and I forgot about having brought the car there. Next in the dream, it is morning, and I remember that I forgot to drive the car back. I go to the edge of the cliff above the cove, and to my horror, I see that a very high tide came up during the night, and all that is left of the car is the frame and headlights. Uh oh. This must be the car I rented in Madeira with no insurance, so they told me I was liable for the full cost of replacing the Fiat Panda, about $14,000 USD. Not good.
Then, as I drifted up from sleep slowly, I hit that lovely half-asleep, half awake part where my conscious brain was present, and it dawned on me that I wasn't in Madeira, but in Berlin, so this wasn't really happening. What a relief! As I came awake, I moved from that cliff side and those concerns to the warmth and comfort of my cozy bed. All was well.
Later, I walked on over to the Berlin Botanic Garden. Along the way, I passed this park: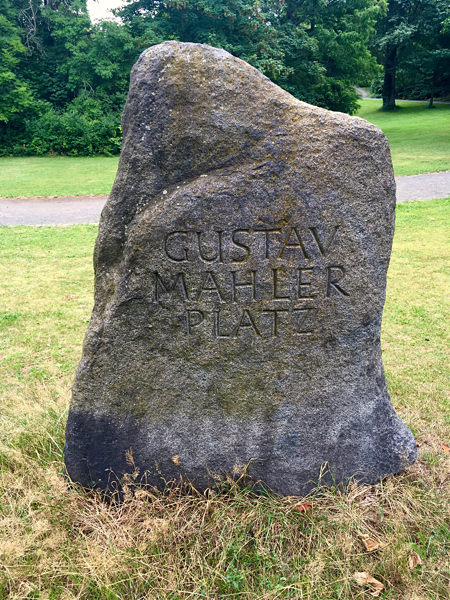 So many great German composers! But Mahler was actually born in Bohemia, now part of the Czech Republic. Beethoven was German, Schubert was Austrian, as was Adolf Hitler!
There is an entrance fee, 3 to 5 euros, quite reasonable. It includes a fine museum, although I found the museum of limited use, as almost all of the elaborate display signs were in German, and though I speak decent German from my days as a student here, scientific German is challenging.
But there are lots of beautiful plants and flowers:
Still rainy and cool in Berlin in early August. Can't let the weather hold me back, so I rented a bike and rode around 'Grosser Tiergarten', 'Greater Animal Garden or Zoo', which is actually a huge forested park in the middle of Berlin. It does adjoin the Berlin Zoo.
Peering into the actual Zoo from next door at the park.
Chimes playing.
In 1970, I visited the Berlin Zoo, and liked the way they had open animal enclosures using trenches to separate you without a cage look. So I went back.
These days, visiting zoos makes me a little sad. I love being able to see exotic species, and the Berlin Zoo is a lot like a park that happens to have animals. However, if you empathize at all with the animals, it is hard to not think about how you would feel if you were in their place in the zoo. Even the best zoos are not close to what the animals live like in the wild.
Which leads me to say: see animals in the wild if you can, rather than in zoos. Try to get your local zoos to give the animals more room and better conditions. Work to conserve our wild areas so that our many fellow creatures that live there may continue to have good lives like us.
A friend of mine from Munich emailed me and said I really should visit Potsdam, a historic city just west of Berlin. So, on the first sunny day since I'd arrived in Berlin, I headed over ther
I will not attempt to recount the long history of Potsdam. I'm just going to give an impression of what it is (and how it compares with Berlin) and show a collage of pictures.
Berlin is urban, but with lots of tree-lined neighborhoods, cafes, shops, museums and culture. Potsdam is less dense, with lots of parks, palaces, grand buildings, bike paths, and water. I rented a bicycle and spent many hours cycling around, and loved it.
This bridge was part of the border between East Germany (on the left) and the West Berlin zone (on the right). It was actually used for prisoner exchanges.