Madeira Island, Portugal is a very rugged volcanic island rising out of the depths of the Atlantic Ocean about 300 miles south and 500 miles west of Portugal, at about the same latitude as Marrakesh. It first emerged from the ocean about 5 million years ago. These mid-Atlantic rift islands were created as a result of the plates for America and Africa separating, and are an example of intra-plate volcanism. The water surrounding Madeira is more than 6,000 feet deep. The part of Madeira above the water is only 4% of the mass of the whole volcanic edifice! We're just seeing the tip. The mountains go up to over 6,000 feet high.
Madeira was colonized by Portugal in the early 1400s, and became the leading sugar producer in the world by the end of that century (with a particularly brutal use of African slave labor—they worked the slaves so hard most of them died eventually, and then got more to replace them) Slavery was abolished in Madeira in 1777.
I was surprised while doing some research on this subject to find that how widespread slavery was in the Middle Ages, and not limited to Africans: Japanese, Chinese and Europeans all were taken and sold as slaves, men, women and children. Not a pretty picture!  Britain began working to ban the transatlantic slave trade in the early 1800s. It  was only after the American Civil War that America and Britain together enacted a treaty banning that slave trade in 1869.
In recent years, Madeira has been the focus of major development as a resort destination, helped by EU funding. At the airport, I saw planes from all over Europe. On the trails, I met visitors from Berlin, France, and even Vilnius, Lithuania, one of my upcoming destinations. As you can fly here in just 2 to 3 hours from most of Europe, it is an easily reachable vacation destination, and popular.
A local man said he remembered when there were no roads connecting Funchal with the west end of the island. Now, dozens of long tunnels and modern highways do so. Apparently, in the process of various development efforts, even with the help of the EU, Madeira has accumulated a public debt twice that per capita as Portugal. This may lead to future debt problems like has happened in Greece.
Development is focused on the steep fringe near the ocean, and those hillsides are becoming covered with homes. Madeira has much to offer, and it retains much of its charm in spite of this. Much traditional life has survived in the more rural areas.
I was drawn to Madeira because good friends own this home there, and wanted me to visit them, and I was intrigued by having seen pictures of its rugged mountains.
They told me not to be surprised that there were '50' tunnels on the highway between the airport and their home in Prazeres. That was a joke. There are only 36! Apparently there are more tunnels here for the area than even Switzerland.
Here you can see my little rental Fiat Panda (67 HP) parked in front. They should call it a 'Baby Panda'. But it is tiny, well suited to a small island, and gets excellent mileage. They drive on the right here, and per the Portuguese tradition, fast and aggressive driving is the norm. This is a bit of an adjustment for a polite Hawaiian-style driver.
As in Hawai'i, an elaborate system of water canals (levadas) was built to service the sugar cane industry, here by slave labor. With the aid of EU grants, it has been modernized, and provides many miles of good hiking opportunities in the mountains. More than 1,350 miles of levadas were built, with 25 miles of tunnels where necessary. This is an amazing network, considering the size of the island! While some are large, there is an elaborate distribution system of small channels. They don't all flow at once–your channel may just get water 2 or 3 hours a day, on a rotating basis. There are now 23 official levada walking paths along the larger channels that are still in good condition.
Madeira is not a big island, about 42 miles long and just 14 miles wide. Because of how rugged it is, it can take longer to get somewhere than you might think. For example, for one drive to a levada on the other side of the island, 48 miles, Google Map estimates it will take more than 1 ½ hours. Still, in a week here I should be able to explore much of the island.
On my first full day here I drove the above routes, and hiked on two different levadas, here noted in lime green. I began with the Rapozieras levada near Prazeres.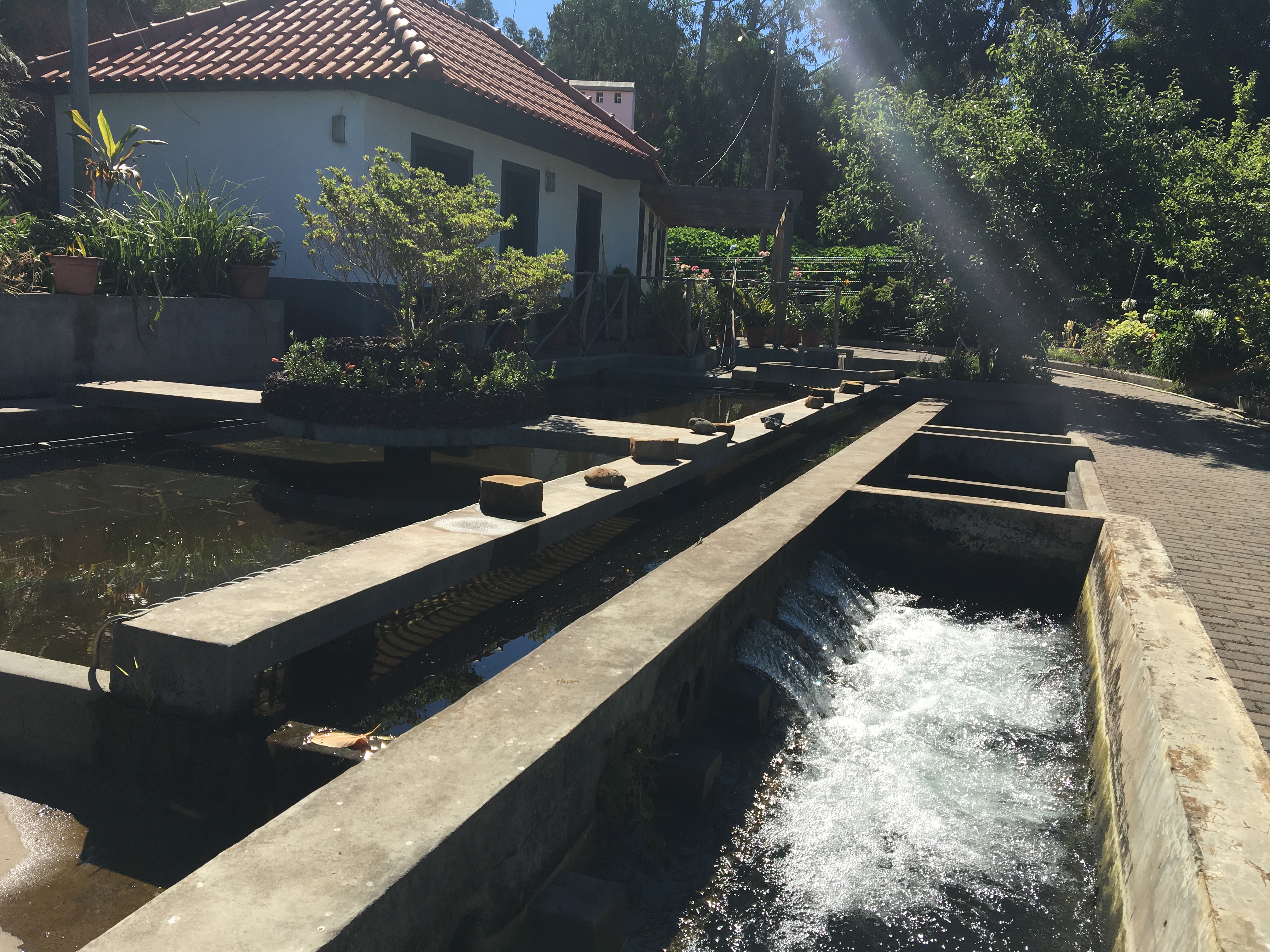 This is a distribution facility for this levada. I began my hike there.
The canals are now lined with concrete, and this levada carries quite a bit of water to local agriculture. I estimated the water to be flowing at about 1 ½ miles per hour down this 1% slope, carrying approximately 8 cubic feet per second (60 gallons a second), with diversions along the way downslope to various areas. This is not small potatoes! It amounts to more than 5 millions gallons of irrigation water a day just for this canal, and there are many.
Water comes in at various points along the way, such as at this cliff/gully. This particular hillside is mostly Eucalyptus, which is not what the Portuguese settlers found. Eucalyptus is now considered invasive.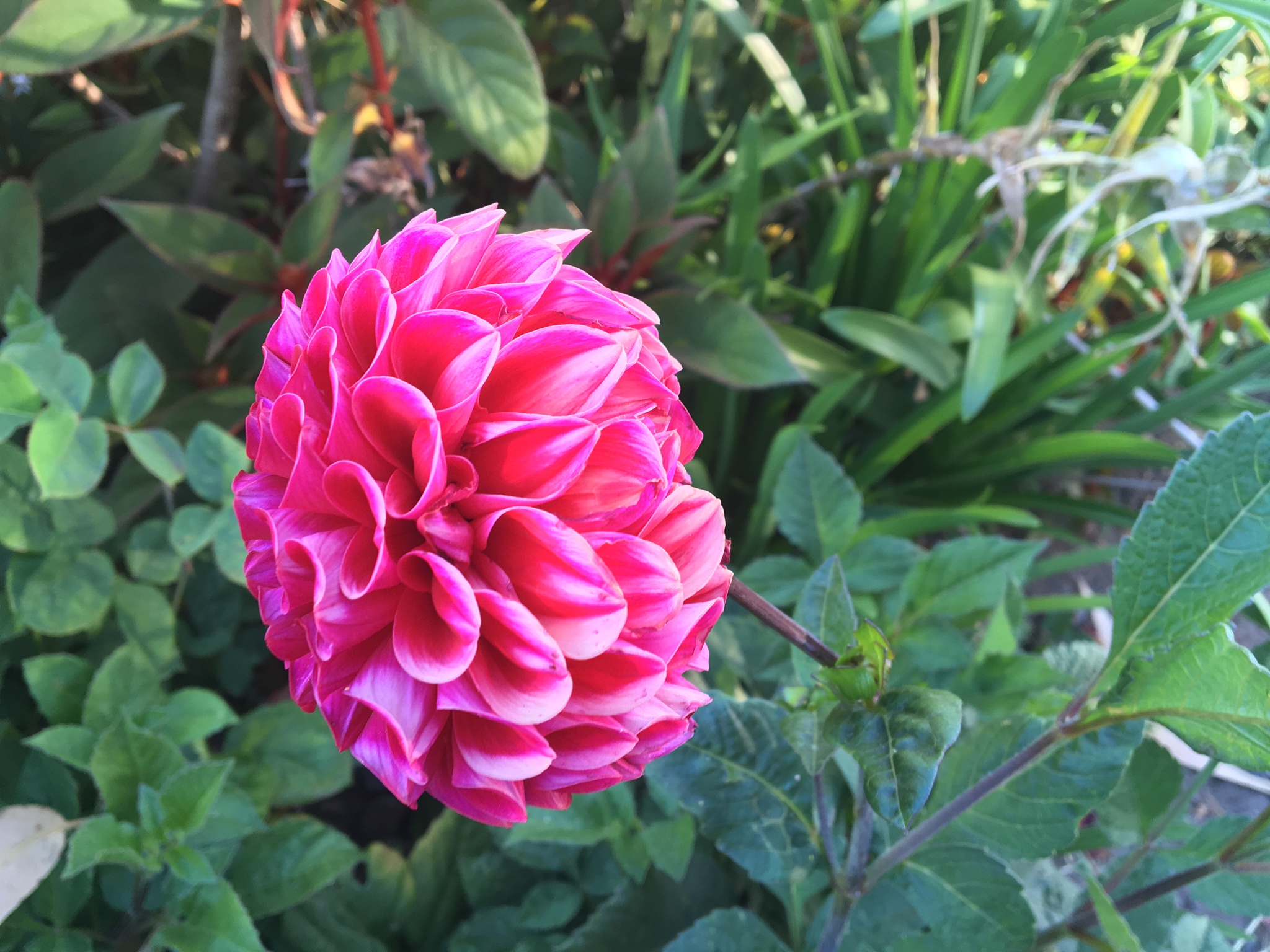 Some lovely flowers are along the way.
On the upland roads, you share the road with cows. Sometimes you have to wait till they move aside. They do seem to be used to the arrangement.
On the hill down towards Porto Moniz, on the northern tip of Madeira Island.
Porto Moniz is accessed by a very steep switchback road. This is the wetter side of Madeira, with lush ferns and dense foliage.
My next levada walk was Levada de Risco. This is a very popular walk, and it was a challenge to find an empty parking space. It starts high in the center of Madeira.
The first part of the walk is along a one lane road going down to the former Rabacal home, now abandoned. These cows were on the walk, perhaps? That's mama in front, her red-haired calf following along.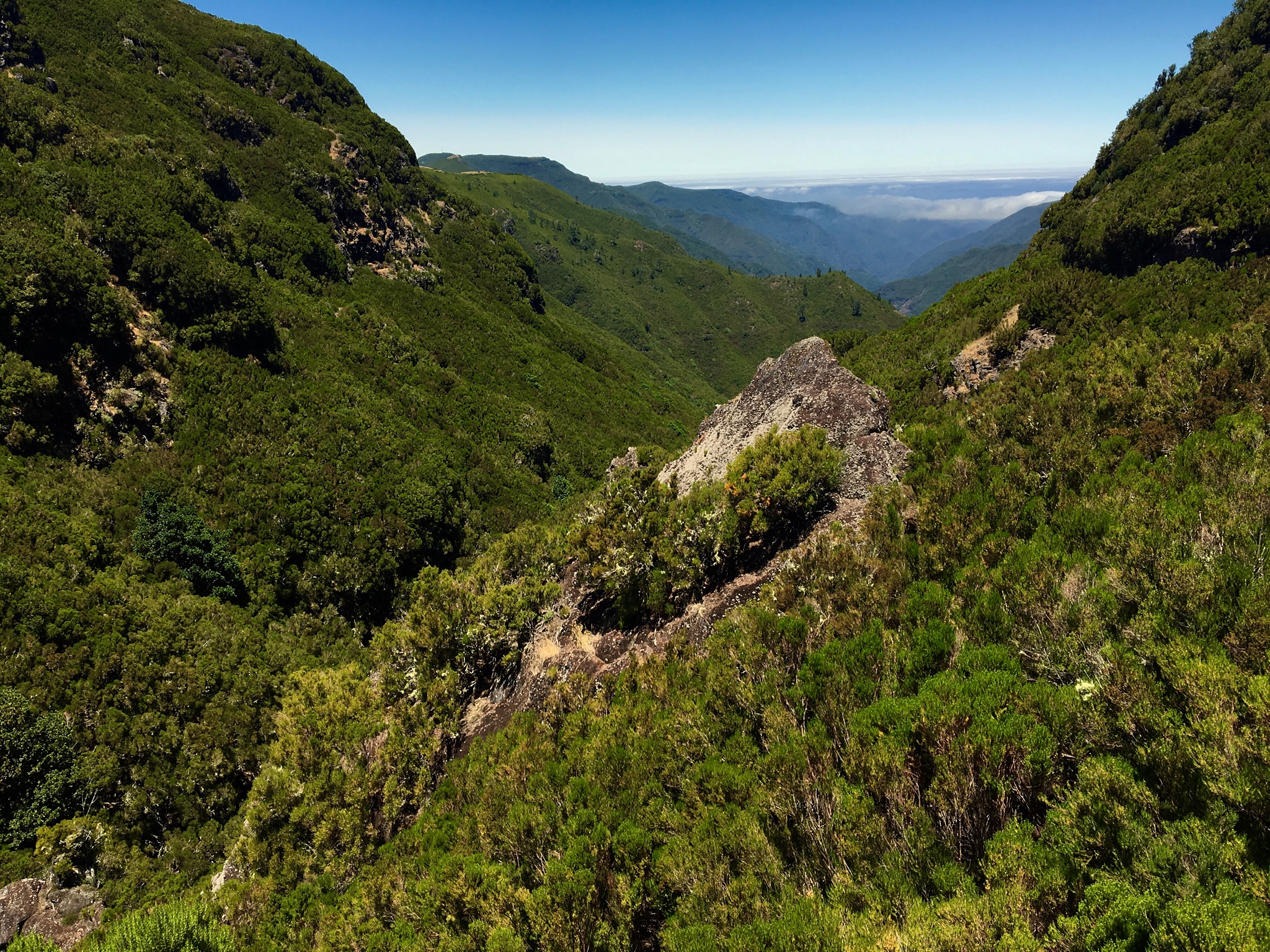 This is the canyon you walk down.
Further along, the path narrows, and runs along a steep hillside covered with ferns and moss.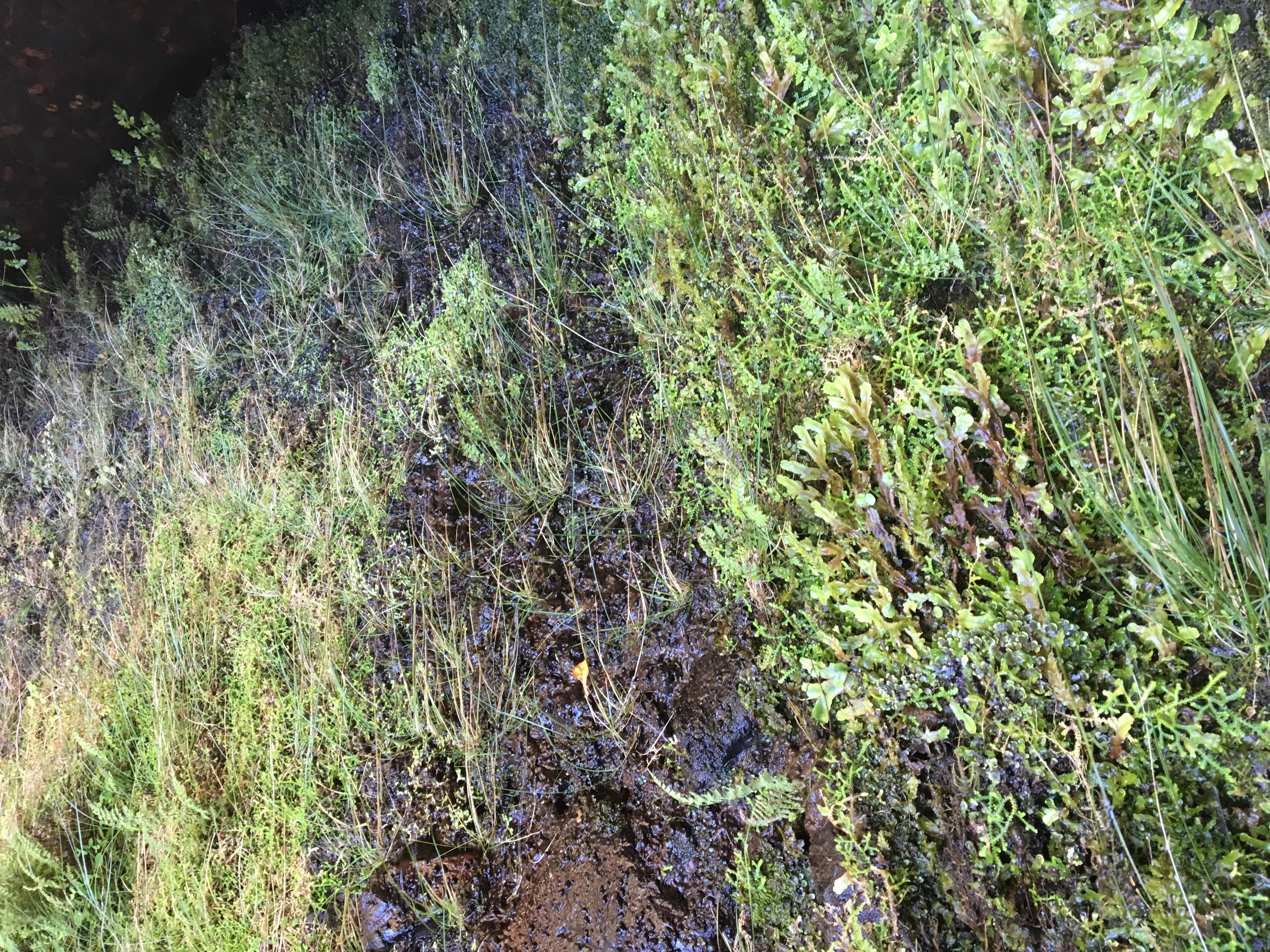 The hillside oozes water.
At the Rabacal house.
Then you arrive at the Risco waterfall, very high and elegant. If you approach it, the wall to the right is literally raining a drizzle of water down on you. I stood there on purpose and got my hat and shirt wet so the evaporation would cool me on the hike back. There is a tunnel here that allows walking under the base of the waterfall, and around to the other side where a levada runs down the far side of the canyon. It now has a locked door preventing access, probably due to damages making it dangerous. Too bad, that would be literally cool.
For my second day of hiking, I decided to stay in my neighborhood, Prazeres. I found this nearby trail, with the kind of dramatic verticality I like. The village, Paul do Mar, is about 1800 feet below. If you look closely across the way, even the steep area below the rocky point has been terraced. It sure looks like hard work! Grain was grown here in years past, but most of the plots are no longer in cultivation. If you look closely here, at the top right of the picture, below the trees, is a bump. That is a viewing point, and later, I walked down there from the other side of this canyon.
I like the vertigo warning! I've never been afraid of heights, myself. I'm not too sure what vertigo feels like.
A view of the upper slopes, from about 2000 to 3000 foot elevation. If you look closely, you can see a house on the left side of this picture, about ¼ of the way down. Though being in a very hard to get to location, someone is living there and growing a garden just below the house.
As you descend through the canyon, the way is a dramatic series of switchbacks. Imagine climbing the World Trade Center replacement building, 'Freedom Tower' (1200 feet) by stairs, and going 50% higher.  It was a puffer climbing back up, a steady 34% grade. When I got down to Paul do Mar, I'd wished I'd brought my swimsuit. The water temperature in the protected cove was about 68°F. I think I'll go back by car and take a swim in their protected cove. My friends here warned that the open water is quite cool out here in the deep water Atlantic.
And there were flowers along the trail.
Down at Paul do Mar, I rested a bit in a harbor side cafe, and had a cold drink. A rather handsome dog came over, and I made a new friend. Should he be in the redhead picture collection?
Then, I soaked my tee shirt and hat in cold water, and headed back up the hill.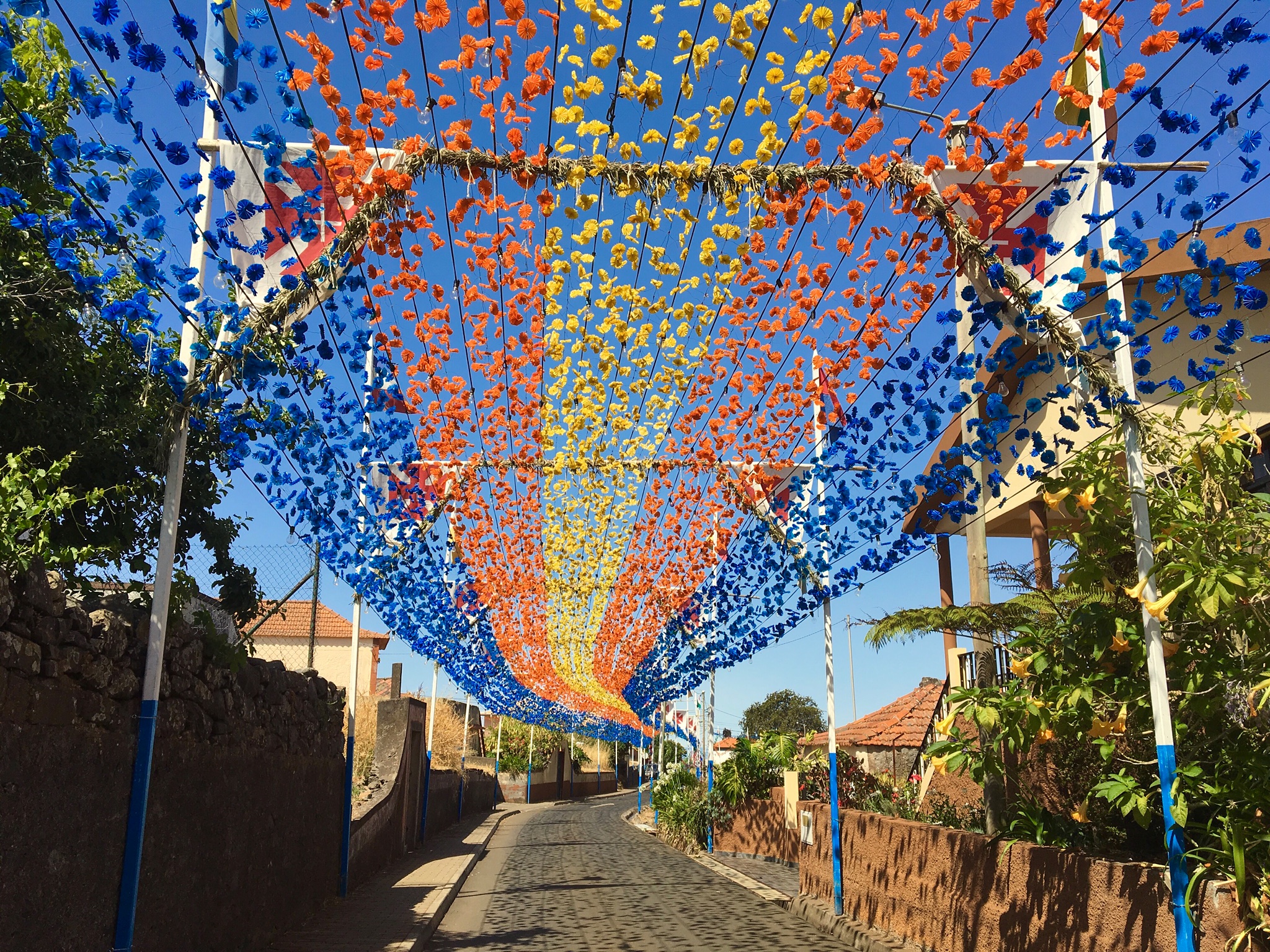 Prazeres is getting ready for a big Roman Catholic religious festival next week (after I leave!). Wish I could be here for it.
A traditional building.
If you look closely, you can see these on the corners of the above roof.
Another, near the house where I'm staying.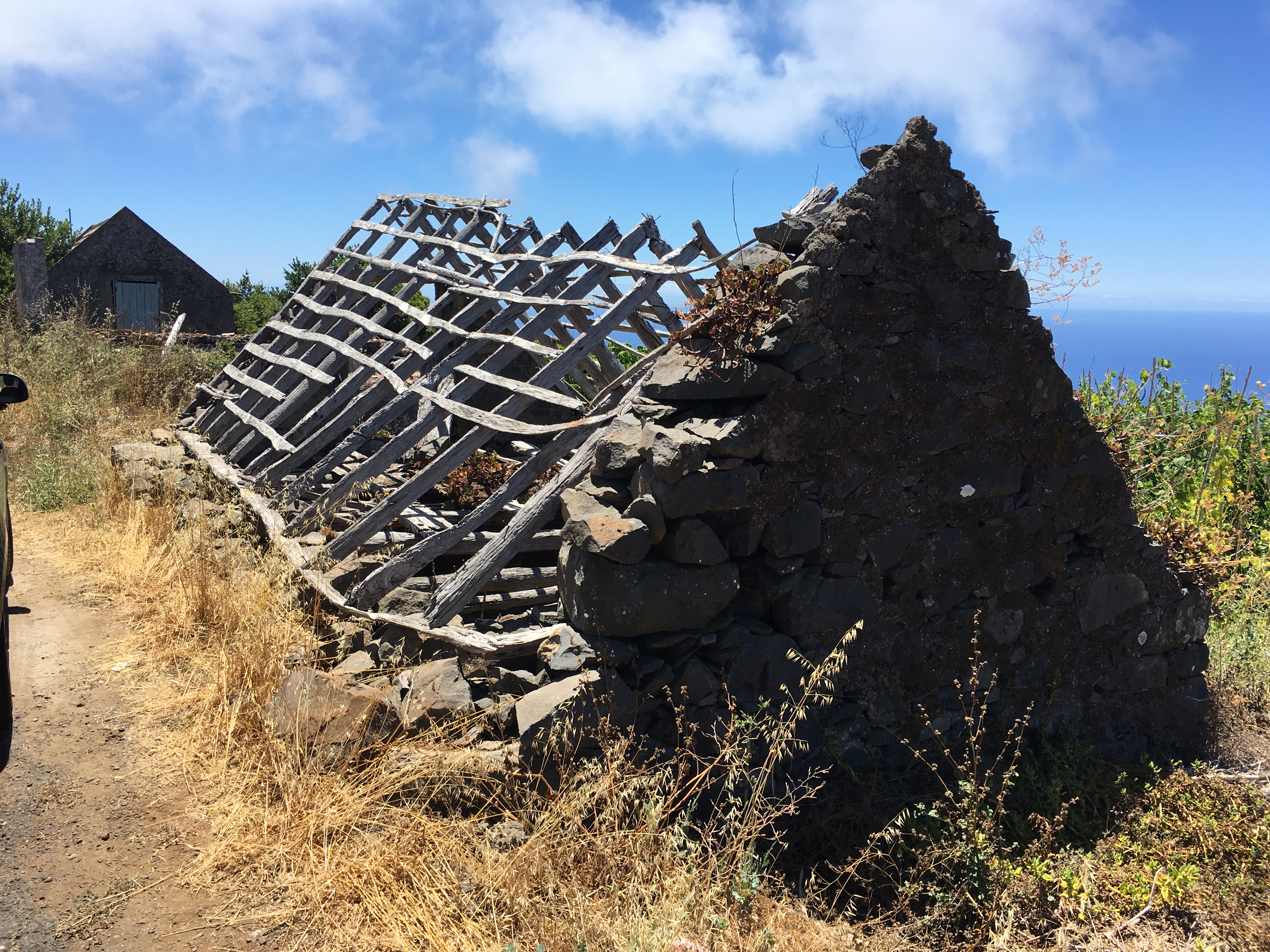 And here you see the structural bones.
I decided to get up early and drive to the north coast and hike a couple of levadas. The trailhead is 48 miles from Prazeres, and Google Maps says that would take 1 hour 38 minutes. It took 2 hours, because some of the roads are so twisty and one lane along the north coast!
A very rough, tough place to live.
Along the northern coast of Madeira.
My first walk was this one, to Caldeirao Verde. It goes through an area which preserves the old original laurel forest of Madeira, which was once widespread amid Southern Europe and Northern Africa.
You walk by this traditional thatched roof noted in the above description.
Here you see some of the old laurel forest. The levada here is rather small compared with some others, but does function.
The hillsides are densely forested.
This particular levada was in large part literally carved out of the cliff sides. On a sheer cliff, they cut a notch into the cliff, and used the rock to build a retaining wall for the canal. In many sections, you now must walk atop this wall, as the cliff falls off vertically beyond that. In this picture, there is a wider path.
You have to duck your head to not hit the overhanging rock along the way. It is truly amazing that this was done. If not for these canals, these rugged remote valleys would have no possible trail access.
And sometimes they had to tunnel. On this levada wall, you go through four tunnels. The tunnel height varies from 4 to 7 feet high. You must have a light. I used the LED on my iPhone. You must keep remembering to duck. I think I hit my head 6 times. My padded hat helped me, but the last time, on the way back, I hit it so hard I cut my scalp through the hat! Perhaps it will leave a scar trace on my balding head, a remembrance.
The cliff walls along the way ooze water, and there are many wild flowers.
Lichens and mosses are abundant. Here, they are growing on some red lava.
Another tunnel!
Water, water everywhere!
In this case, three tunnels beckoned. If you read the sign correctly, you turn right. I did not. I went straight ahead, following the old mine cart rails. That turned into a sort of adventure.
After walking in more than a kilometer (.62 miles), the tunnel turned a bit, and I could no longer see the light of the entrance, nor any ahead. This began to make me a bit uneasy. No one else was in here, and I had no idea how long the tunnel was (some previous sections had been perhaps 600 meters long). I kept going. My survival training kicked in. What if I slipped and dropped my light? Or fell into the water channel and hurt myself? Who would find me here?
I'll pass on my training on survival. You may find yourself in the mountains slipping into a critical situation, and must stop and think about your options and dangers.
First, I stopped and checked how much battery I had in my iPhone driving the LED light. The good news was it uses very little, and I had 65% charge. I decided that at 60%, I must turn back in order to have enough to get through the other tunnels also. I began to be a bit more careful about how I walked, no slipping allowed, no dropping the light! That could be fatal. Even if I had a Personal Locator Device, it would be of no use inside a mountain tunnel.
Then, I saw the proverbial 'light at the end of the tunnel'. Ah, now I thought I must at least go on to see where this tunnel leads. On and on I went. It turns out that it was half a mile ahead! The tunnel was 2.1 km long, or 1.3 miles. Wow. It channels the water from the north side of the island to the south side. I literally walked under the mountain. "The bear went under the mountain, to see what he could see. The other side of the mountain, was all that he could see."
It was clear at the other end (which was pretty) that while I could walk on down that levada to the south coast, my car was on the north coast. So I sat down, ate a pear I'd brought, rested, and headed back. My mistake cost me an extra 2.6 miles of tunnel hiking. I walked very carefully on the way back!
The other side of the mountain.
After I headed back, when I emerged, I turned right as I should have done, and hiked up to the Caldeirao do Inferno levada, another 2.2 km and 800 foot climb. I will ask the local officials to better mark that other tunnel, length and destination. A German guy I met on the way back guessed that half of the hikers started down that tunnel by mistake!
The terrain got more rugged. I hoped that the trail would lead to the top, but it did not. That must be another trail, another day.
The trail led to the end of the valley, where a nearly vertical wall extending up 800 feet was raining a gentle shower down. This was impossible to show in a photograph, but was mesmerizing to see.
Another day, I headed up to Vereda do Areeiro to walk among the highest mountains in Madeira, to the top of Pico Ruivo, the highest one.
As I began the hike here, I was amazed at the wild rock formations. The size and variety made me think a bit of the Grand Canyon, but greener.
As I started the trail, I talked a bit with this family (who took the above picture of me). They are from Poland, near Kraków. Later, I met another couple from Poland. With Polish freedom restored, and prosperity along with it, I have been seen Polish travelers all over the world.
This area is a mix of soft 'pyroclastic' stone (a mix of ash and cinder), and seams of basalt that squirted up through cracks. These 'dikes' are harder rock, and they wind up standing alone when the softer rock weathers away. Here you can see a pair of narrow vertical grey dikes, and a pinnacle of the same material to the right.
These pretty birds, I believe a type of francolin, were common along the high trails above 6,000 feet.
There are so many pictures from this high mountain area that I thought you might like a collage of them:
Ah, but all things must pass, and my time on Madeira Island drew to a close. Up at 4:45am, pack up, and catch a flight via Frankfurt, Germany to Berlin.