Judy and I came to love Thailand, and returned many times. During one stay in Bangkok, I began studying Chen Tai Chi with a club in Bangkok.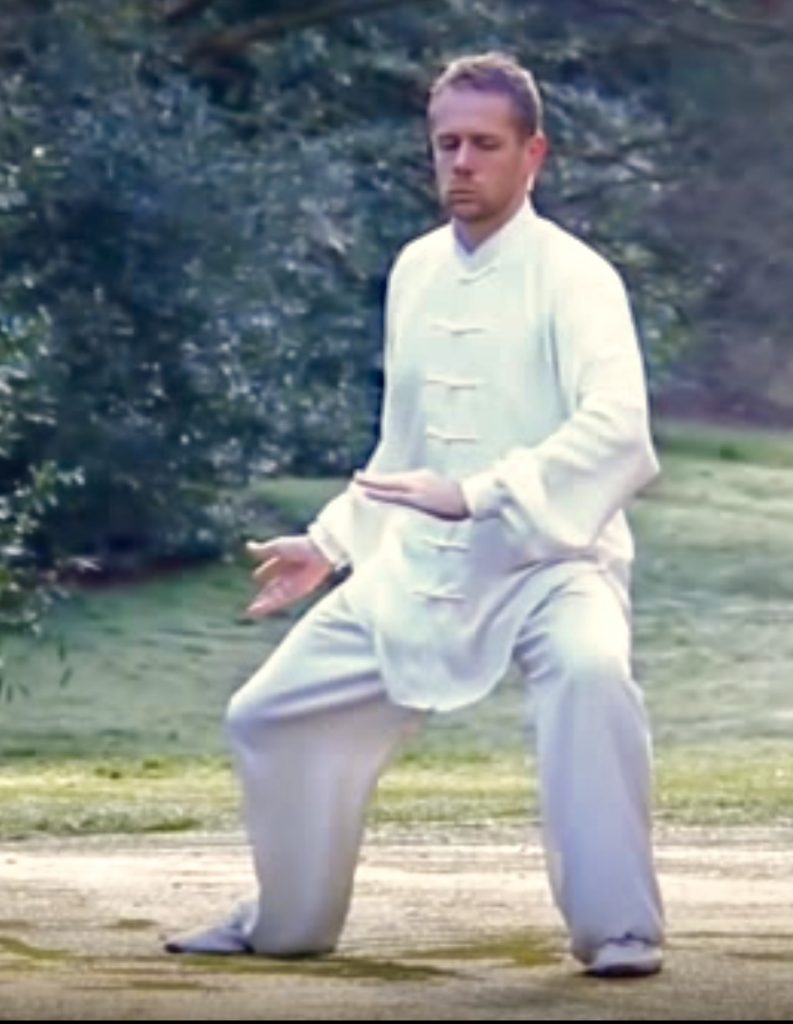 Tai Chi is very good exercise, and also has a meditative component.
Now I have come back to Thailand to practice. I've settled into a routine of early morning Tai Chi warmup and practice on the 40th floor roof deck (while it is cool), then a swim in the pool. Later in the day, exercise in the cooled gym area. Then walk out in the city, and have lunch. Sometimes get a therapeutic massage for about $12 for an hour. Come home in the afternoon and study Thai language and programming for the Mac OS a bit, then read iBooks or stream a movie. Later, go up on the roof deck and watch the sunset and all the city lights come out.
These are views from the apartment I am staying in on the 36th floor of a modern 41 story building overlooking the Chao Phrya river. Tall buildings are sprouting up all over Bangkok, and the latest are more than 70 stories tall.
The variety and quality of fruit in Thailand is amazing. It seems like there are 100 varieties of bananas, from tiny finger-sized on up. This is 'rambutan', a relative of lychee.
One of my lunch favorites in the neighborhood, spicy Thai chicken salad and rice. At $3.26 USD, it sure beats having a Big Mac at a higher price. Later, I'll show pictures of more of my Thai favorites.
What I like to make at home: steamed cauliflower, broccoli, red and green peppers and carrot, with melted cheddar cheese on top. Yum!
While up on the roof deck at night, I came upon some building residents who were having a Thai boxing lesson:
Thai boxing practice from Mel Malinowski on Vimeo.
Looks like good exercise! I had an interesting discussion with the instructor during a break. He instructs Thai special forces troops, and notes that they are taught to use whatever weapons they have as a first resort, as someone with a weapon has an advantage over someone with bare hands only.
I commented that during my brief 'Krav maga' lessons, my instructor said he didn't like to teach Krav Maga to 18 year old boys, as they were impetuous and too likely to show off and hurt someone. He (like my Tai Chi instructor) said it is always better to avoid the fight, as there is always risk of injury to yourself or others. Good advice.
After showing a little Tai Chi to the father of the girl taking the lesson, he remarked that, based on how I moved and looked, he would have guessed that I was in my 50s. I appreciated the thought, and hope to do what it takes to stay fit and strong like my father was into his late 80s.
It's also nice to see someone staying fit and encouraging his daughter to do so. Here is a snippet of him practicing:
Thai Boxing 2 from Mel Malinowski on Vimeo.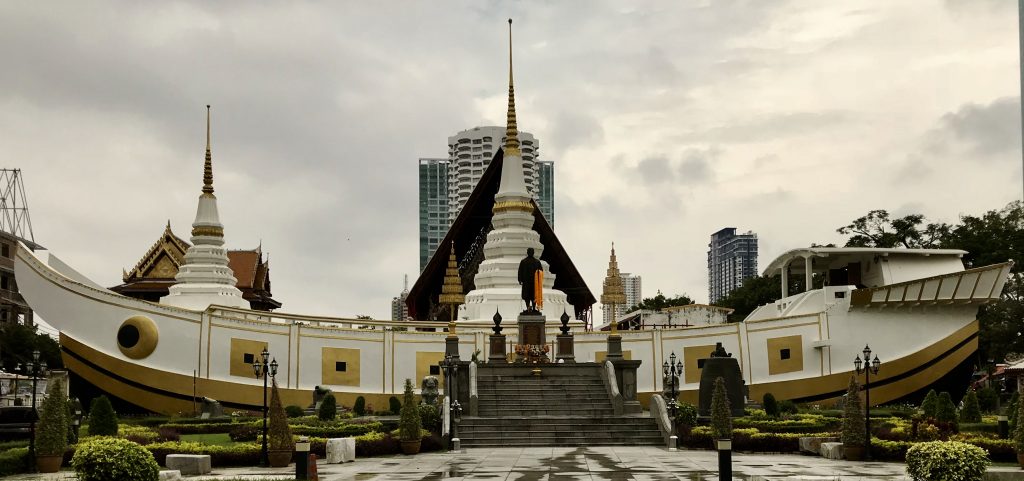 One of the most popular attractions of Bangkok is the "Grand Palace". We had avoided it as being just too mobbed with tourists, and too big (it sprawls out on a huge area). A Thai friend assured me it was well worth the effort, and took me there as my tour guide. It is free for Thai, and costs 'farang' (foreigners) about $15 USD admission.

We approach the Grand Palace.
It becomes clear that the Grand Palace is like the Louvre Museum: you could spend a week here, it has so much to see. I already plan to go back and spend more time looking at the incredible murals.

One building is ringed by epic murals.

I could have spent hours just looking in fascination at these murals.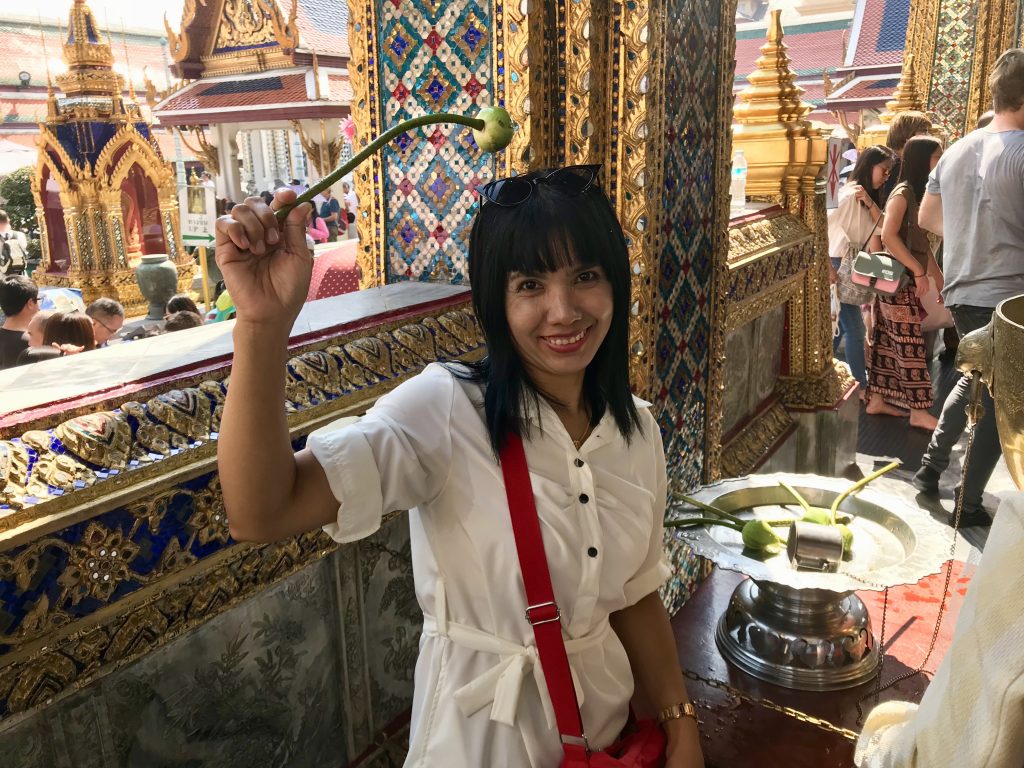 My guide, Pin, pouring symbolic water over her head at the nearby Temple of the Reclining Buddha.
I went on a night dinner cruise on the river. Lovely, lots of fun. A woman who I would guess is in her mid-80s was dancing and dancing, so I went over and joined her. She may have been in better aerobic shape than me, and never stopped dancing. I'll try to post a video later.
The cruise left from River City, a high end antiques and art shopping mall that is like visiting a museum of quality art.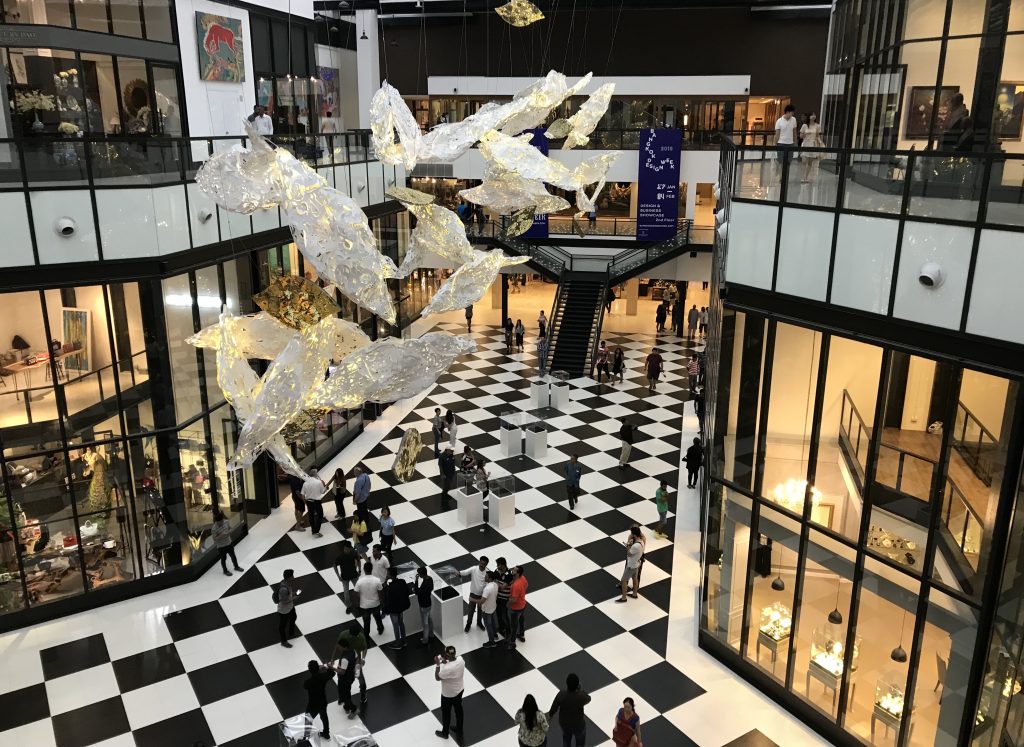 A Thai friend went with me to meet her family in Surin, Isaan, in the northeastern section of Thailand near Laos and Cambodia.

It is a rare airport where airport staff line up to welcome incoming passengers!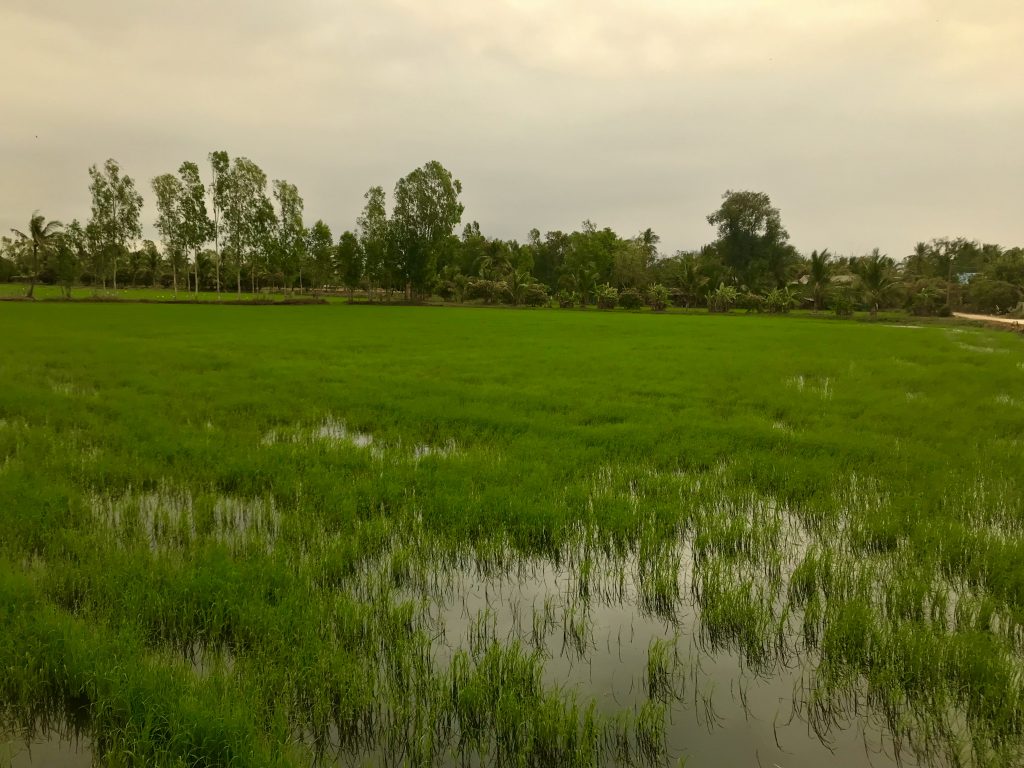 Isaan is a large plateau area, and a major producer of rice for Thailand.
Our first stop on the way in was at the big public food market in Rattanaburi.
The variety is impressive, including vegetables I have not seen before.
Hot peppers are essential to the many spicy dishes for which Isaan is well known. 'Sticky rice' comes from Isaan.
Dragonfruit
You can buy every part of a pig in the market. The heads have a special use I'll go into later.
Lots of tropical fruits grow here, including banana and coconut, and many flowers.
A banana flower, precursor to a large bunch of bananas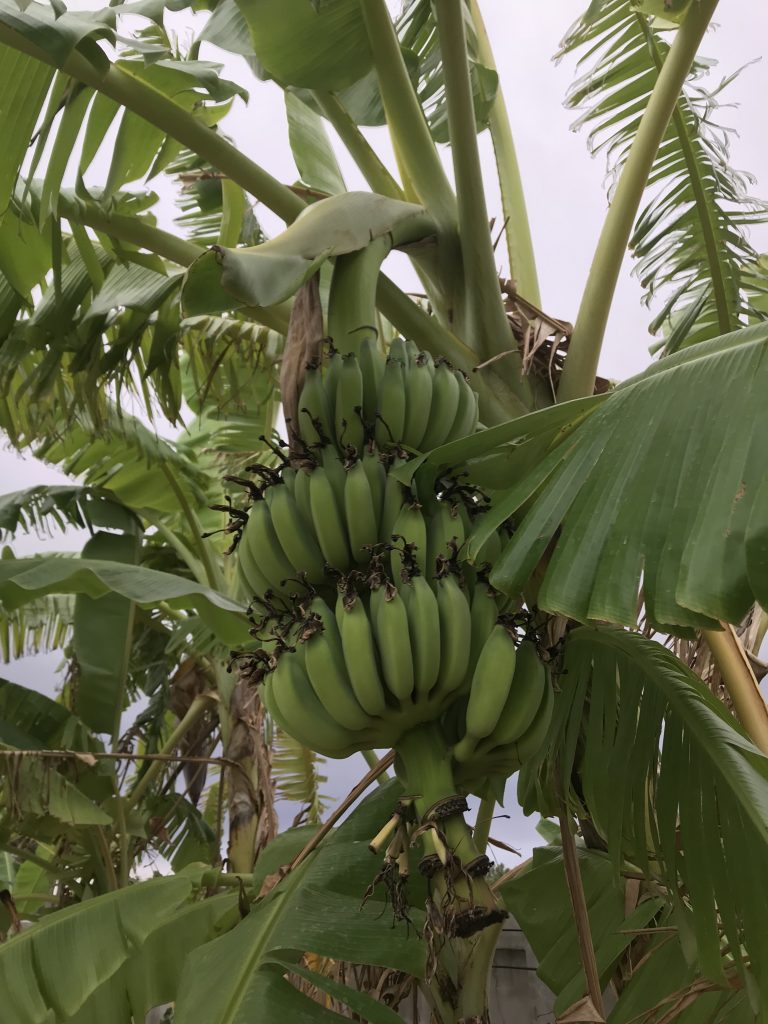 Papayas are a key ingredient in Som Tam Thai (spicy green papaya salad)
In Thailand, elephants have the right of way. It has been so for a thousand years.
My friend's family, just missing one sister who lives in Florida, and her late father.
My friend prepared a delightful meal for us of local specialties. It was quite spicy and delicious.
The ingredients used to make betel nut chew, which has been popular in Asia for thousands of years.
Grinding the ingredients together
The family gathered for a traditional ceremony honoring and praying to their ancestors.

Part of the offerings
Praying to ancestors ceremony in Surin, Isaan, Northeastern Thailand from Mel Malinowski on Vimeo.
Before departing, we stopped at a shrine near the local temple for more offerings and prayers.

Spicy sausages Isaan style are popular in Bangkok.

Crispy fried insect larvae are another Isaan specialty. I tried the butterfly pupae in the middle. Crunchy, not too spicy. Taste OK, though not my favorite Thai food.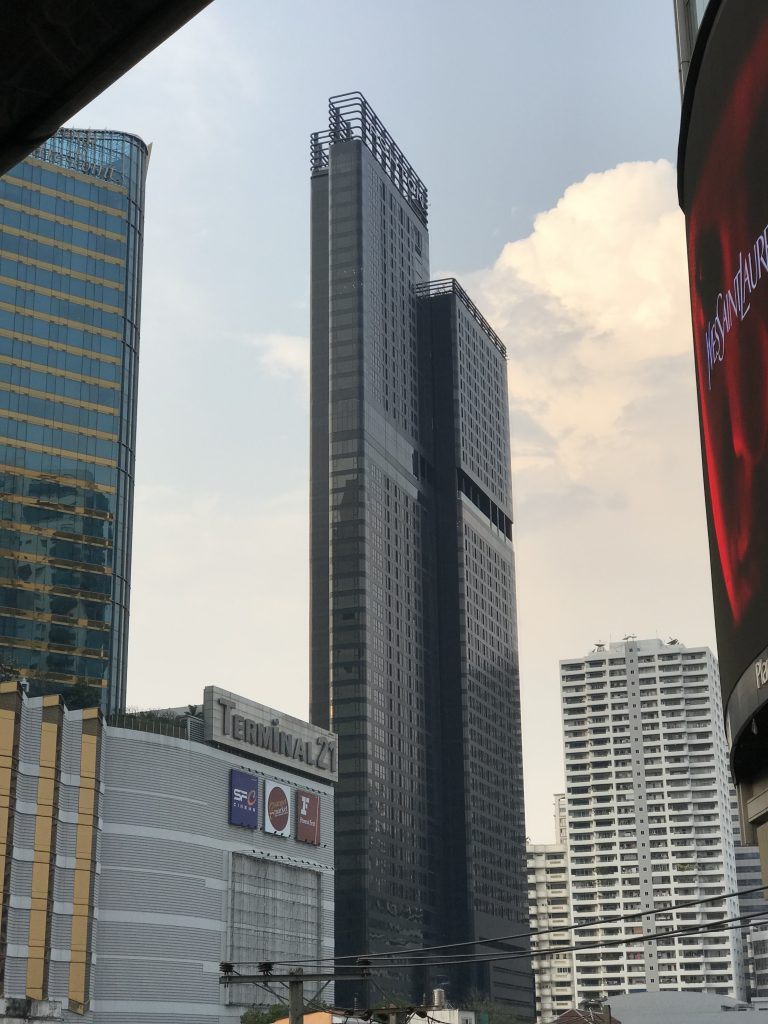 Buildings are getting taller and taller in Bangkok, upwards of 70 story ones are being build now.
My next side trip was to Singapore. Americans are allowed to visit Thailand for 30 days without a visa. If you want to stay longer, the government openly allows you to leave Thailand for one day, and get another 30 days when you return. These are called 'visa runs'. I had to do it, so I went to a nearby city I am fond of, Singapore.

Orchard Road, a shopping area of Singapore, is very colorful at night.
Singapore has a fabulous botanic garden, established more than 150 years ago.
The National Orchid Garden within the botanic garden is amazing.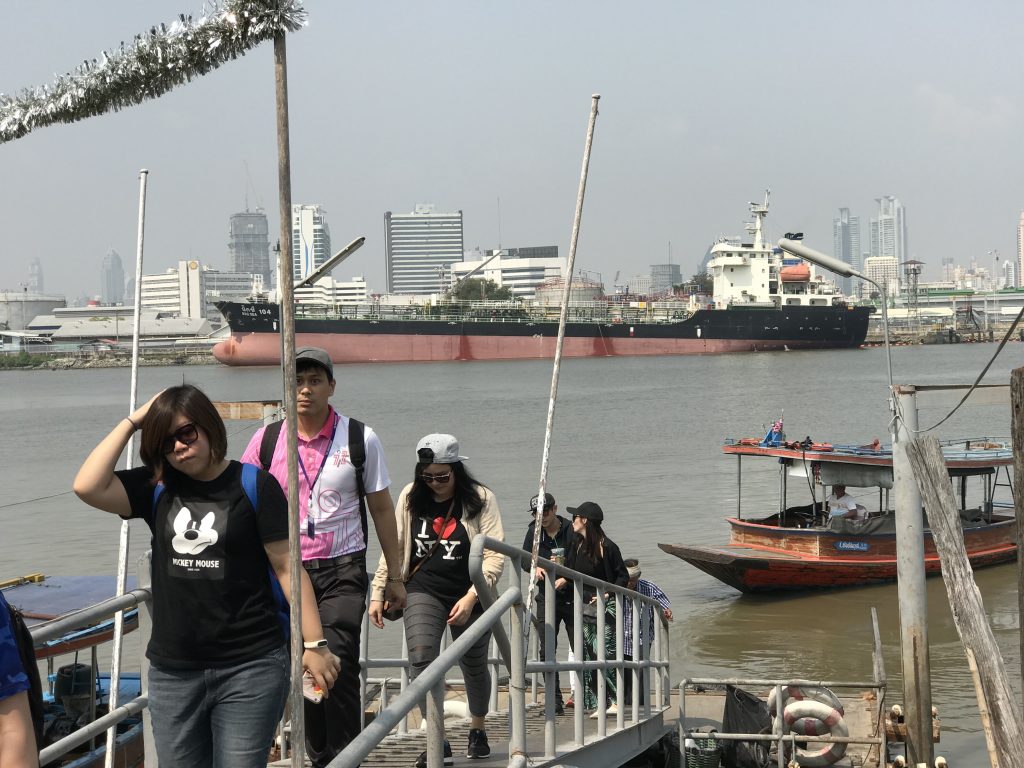 I decided to try to make a jump in my ability to speak Thai, and began a month of part time study at a local language school. One Saturday, some of us went on an excursion to a big park in Bangkok across the river.
We peddled many kilometers on bike paths through the park area.
At the 'Floating Market'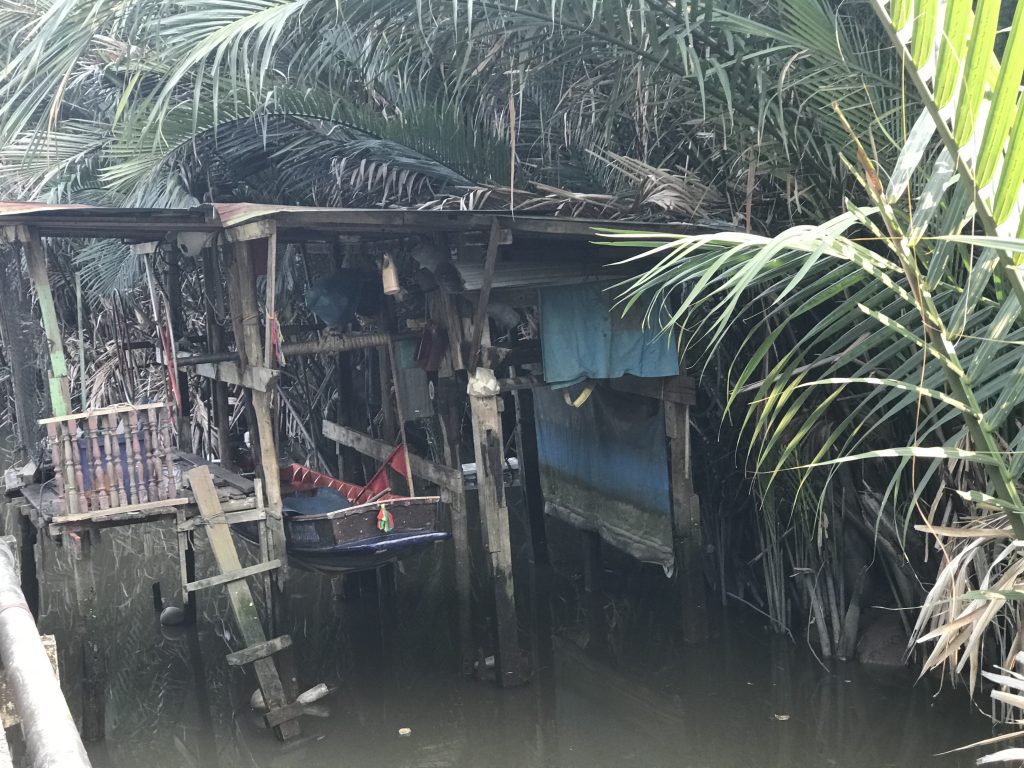 Just lower your boat into the water, and you're off.
We stopped for drinks at the 'Bangkok Tree House' cafe.
A Hong Kong Orchid tree
Back in town at Benjasiri Park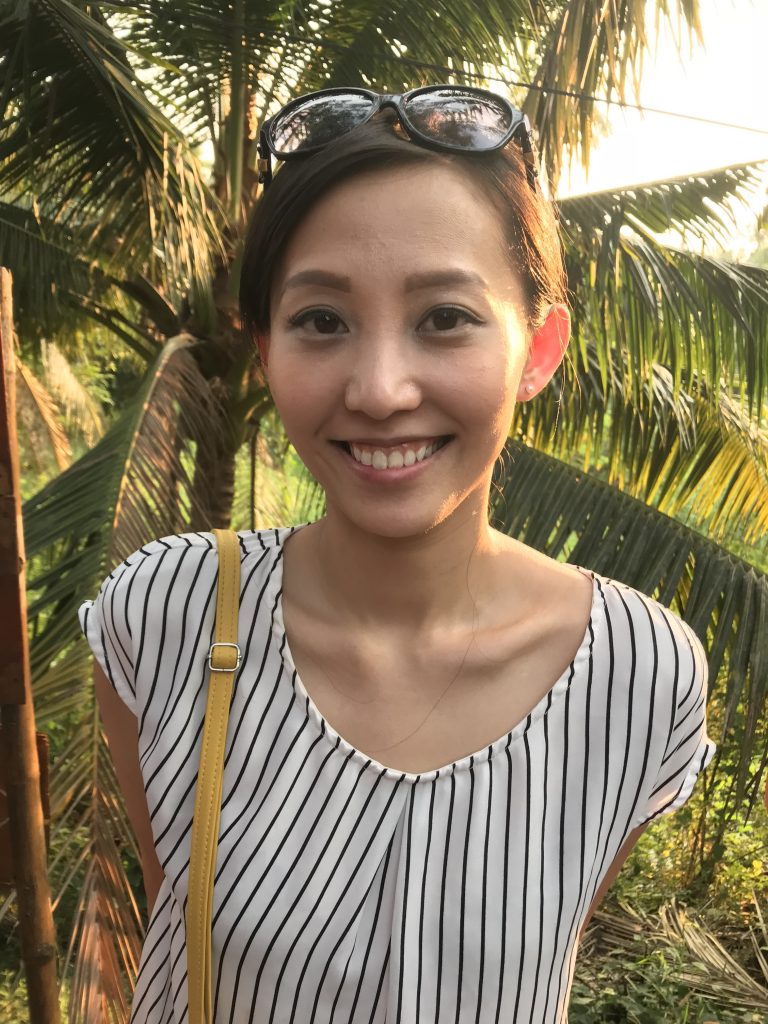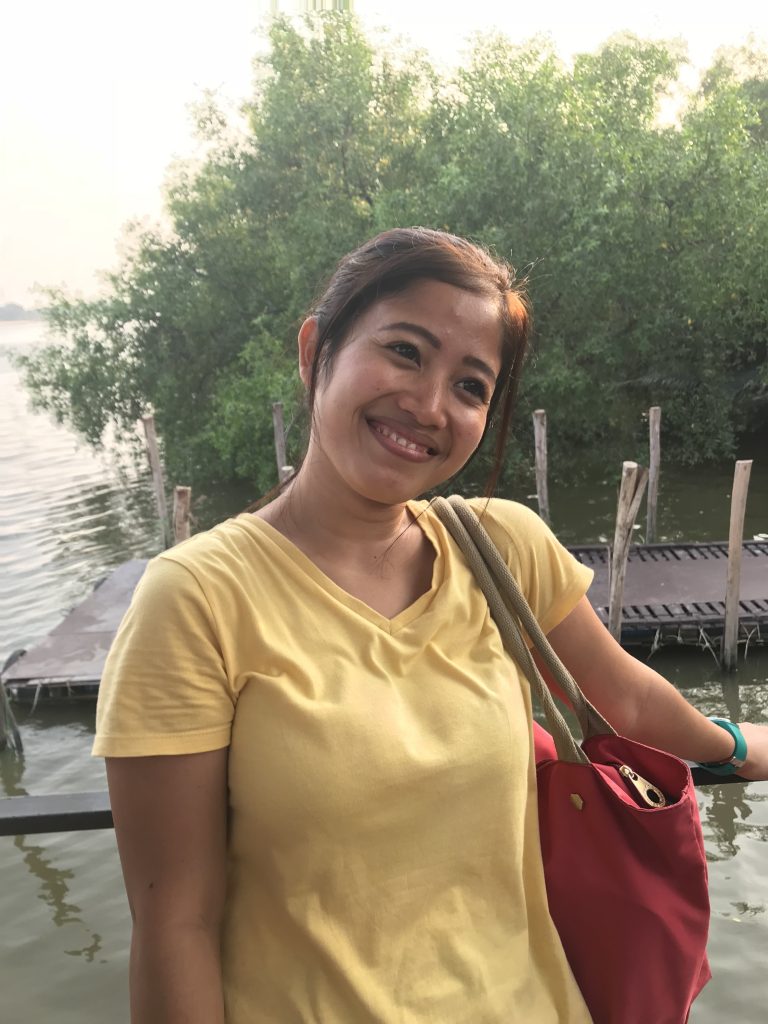 Two fellow students, one Chinese, one Indonesian, from my Thai language school, out on a field trip to the Floating Market.
Siam Paragon shopping center is very stylish.
The Thai love peppers.
Dim sum in quantity
Sticky rice in banana leaves
Street food favorites brought home.
On the Skytrain
Heading to the Grand Palace via river shuttle boat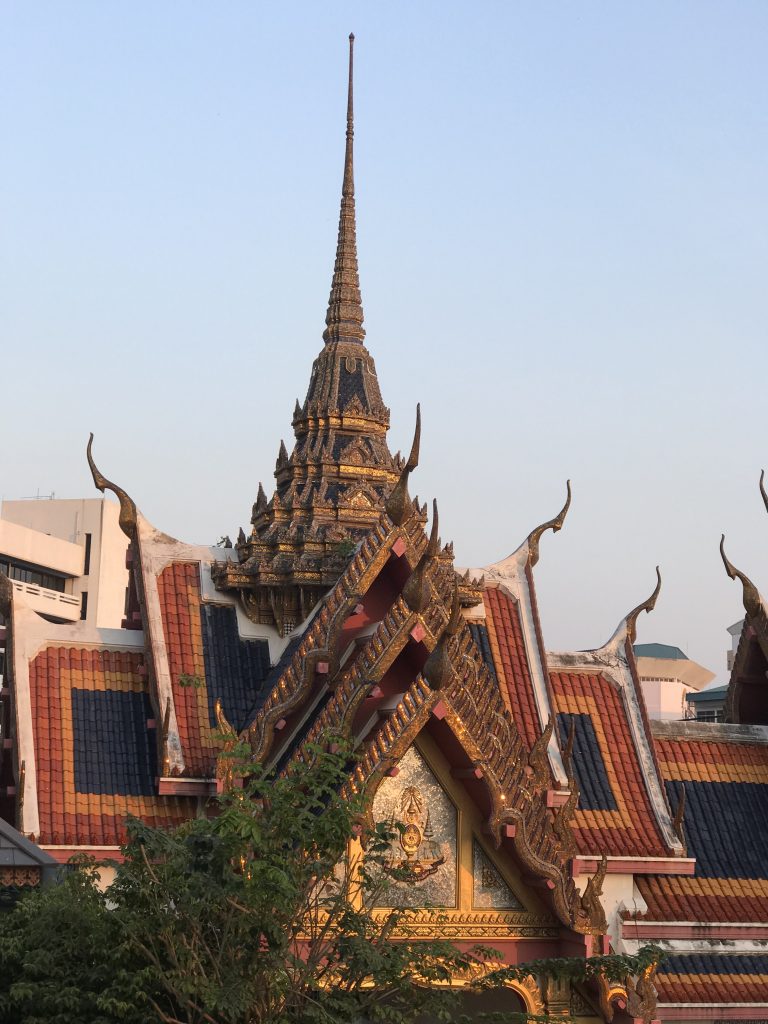 At the Bangkok Flower Market
Cherry tomatoes. At 40 cents (US) a pound, they were irresistable. So I bought a kilogram (2.2 pounds) of them for 30 Baht ($1 USD). Many tomato salads, and used them in cooked noodle soup.
Chang is Thai for 'elephant'. Chang brand beer is popular.

Khao Soi Gai: Curry noodle soup with chicken. Northern Thailand specialty
It's coming up time to move on to New Zealand.
Bangkok! It's huge, a perpetual traffic jam, so it's better to take the Skytrain. But at rush times the Skytrain is packed, so you must stand up the whole journey usually. I don't like the level of smog, and may not spend too much time in town in the future, in favor of heading up country to Chiang Mai/Chiang Rai or down to Phuket. The street food cannot be beat. A Thai friend I took to Singapore loved the big open pretty streets, but dismissed the food courts as both more expensive than Bangkok and not as good. I agree. Street vendors are everywhere, crowding the sidewalks. The people are friendly and courteous. Bangkok is not a city of museums, really, but there are many beautiful Buddhist and Chinese temples, and the Grand Palace has amazing murals.