On March 12, I took the 'Reunification Express' train back from Ninh Binh to Hanoi in the evening, and connected with the Fansipan Express overnight train north to Sapa. 
 
Arrived in Hanoi to rain! This is the 'dry' season! Yet, in 12 days so far in northern Vietnam, I have not seen the sun or blue sky yet. Overcast and sometimes drizzle.
 
There are 'tourist' trains to Sapa that have more comfortable cabins. I reserved this one, and it was quite nice.
 


 
We departed at 9:30pm. The rail gauge seems a bit narrower in Vietnam, and the train rocks and rolls, but I find that charming. Off to sleep till 6am.
 
At 6am, we roll into Lai Cai, the northernmost stop on the Vietnam Railway at the border with China. It's funny that Judy and I had been not that far from here to the north in Yunnan province, China.
 
A 45 minute taxi ride climbing into the mountains brought me to Sapa town at 4900 foot elevation, and the first blue sky and sunshine I have seen! Yahoo! Sapa is the name of the Hmong (hill tribe) settlement that was there before the Vietnamese bothered to come up here. The French referred to it as Chapa.
 
I check into a lovely room for 3 nights that looks out over the Sapa Valley. This should be fun!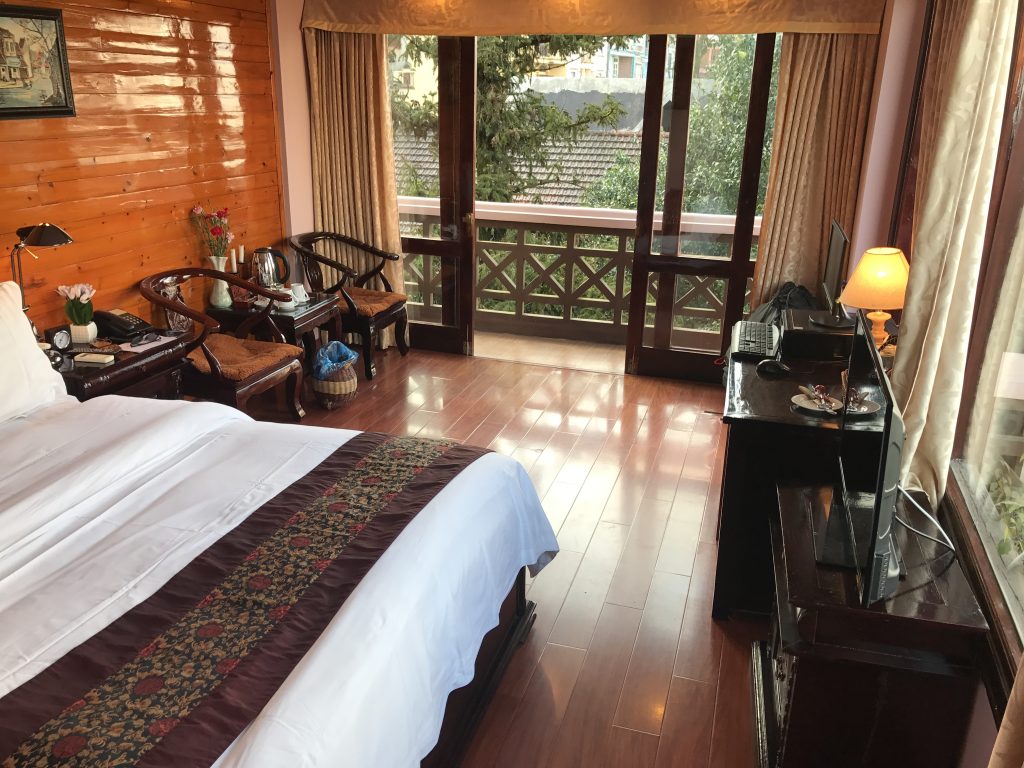 Valley fog at Sapa, Vietnam from Mel Malinowski on Vimeo.
  
Sapa lies on one side of the Sapa Valley, so that as you look out, you are viewing the high mountains (up to 10,300 feet high) on the far side. The sides of the valley are quite steep, which makes motorcycling along some of the roads a bit scary. If you ran off the edge, it's a long ways down. I'll bet there would be some good soaring possible here.
 


 
The town itself is a bit chaotic. It's currently a mix of shops and restaurants that look similar to global backpacker destinations such as Siem Reap (Ankor Wat) and Luang Prabang, Laos, side by side with high rise hotel construction.
 


 
I'm told that at times, the whole area is buried in cloud and you cannot see the mountains at all! I've had the good fortune to arrive in a patch of sunny weather. It must get very hot here in the summer at times, as I passed a shop that advertised "Only 30°C (86°F) inside!"
 
I rented another Yamaha motorcycle, and headed up to Silver Falls and Tram Ton Pass. Exciting two wheeling on this steep road, with mixed motorcycle, car and truck traffic.
 


 
I climbed beyond the guard railing and up among car size boulders to the base of the falls, and lay there for some time in the light mist enjoying the falling water and clouds zipping by above. Peaceful, happy.
  

  
Silver Falls, Sapa, Vietnam from Mel Malinowski on Vimeo.
 

Next day, I headed off on motorcycle to Lao Chai, which is a 'Black Hmong' village with lots of terraced rice paddy.My plan was to go 24 km.(about 15 miles). Not far out of Sapa, the road became very rough, with patches of 4-6″ rocks to ride through. This was not easy on a small motorcycle. But the views were dramatic.
 


 
As I turned down the steep side road to the village, I lost control. It was steep and very rocky, and I tried to brake hard with my right brake, my most effective one. However, it happened so fast that I also had the throttle twisted a bit with that hand as I squeezed the brake handle, and the motorcycle spun out under me and went down on its side. Fortunately, I was not under it, and neither the motorcycle nor me was injured. That was a new experience! Not one I thought it would be good to repeat, lest I break something on the motorcycle, or perhaps a bone or two.
 

Despite my attempts at caution, the bike went down two more times later, due to the very rough condition of the road. After about 18 km., I decided it was more prudent to go back to Sapa. I think I'll stick to the paved roads.
  
The next morning, I awoke in a cloud. Now I understand the name "Cloudy Sapa Cafe". Some people I've met said they went to Sapa for several days, and saw nothing but fog. Visibility can't be more than 50 meters. As Dad used to joke "The fog was so thick you could slice it with a knife!"
So I curled up with several pillows and studied–meteorology–for my upcoming pilot's exam.
 
Things lightened up a bit around noon, so I hiked up to Ham Rong park above Sapa. Its limestone pinnacles remind me of the 'Stone Forest' near Kunming, China:
 


 

There are numerous 'Black Hmong' villages in Sapa. They were here, in fact, long before the Vietnamese. Here are a few pictures of local people (I'm not 100% sure of ethnicities)
Morning, my last day in Sapa,which is starting out as a second day of dense fog. Anyone only here for a few days may never see the unusual terraced rice paddy and dramatic mountains. Time to study and eat local food before heading off for the overnight train back to Hanoi.
 


 
There is still a fair French influence in Vietnam from the colonial days, and many French tourists. I think the above dish is French cuisine with local veggies. It was yummie!