The Kingdom of Bhutan is a small Buddhist country located northeast from India and north of Bangladesh. It is slightly smaller than Switzerland. Its population is about 780,000.
Bhutan ranges from the lowlands bordering India at 342 foot elevation, to 24,840 foot elevation at its highest mountain. Much of the northern part is very mountainous. That is the area where I will trek, in the Jigme Dorji National Park.
Bhutan is trying to keep its Buddhist culture intact, and as part of that is limiting tourism and development. You are required to engage an official tour guide for your whole visit, who keeps an eye on you and makes sure you treat Bhutan well. I chose Bhutan Rovers, as I prefer to avoid group tours. Rigzin Namgyel is my guide for this tour.
The Kingdom of Bhutan is now a constitutional monarchy. These are the current King and Queen.
Looking down on Thimphu from the huge Buddhist statue and temple shown below
The  Great Buddha Dordenma statue is 169 feet tall, one of the biggest in the world, and is made of bronze. The building at its base has spectacular wall and ceiling paintings, which I cannot show as no pictures are allowed. Eventually, there will be 125,000 8″ to 12″ bronze Buddha statues lining the inside walls.
The Bhutanese love their elephants, which live in the southern lower areas near India.
At the festival. These Black hats are warding off evil spirits.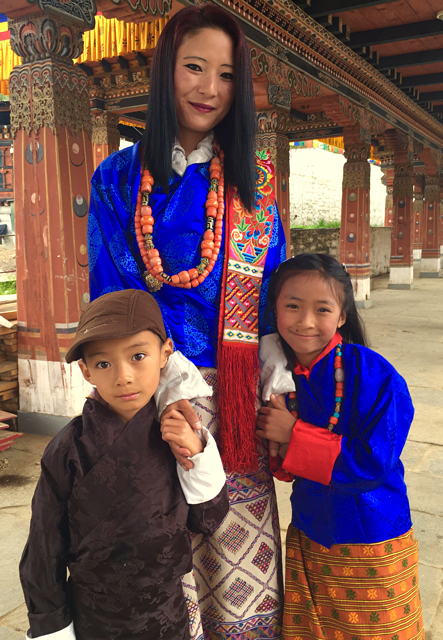 Families all over the world have much in common.
Tiger's Nest Monestary, perched up above Paro