On the last day of my Japan Rail Pass, I traveled from Kyoto to my most southerly stop on the main islands of Japan, the city of Kagoshima on Kyūshū Island. Though it is over 900 km., it was a smooth, fast 4 hours by train.
It is noticably warmer down here, a high of 76°F, a low of 66°F. Hawaiian weather!
Just 8 km across the bay from Kagoshima is the very active volcano Sakurajima. Since 1955, it has frequently spewing out plumes of ash, and in 1914 had its last big lava flow, which buried over 1,000 homes.  Its latest eruption of ash was in mid-September. It is one of Japan's most active volcanoes.
With favorable weather, I headed out to a Japanese garden.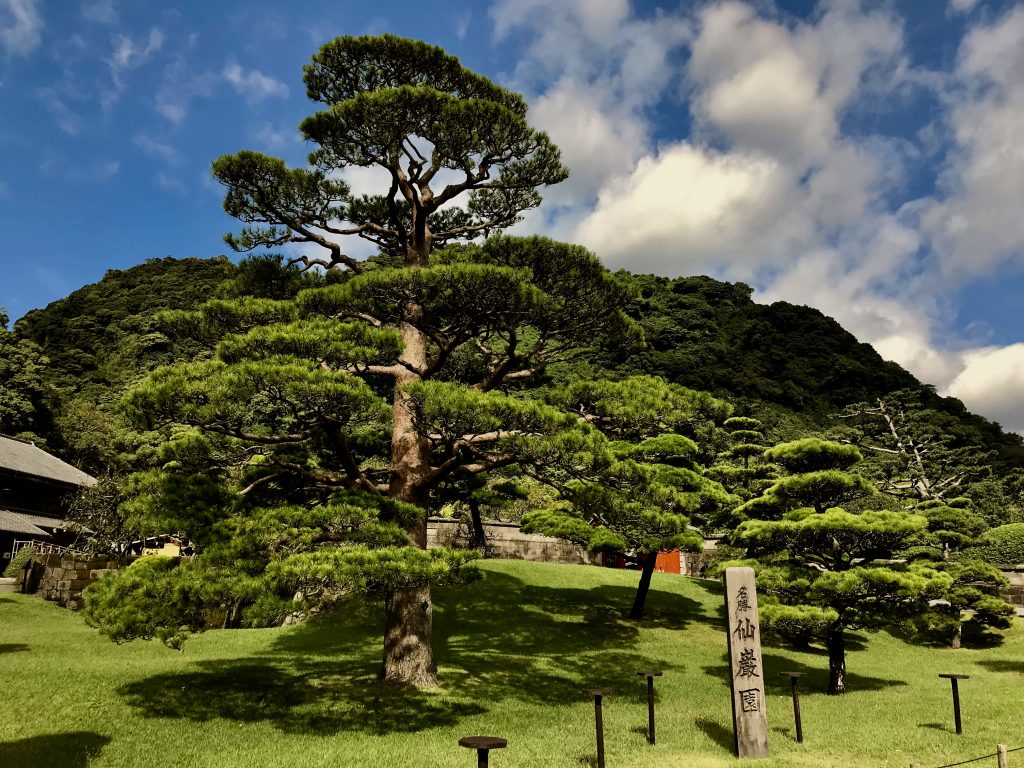 I'm staying at one of a small chain of hotels I have come to favor. In case you visit Japan, the name is 'Hotel Dormy Inn'. In impeccable new buildings, quality detailing, and (especially important) they all have a natural hot springs facility on the top floor with indoor and outdoor pools. All this at a very modest price, from around $65USD/night to $98USD, depending on how much demand for that day (weekends here are more expensive). Great value. It's hard to get anything of this quality in the US at these prices. I can afford to buy luxury if I want, but I don't feel a need for it most of the time. Quality simple works for me.
One unusual Dormy standard feature: in the onsen entry, a room with washers and driers. Washing is free, and you must pay $2.50USD per hour for the drier. Very useful for global nomads who hike a lot and get sweaty clothes! I get that usually in apartments I rent via AirBnB, but not so much in hotels.

This is the open air onsen pool at their hotel in Kyoto.
I especially enjoyed having lunch at a small pizza place nearby:
Interesting toppings hard to find in the US, such as octopus and whitebait. They make a crispy thin crust with thin topping, but good. It could not compete in the US with Round Table Pizza, not at all the thick, heavy with toppings style, but is actually close to the style of pizza you find in Italy.
Cona pizza in Kagoshima, Kyūshū, Japan from Mel Malinowski on Vimeo.
You can take the ferry over to the volcanic 'island' (actually not an island after the 1914 lava flow connected it to the opposite land area) for about $1.40US, a pleasant 15 minute ride on the bay. And you can see that the volcano is still sending up a plume.
You are not allowed to climb up to the cauldera, so I went for a hike to a local 'geopark'.
Which has the most unusual children's slide I"ve ever seen. About 9 meters tall, and 50 meters long, you slide down the long slide on rollers.
I HAD to try it! It was fun.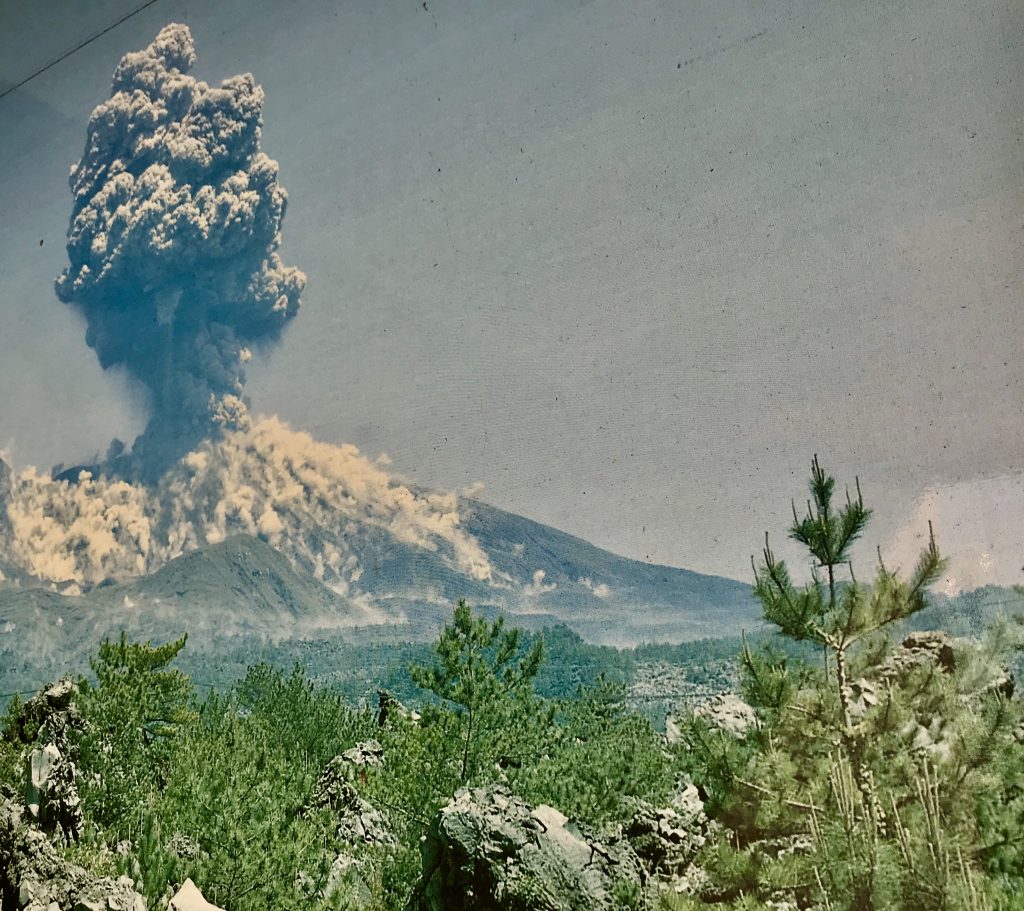 Some of the bigger eruptions shower Kagoshima with ash, as this one did.
Tomorrow I fly to the islands of Okinawa to the south.
I've had a pleasant 5 weeks exploring Japan. I will especially miss the onsen bathing routine, the exquisite tempura and thick soft udon noodles. The Japanese people have been uniformly helpful and polite, cheerfully encouraging my fledgling Japanese language.

From the northern tip to the southern tip is about 2500 km. I traveled another 1500 getting around in the mountains. The great train system of Japan, one of the finest in the world, made it easy. Their buses are punctual and easy to use as well.