Japan is not a small country! It is as long from end to end as from the Canadian border north of Seattle, WA to the Mexican border, about 1800 km. In just 5 weeks for Hokkaidō, Honshū and Kyūshū Islands, I will only get to see bits of it. A start.
My beginning to explore Honshū Island, the main island of Japan, is to journey by train down from Sapporo to an onsen area north of Tazawako. This is a long day's journey.

Japan has created an amazing network of fast trains. On my way here, I measured 168 mph. Comfortable seats, pleasant decor. Traveling around Japan by train is easy and fun. Have an 8 minute connection between trains? Not to worry. It all works.

Now I'm up in the mountains of northern Japan. Fall color is here already. I've already soaked in an onsen, and tomorrow I will explore some outdoor onsen.

My favorite destinations are outdoor onsen. Here are two I visited today, Ganiba and Kuroyu Onsen.

Ganiba outdoor onsen
The next day, I set off on a long hike, first to Nyutoonsenkyo Tsurunoyu Hot Spring, a very old traditional onsen that time forgot:
It was worth the effort. The outdoor onsen, which is 'mixed' (male and female together), is lovely. And the milky mineral water preserves everyone's modesty.
Then on through the 'bear infested forest' that I was warned was dangerous (not) due to bears, up to Ganiba Onsen. I would have liked to see a Japanese black bear, but alas, none were to be seen.
Next stop: Nikko, home to the shrine to the first Shogun of Japan
The Japanese rever cedar trees, believing them to hold spirits. The shrines of Nikko are like a cedar cathedral, formed of literally thousands of cedars, some of which must be hundreds of years old. While I enjoyed the buildings, I think the forest was the most impressive.
The Edo period of Japan (commencing after the establishment of the Shogunate) was a period of amazing artistic development, far too elaborate a story to tell here.
One Japanese innovation was the most elaborate wood joinery known to the world. These complex, precise joints allowed strong post and beam connections using no metal. Such connections withstood Japan's frequent earthquakes well, due to their flexible strength. To make these by hand requires an extraordinary level of skill.

A political image for our times?

Next stop: Kusatsu Onsen in the 'Japanese Alps'
Kusatsu Onsen is not exactly what I expected. The largest hot springs in Japan, with a thermal water outflow of 3900 liters per minute, it is like the Vail or St. Moritz of hot springs resorts.

This flow of hot mineral water comes out in the middle of town, and then is distributed to various onsen. There are other onsen around town that have their own source. No shortage of hot water here.

On a Sunday, lots of tourists come. Here some soak their feet in one of many free foot baths.
A ryokan dinner can be special, and so it was here:
On to Nagano, in the Japanese Alps.
I've hit a patch of nasty, rainy weather, a travel risk.
Arriving in Nagano in the pouring rain, I decided to travel on to one of Japan's 'national treasures', Matsumoto Castle, a five story wooden tower built beginning in the 1500's. So I put on all my rain gear, including rain pants, and headed out in the downpour. (I only found out later that this heavy rain was due to Typhoon Lan (#21 of the season).
The 'Black Crow Castle'. This is quite a structure! Some of the original beams you see are perhaps 16″ square, probably hand-hewn.
Typhoon Lan disrupted my travel today. I showed up for a 6:09am train, and was told 'cancelled' and that it was impossible to get to the town where I had planned to hike part of the old Nakasendo road from Kyoto to Edo (Tokyo). I did not despair or give up, though. I immediately hopped on a ultrafast train to Tokyo, and then another from Tokyo to Nagoya. There, I managed to get a train to near Magome, my destination, getting there the long way around, although at 2pm rather than 9am. You sometimes have to be tough and tenacious to be a true global nomad.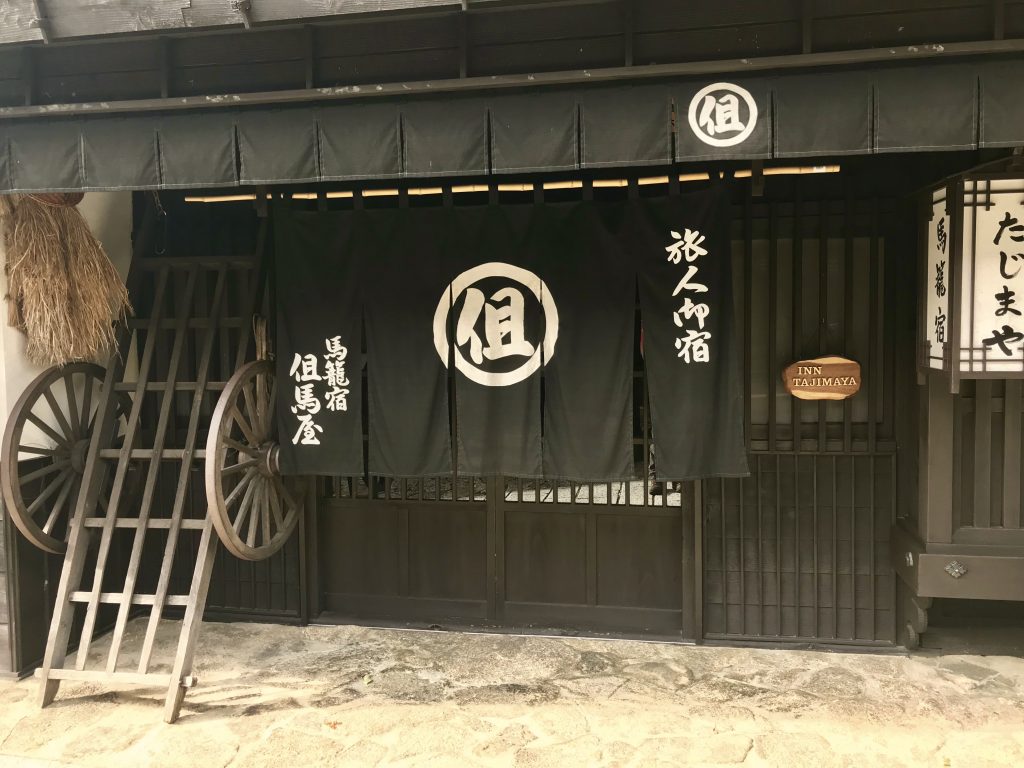 The Minshuku inn where I am staying in Magome. Minshukus are small, family-run equivalents of a B&B, usually a bit more casual than Ryokan.
Magome was 69 'post towns' along the Nakasendo, where the travelers would stay each night. It and Tsumago, about 8 km. away, have been preserved much as they were hundreds of years ago. Tomorrow, I will walk to Tsumago along part of the old stone path.

"D" is the Nakasendo, one of the five roads connecting Kyoto with Edo (Tokyo) during the Edo period. The Gokaido highways were established by the Tokugawa shogunate as official routes for daimyo (feudal lords) and their families and retainers to travel to the capital (Edo) to perform sankin-kotai – the system of alternate residence in Edo, which allowed the central authorities to keep watch on and control the feudal lords.
This system of well-maintained roads also facilitated the spread of central power to the outlying provinces. Information, troops and dispatches from central government could be speedily sent out along these highways and the passage of people and goods along these roads were checked at various barrier stations or seki along the routes.
The Tokaido, along the Pacific Coast, was the busiest route as it was the most direct and was mainly flat. The present-day Tokaido Shinkansen and National Highway Route 1, between Tokyo and Osaka via Kyoto follows this ancient route.
However, due to the number of river crossings involved on the Tokaido, it was considered dangerous, and many daimyo sent their wives and families on the longer, but safer inland highway, the Nakasendo. This is the road I will walk upon tomorrow.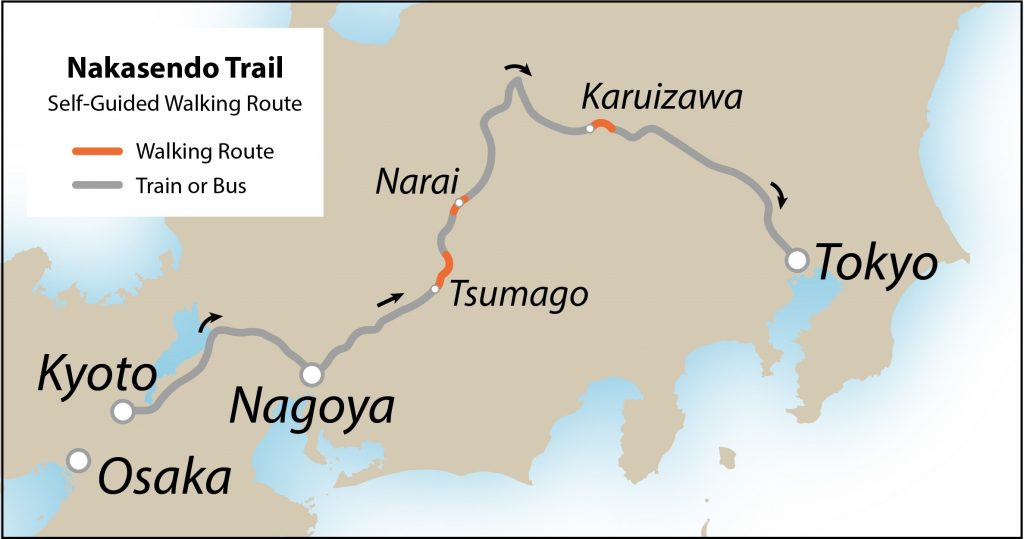 Tonight, a Japanese feast, fully the equal of the one I described earlier at a Ryokan:

Oishīdesu, as I've learned to say: "Delicious!" Not so hard: "Oh-ee-she-dess"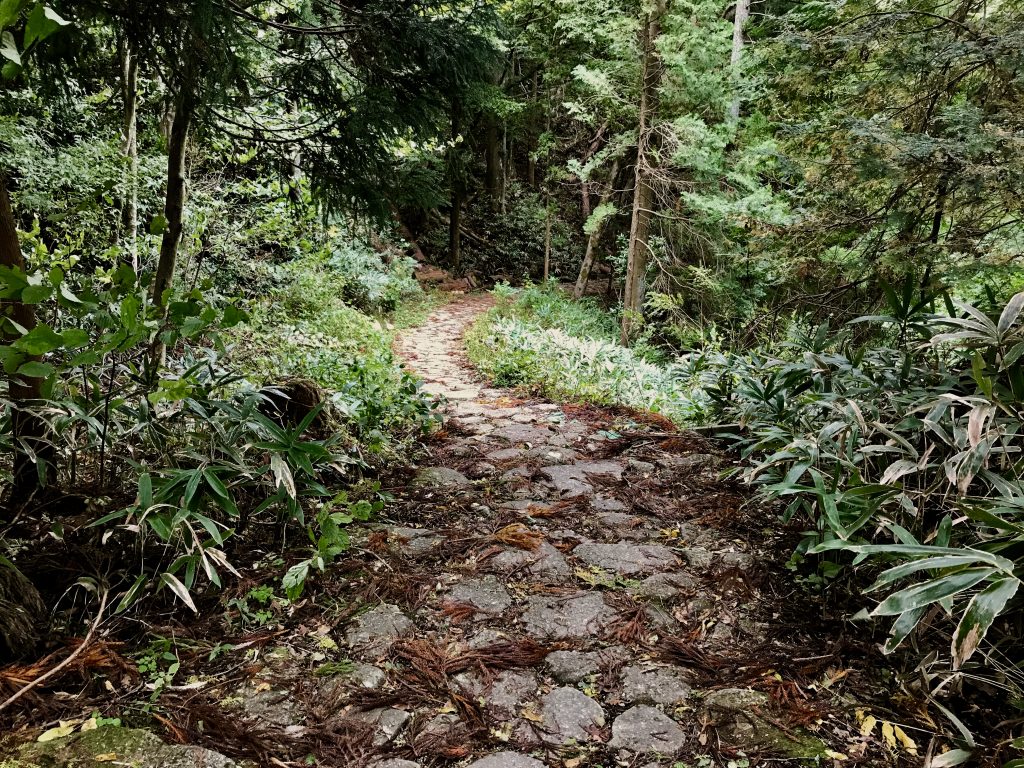 The Nakasendo Road
On to Himeji, home of the White Egret Castle.
Another 'National Treasure' began in the 1600s. The White Egret Castle towers over Himeji. It seems much bigger and more defensible than the 'Black Crow Castle'. It's quite a hike just to get to the entrance.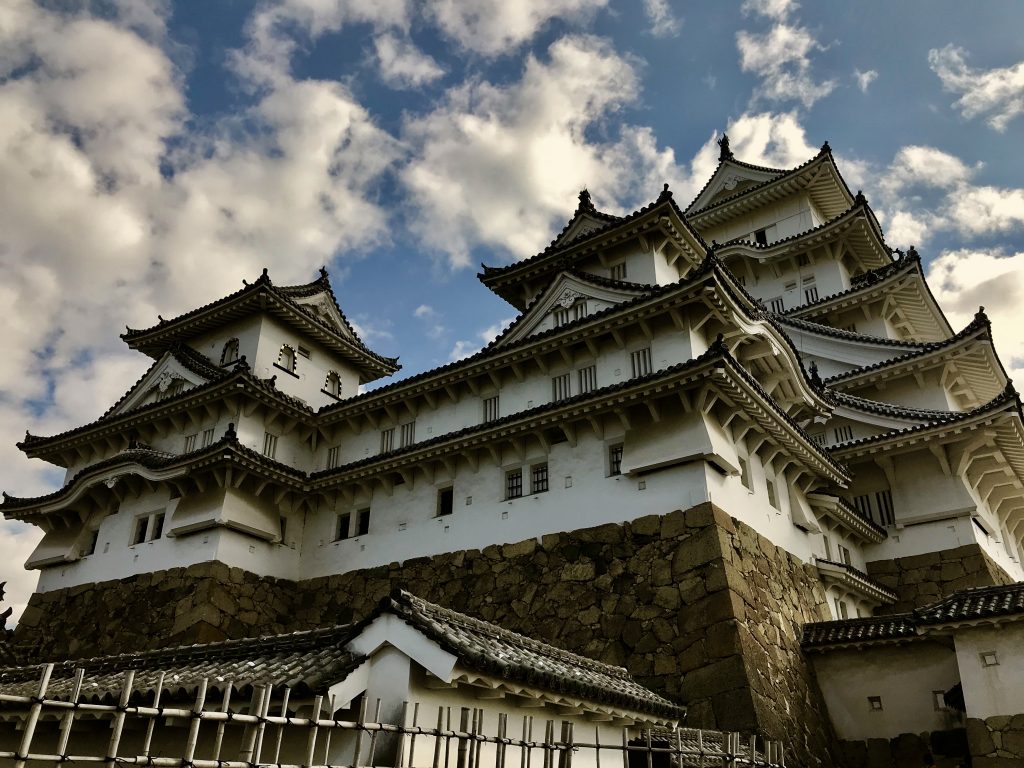 The countless weapons racks inside make it clear this a serious castle. As with all of these Japanese castles, the structure is wood. In this case, the exterior is plastered.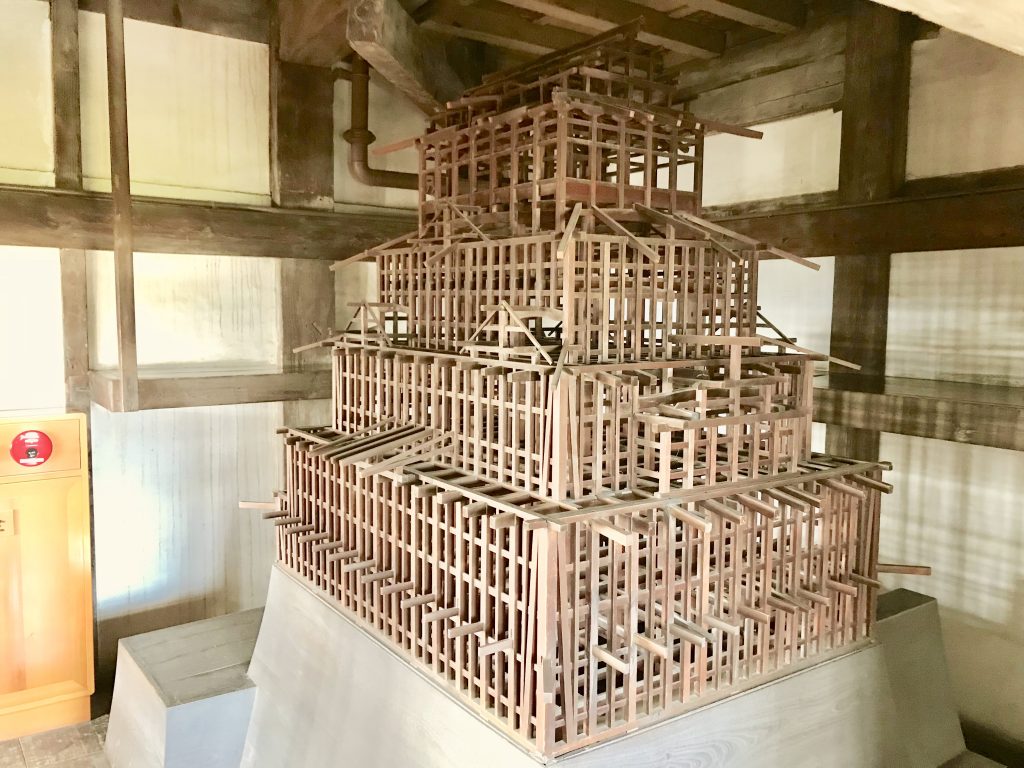 This is a model of the wooden structure. Wow! They did this to help them do some restorations in the 1800s.
Next stop: Hiroshima

The 'Atomic Bomb Dome' ruins, one of the few buildings not flattened by the explosion. Everyone inside was killed.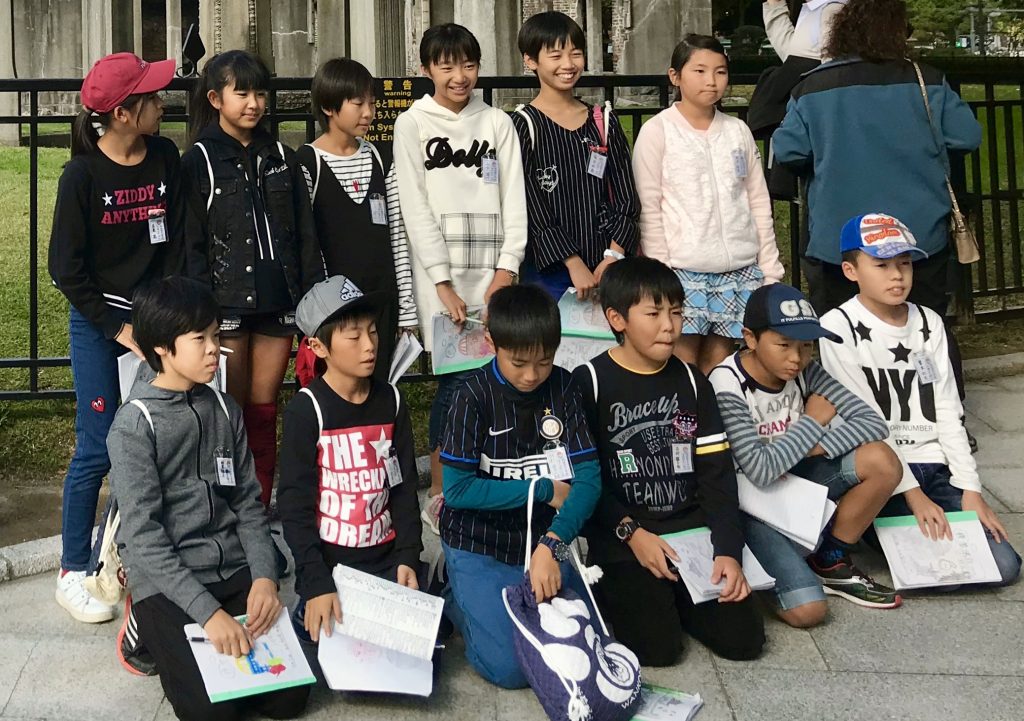 America was the first country to develop nuclear weapons. Our government chose to use them to compel Japan to surrender in World War II. The first bomb was used to destroy the Japanese city of Hiroshima. It killed approximately 20,000 Japanese soldiers, and also more than 130,000 civilian non-combatants, mostly women, children and senior citizens.
Judy was very well-read about the history of this subject, and strongly felt that using the atomic bomb this way was barbaric and unnecessary. Opinion continues to be divided about this. The argument for it was primarily that it would save American lives that might be lost in further fighting. The argument against it was that Japan was close to surrender already, and would have surrendered anyway given a little more time.
As I stood in front of the Atomic Bomb Dome, I was surprised to be moved to tears, watching the young Japanese students who had come to visit this memorial site. Some of their grandparents and great-grandparents may have been killed in the attack, as well as other relatives who were children at the time. How cruel we can be to each other!
I have come to agree with Judy. Part of the internal military discussions centered on a strong desire to see how well this new weapon worked. Two billion dollars had been spend developing it. But, as French philosopher Albert Camus wrote "No cause justifies the death of innocent people."
Next stop: Kyoto
Kyoto was the capital of Japan for more than 1,000 years. You could spend a month visiting all the cultural sites here! The general in charge of the WWII A-bomb project wanted to bomb it, but the Secretary of State at the time had honeymooned there, and persuaded the president to take it off the target list. Good move. Instead of forever incinerating an irreplaceable treasure, and the residents of this cultural icon, we just killed 140,000 civilians in Hiroshima, and more in Nagasaki. My uncle Archie, who fought the Japanese in the Pacific, approved. I think the reality is more complex than that, and should give us pause about what we authorize our generals to do on our behalf. They don't always know best.
Kyoto is such a vast subject, I won't even try to explain it. Here are a few pictures.
The girl in the last picture would not be allowed to use the onsen in our hotel (or most onsen) because she has a tatoo on her arm. Tatoos are a ritual among the Japanese gangster group "Yakuza", so it is presumed here you are suspect if you have one. Unfortunately, this excludes most native Hawaiians, who are NOT yakuza. Unintended consequences.
The dog-like figure is a mythical fox, holding a key to the rice grainery in its mouth.
Now, it is time to head south to the island of Kyūshū.