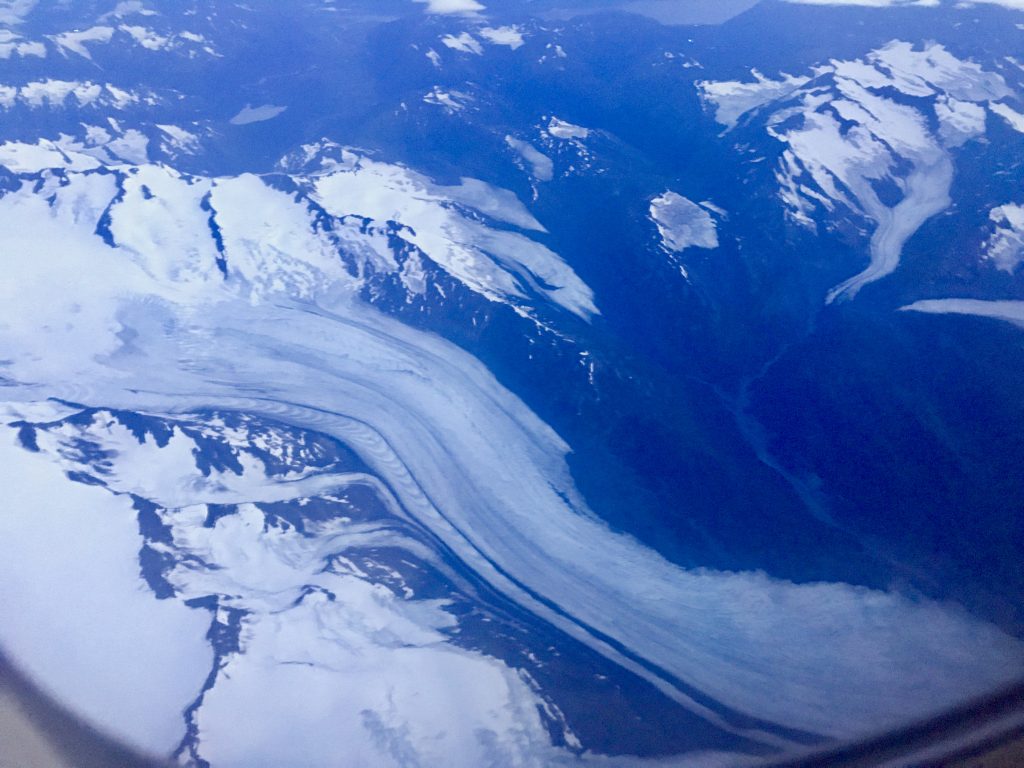 Next adventure: Alaska. Many of our family (most?) have been here before, but some of you may not, so I'll put in lots of detail for you. This is a very long posting.
Approaching Anchorage, AL at 11pm, it is still twilight. A number of glaciers stand out below us.
Alaska is BIG!
(noted later: my Alaska adventure included many miles by trail, 230 miles by boat, 300+ miles by plane, 850 miles by train, and 2600+ miles by car)
I kept busy! Alaska, being so big, was a challenge. I regard this as just a survey trip. I only saw a taste of Alaska. Here are a few facts to try to put it into perspective:
Alaska is more than 9 times as large as the State of Washington. It is 2 ½ times as big as Texas, the runner-up. Secretary Seward negotiated a price of $7.2 million dollars for it all. (After traveling extensively around Alaska, some was possibly overpaid for, as it is essentially useless other than for wildlife; while other areas were a huge bargain, as was the overall deal)
5% of the area of Alaska is covered by glaciers. How much is that? Well, it's bigger than 10 of the smaller USA states. It's A LOT! You see them everywhere around you. Lest you think this disproves climate change, they are all shrinking, rather rapidly.
Here are some local concerns from this morning's Alaska Dispatch News:
How to view photo collages as a slide show
That is a Canada lynx at Denali Park (not my picture). Denali is the first upcoming stop on my agenda.
My trusty mountain boots seem to have worn out during this past year of intense hiking, and Mount Stuart was the last straw. I'm picking up a new pair at REI this morning. You must have well-fitting boots to hike 10-20 miles or more a day in rough terrain, and these do the job.
While at REI, I buy a can of bear spray. Alaskan bears have been known to charge hikers, especially mother bears who might feel their cubs in danger, and it is considered prudent to carry bear spray just in case.
The State of Alaska does not want fear of this statistically unlikely risk to deter tourism, and says "It is 50 times more likely to die on Alaska's highways than by a bear attack." I didn't know driving in Alaska was that hazardous! 😯😲😱😂
(later note: after driving 2600 sometimes hair-raising miles, now I understand. But though I saw a moose ahead of me on my last day, I managed to not hit any wildlife)
Heading off to Denali Park by train. Two rainy days in Anchorage in August! I hope it clears so I can see the highest mouintain in the USA in the next few days.

The Alaska Railway, Seward to Fairbanks. Completed 1923.
The Nenana River carries tons of 'glacial till' (ground up grey rock flour). It's too muddy for fish!
Near Denali Park entrance
Kantishna is where I will be spending the next 3 days. It is about 15 miles across to the summit of Denali.
Denali, 20, 322 feet, the highest mountain in North America. Taken this morning on our way out. Denali is spectacular, amazing.
I stayed at Camp Denali, 90 miles deep in the park. Denali is run differently than most national parks, in that access by car is very limited. Unless you are hiking and camping with permits, you must either just take bus rides through the park, or stay in one of a few lodges in Kantishna. Camp Denali is what is often called an 'ecoresort', and the only one that is in view of Denali.
On the 90 mile drive in (rather slow, on the gravel access road) we saw lots of game: a dozen caribou, two herds of 7 Dall sheep, a mother bear and two 18 month old cubs browsing, another single bear browsing on berries very near where we were to stop for lunch (we didn't), and many snowshoe hares.
Some of the wildlife I saw. These are not my pictures, as I was not carrying a long telephoto lens. They are what I was watching through my binoculars.
You begin the drive through mixed permafrost terrain, which because it stays permanently frozen down deep, does not allow deep tree roots. Only spindly 'black spruce' can grow here. In nearby non-permafrost soil, white spruce can grow, and even they tend to be tall and skinny compared with those growing in less harsh winter conditions.
The views are vast, with dramatic hills and mountains, viewed across big braided glacial river valleys. Your jaw drops and stays down. I hope my collection of pictured brings this to you a bit.
From the Kantishna viewpoint, Denali rises from 2,000 feet to over 20,000 feet, an astonishing 'topographic prominence', the highest such in the world.
Our dining room. This charming family-owned and run resort is historic, having been established here in 1952.
I was assigned cabin '40° below zero'. Cozy, with a wood stove, propane lamps, and a view of Denali out the window (when it wasn't buried in clouds, about half the time).
On the first morning, the clouds parted and Denali was revealed. This is true only 30% of the time. One of the risks of going to Denali is that it may be cloudy for a week and you will not see the mountain at all–this happened to some friends.
I immediately asked to go on a flight around the mountain given the patch of good weather that might not recur. My good luck was that one seat was available! We took off from a gravel airstrip just 5 miles from Camp Denali in a single engine plane holding five passengers and the pilot. I sat in the co-pilot's position, which offered great views.
Driving along the road around the 80 mile mark on the way back from our second day hike, a young red fox darted out on the road chasing a snowshoe hare. He gave up, and proceeded to lead us up the road for some distance before deciding to just veer off the road.
The bears are gorging themselves on oval red soapberries (tried them, kind of bitter but edible) and wild blueberries (quite good, we had them in pies at Camp Denali, and could gather them around our cabins).
alaska from Mel Malinowski on Vimeo.
A good pair of binoculars is essential–I took my 10×42 version. Many of the wildlife views are distant, and the park likes to keep it that way so the animals are not changed by our presence. Visitors are told to not make noise when watching. It is not safe to be too close to grizzlies, particularly mothers with cubs, so we also were very cautious about approaching them.
It really is hard to exaggerate how impressive the park is. This is one of the most dramatic natural landscapes I have ever been in.
I like the sentiment, and intend to follow its advice.
Back in Anchorage by train, I'm embarking on two day trips out on the fjords south and east of Anchorage, reports to follow.
My first day trip was by train from Anchorage to Whittier, then by fast boat 140 miles around in the nearby fiords of Prince William Sound.
The Turnabout Arm of Cook Inlet has big tidal swings.
Lots of glaciers along the way.
Whittier is a small seaport town located below a dramatic glacier-smoothed granite hillside.
Yes, that is a cap of snow up there!
The highlight of the cruise was pulling in close to Surprise Glacier, with lots of glacial ice floating in the bay. Beautiful blue ice. While there are many glaciers still in Alaska, not so many make it to the sea these days. They are mesmerizing.
Today, I traveled by train from Anchorage to Seward, the seaport beginning point of the Alaska Railroad. There, I boarded "The Spirit of Adventure" to explore the Kenai Fjords National Park.
Along the way, we saw 3 bald eagles, including one very close view. What a magnificent bird! We also saw many sea otters and several humpback whales feeding. Quite a dramatic trip. I preferred it to the Prince William cruise.
The ultimate destination was the terminus of the Holman Glacier where it calves ice into the ocean.
A seaworthy craft for our venture out into the open ocean on the way.
Holman Glacier meets the fjord
Now, onward. Trains, planes and automobiles! This time, planes.
My destination is Brooks Camp, northwest of Kodiak, Alaska, in the Katmai National Park and Preserve. To get there requires two flights: one, a dual engine prop plane from Anchorage to King Salmon, about 1 ½ hours, and then a float plane to Brooks, another 20 minutes. Getting out there toward the Aleutian Islands!
Heading west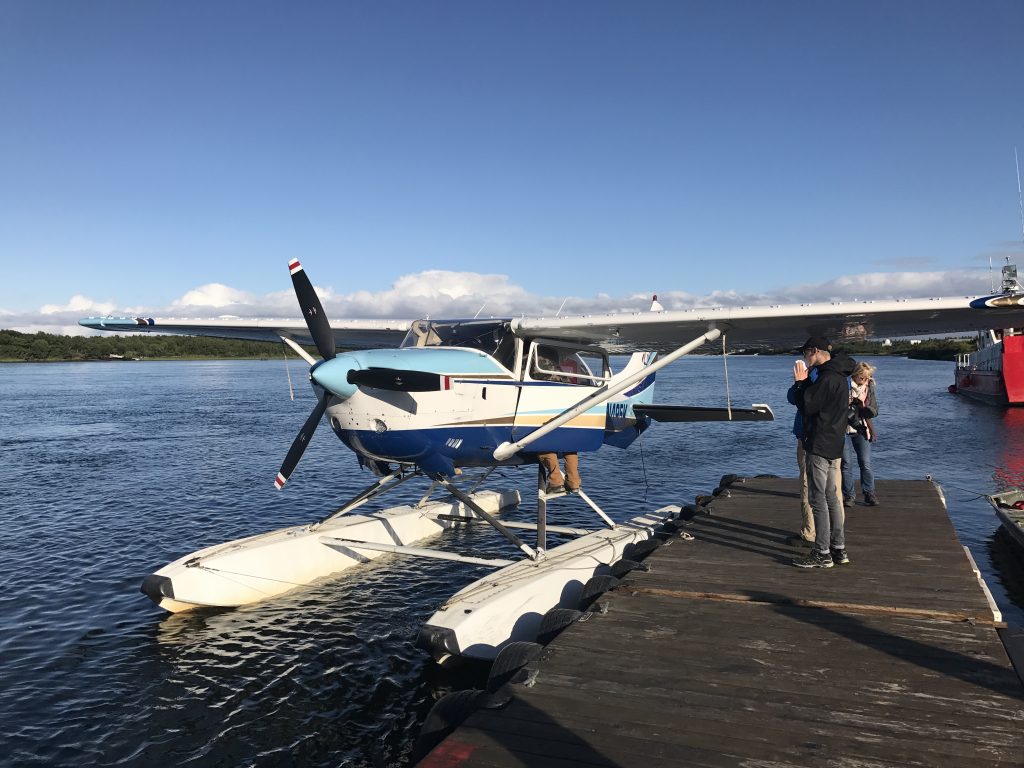 Time for a smaller plane.
There, at last! Walk off on the beach at Brooks Camp. First sight: two brown bears eating salmon out on a sand spit to the right.
Brooks Camp was originally the first fishing camp in this area. Later, a lodge was built, and the area became a National Wildlife Refuge, with a focus on bears fishing for the salmon that run up the Brooks River to spawn.
And come they do! July is peak spawning time, but this year was a record spawn, and in August, the stream was thick with salmon, and bears were still at Brooks Falls tanking up on salmon calories to tide them through the long winter dormancy.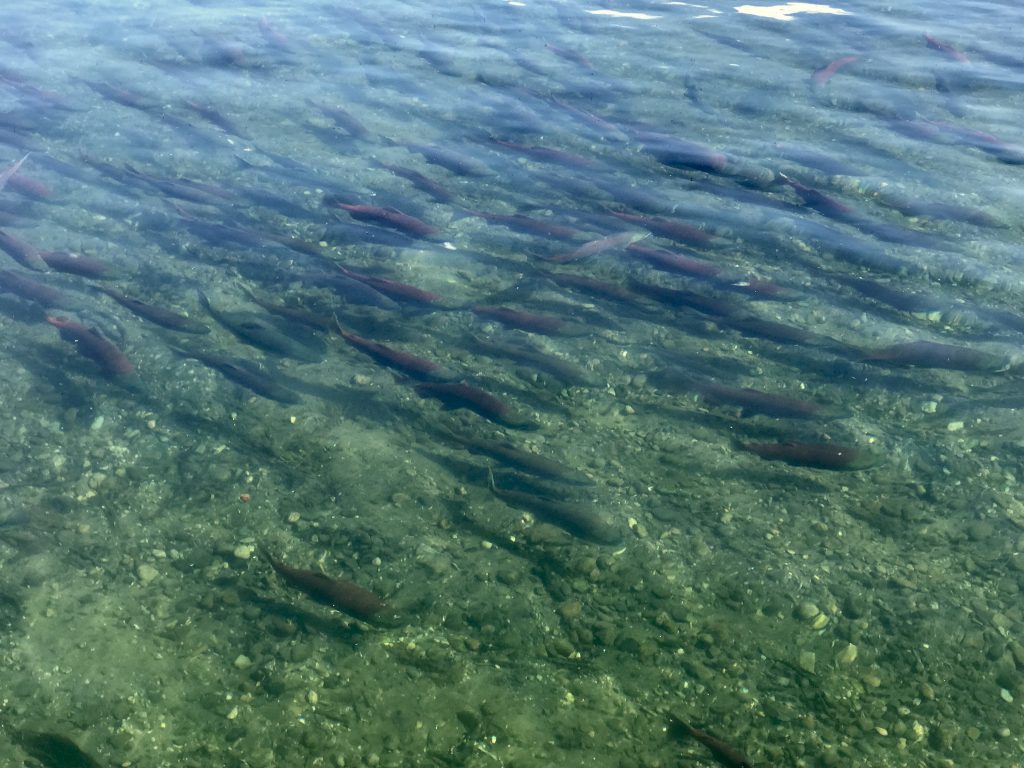 Brooks Camp is a bit amazing. It is as if you are living inside the bear cage, but the cage is as big as Alaska and there are no bars (that don't sell whisky). The bears have the right of way, and you must work around them, and leave them free to live as they always have. I like it.
Bear 1 from Mel Malinowski on Vimeo.
Bear eating salmon from Mel Malinowski on Vimeo.
Young bears at play from Mel Malinowski on Vimeo.
I met a couple of pro photographers along the way, and they agreed to share this great photo of a mother brown bear and her 3 cubs. Thanks to Bob and Mary Ann Bjornsen
Living with the bears was fun, a totally new experience. I'm glad I made the effort to visit Brooks Camp. I flew back to Anchorage on a drizzly Sunday in the co-pilot's seat of a Piper Navajo twin prop plane, talking aviation with the 747 captain who pilots these local flights when he has time. Anchorage is having a rainy August. Don't forget your rain gear top and bottom if you come up north.
Next up: two weeks exploring with a 4WD Jeep Cherokee around Wrangell-St. Elias National Park and Preserve, at 13.2 million acres it is America's largest National Park. How big is that? Bigger than 9 of the states in the USA, and 1/3 larger than Switzerland. That should keep me busy!
Big mountains lie ahead! Mount Sanford, 16,237 feet.
First, I drove a little over 300 miles from Anchorage to McCarthy, the end of the road. It is as deep in the big park as you can get by car. It runs along the former railroad grade of the railroad built in 1910 to haul the copper out from the Kennecott copper mine.
Quite a bridge!
If you drive under the bridge, and can do a 'mantle' move up onto the abutment, you can take a hair-raising walk on this catwalk above the gorge.
This big link joins the center span together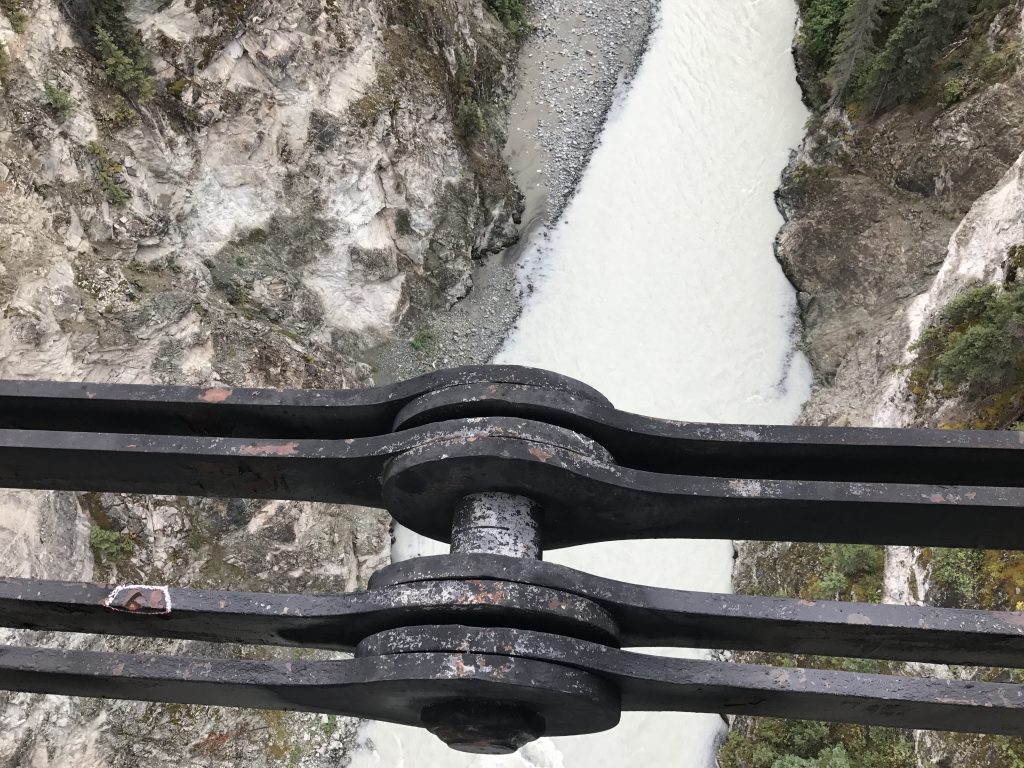 At road's end, you must walk across a pedestrian footbridge and catch a shuttle for the 5 mile trip up to the Kennecott Copper Mine site. In 20 years, more than $1 billion dollars (current value) of copper was mined, crushed, and separated for shipment by rail.
The burlap sacks are processed copper ore on its way to the coast at Cordova, thence by ship to the smelter in Tacoma, Washington. Due to a historical typo error, the mine is spelled with an 'e' in the middle rather than an 'i'
It is amazing that this 14 story high processing building on the hill still stands. This site is a National Historic Landmark.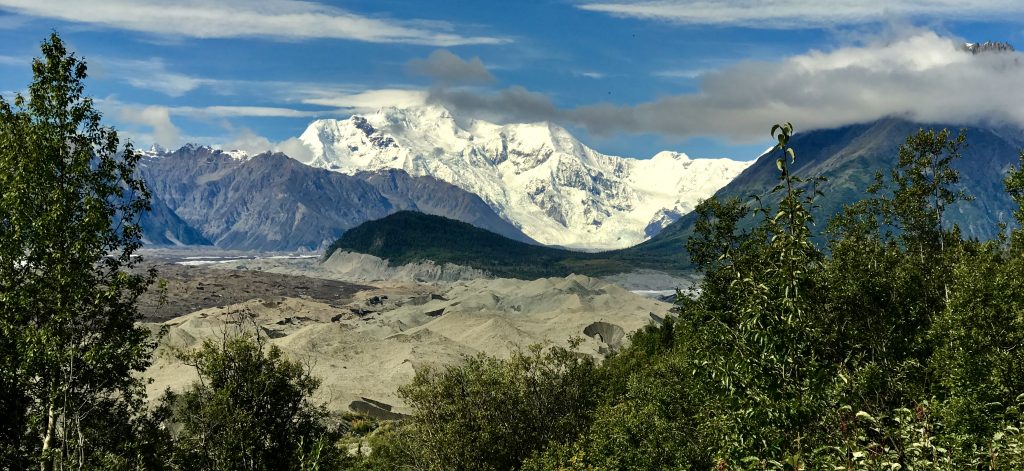 And just up the valley is Mount Blackburn (16,390 feet), the fifth highest mountain in the USA, and the highest volcano in the USA. From it flows the Kennicott Glacier. What appears to be gravel moraine here is actually glacial ice covered with a thin layer of glacial rock. It is HUGE! Fully 25% of the Park is covered with glacial ice!
The tributary Root Glacier is offers some great ice climbing practice areas, so I decided to do my first ice climbing.
First you must venture out on the 'gravel' edge, which is frozen hard, and is really just ice with a thin crust of gravel. Crampons (spikes strapped to your boots) are essential.
Really glacier with a crust of rock.
Just climb up that vertical ice and snow wall and over the top.
Amusing demonstration by Cody of one way to climb up and over an overhang using a technique known as 'figure four'
Ice climbing figure four move from Mel Malinowski on Vimeo.
My last adventure in McCarthy was a flight around the mountains and glaciers of the area. Here is a collage of the spectacular ice formations, including ice falls (essentially, ice waterfalls).
This is an unusual feature only seen in Alaska: a 'rock glacier'. It is 90% rock, 10% ice underneath, pouring down the hill. There are a few of these.
And this is where the Kennicott glacier is joined by the smaller Root glacier. The dark areas are moraine gravel, and when in the middle where glaciers have combined, they are called 'median moraines'.
My glacier/ice climbing adventure was fun and unusual. Ice climbing uses more upper body than rock climbing, so you best be in top condition before doing a long such climb.
There are some very small bugs in many parts of the world that are often called 'midges'. They are not a mosquito, but the females want a blood meal from you. In Washington, we call them 'no-see-ums'. In New Zealand, they are called 'sandflies'.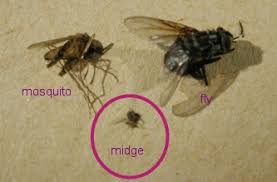 Their bite itches, and can get infected. They also can transmit some diseases, so it's best to defend yourself. As repellants don't work, covering up with a head net and gloves works best. Some midges are so tiny that they can go through ordinary window screens.
If you don't take a $10 headnet with you when setting out to hike, you may regret it.
Midges from Mel Malinowski on Vimeo.
Next, I headed up Nabesna Road at the northern edge of the park:

White Mountain
Snowshoe Hare from Mel Malinowski on Vimeo.
Snowshoe hare. This hare turns pure white in the winter to hide in the snow.
I made two hikes here, but then rain settled in, so I pointed my Jeep north to Fairbanks and beyond. Just 140 miles north of Fairbanks lies the fabled Yukon River and only 60 miles further, the Arctic Circle. I wanted to see this unusual area.
My first time north of the Arctic Circle (we were close in Norway).
I drove south from Fairbanks back to Denali Park, so I could explore some of the first 15 miles in from the entrance. I got lucky, and the weather was fair, with puffy cumulus clouds, though a chilly 41°F, as even in late August, you can feel the approach of winter. Denali Park will close till next summer in just 2 weeks. My first stop was to see the sled dogs that are used in the winter to patrol the snowed-in park:
Sled dogs are the dog equivalent of Olympic athletes, bred for strength, endurance, energy and enthusiasm.
The upcurled bushy tail is important, as it protects the dog's nose and breathing when curled up in the snow at night.
Two Russian visitors enjoy petting one of the lead sled dogs.
On the drive into the park, the clear skies allowed this nice glimpse of Denali, almost 80 miles away.
I drove in as far as you are allowed to take your own car (15 miles of the 90 mile road), and hiked up the 'Savage Alpine Trail'.
High up, I saw four Dall sheep across the valley. Magnificent!
Dall sheep resting in Denali Park, Alaska from Mel Malinowski on Vimeo.
This is the closest I came to Dall Sheep. Their preservation was the motivation for seeking park protection for this area.
Waking up on a cloudy morning, I decided to drive on down to Anchorage, and then beyond to the Kenai Peninsula. I arrived in time to hike up the Flat Top Mountain trail (in the rain). What a rainy August! Ketchikan, AK has had the rainiest summer on record.
Double rainbow over Turnagain Arm of Cook Inlet near Anchorage, AK
Much of Alaska is accessible only by airplane. This is a program to help villagers ship food and supplies.
The further out you go in Alaska, the more everything costs, due to transportation costs and a short summer season.
Next, out to the Kenai Peninsula. Ugh, too much rain!
The view from this spot IF it wasn't raining. Best I can do is roadside sign picture.
This is only 8 years ago!
Typical 'taiga': from Russian. Also known as boreal forest or snow forest. A biome characterized by coniferous forests consisting mostly of pines, spruces and larches. The taiga is the world's largest biome apart from the oceans.
Lots of spindly black spruce, which can grow above permafrost.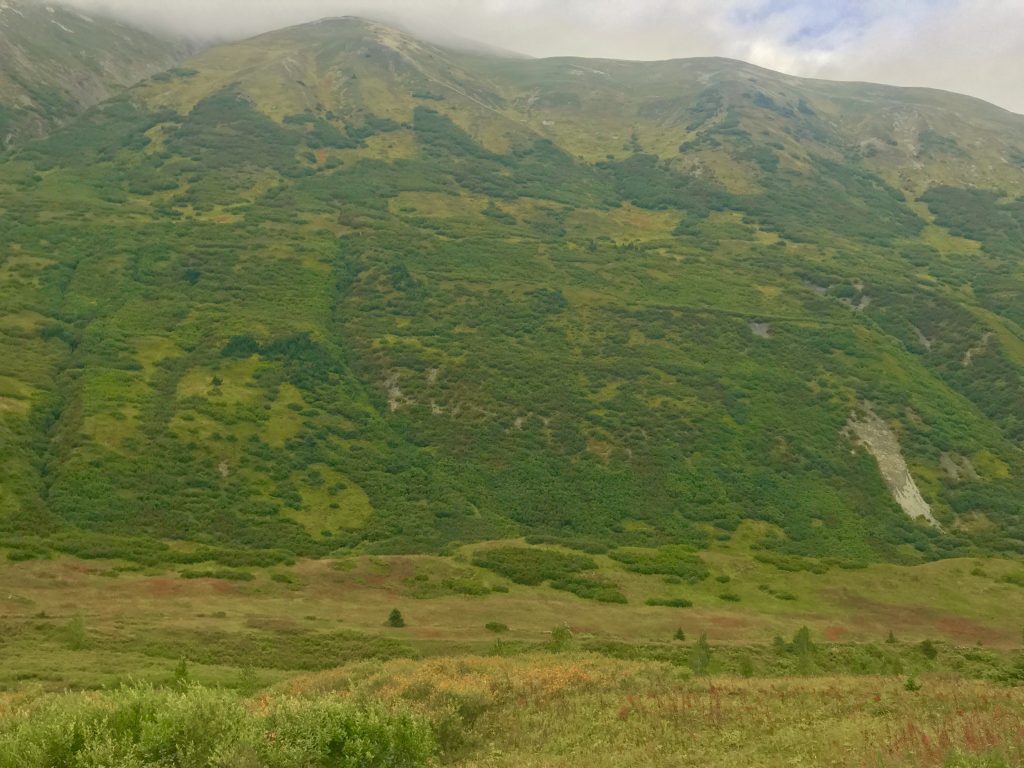 The Homer, Alaska pier
I have loved libraries since childhood, and often stop there. Great place to recharge your electronics also.
I LOVE the Homer library. An architectural gem, very inviting yet homey.
Relax and read in the 'living room' by a fire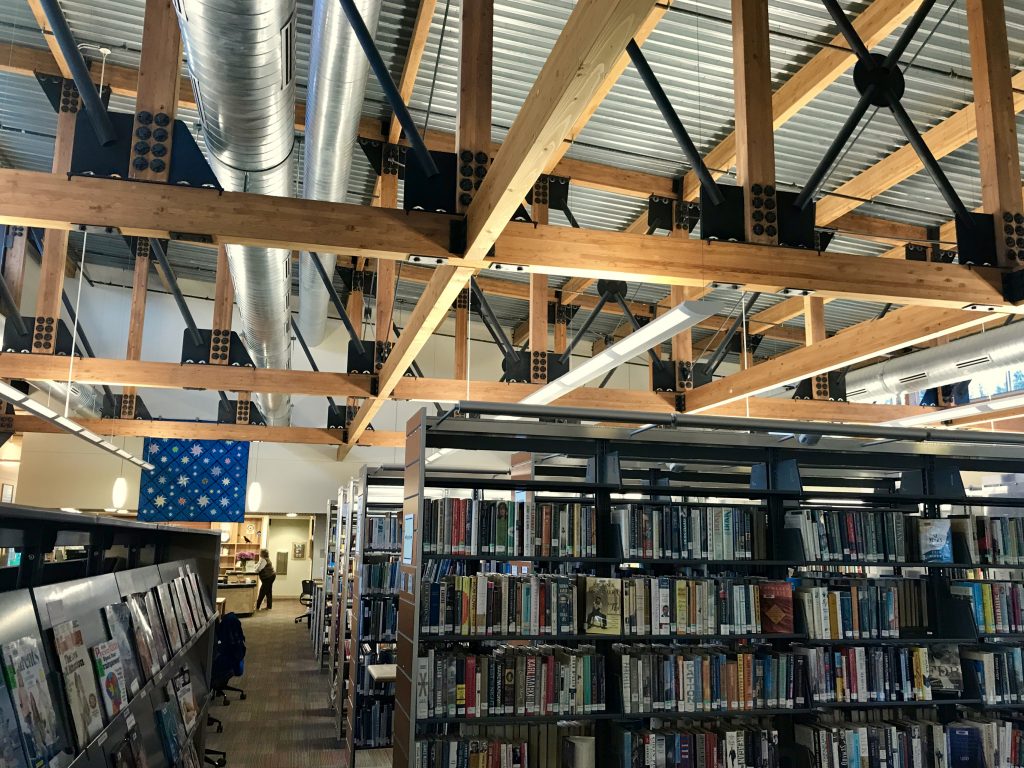 A local library patron who allowed a portrait.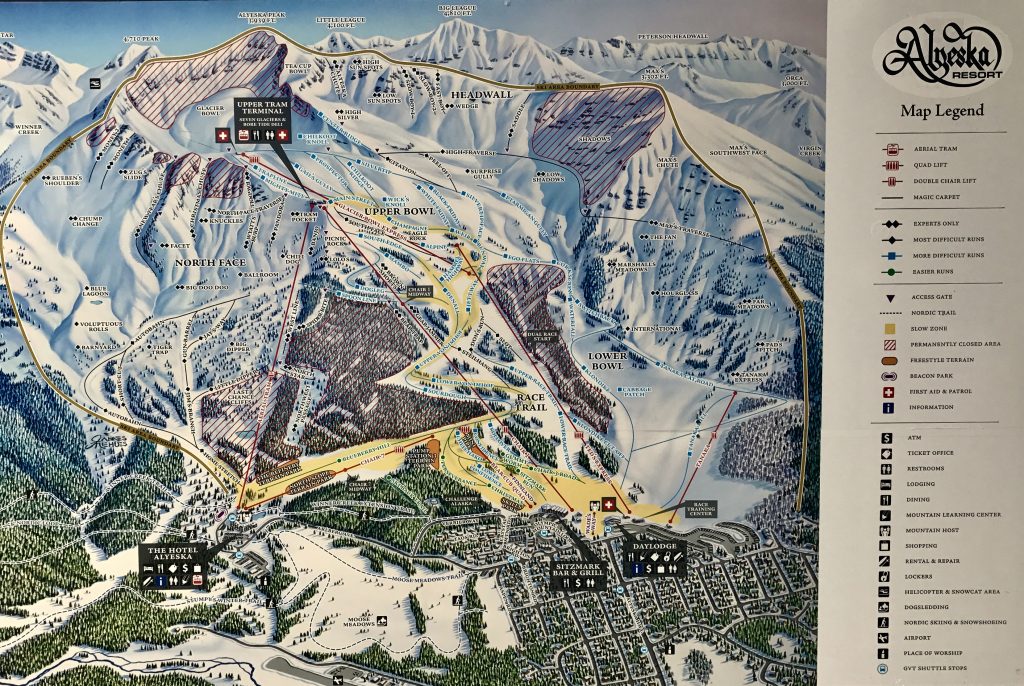 There is quite a good ski area near Anchorage. Looks pretty black diamond to me, which my pilot friend Rob confirms.
My last hike is to Crow Pass. 7 miles RT, 2100 feet of elevation, so the equivalent of a little over 13 miles. 41°F when I set out, and overcast. A very pretty hike among the glaciers of Alaska, and the vast big views. I saw 17 mountain goats along the way, as well as one marmot. On the top of the pass, the wind must have been at least 40 mph, and the wind chill about 20°F. So on the way back, in the interest of survival, I put on all layers, and covered my face to prevent frostbite. This is on September 4th!
How to sum up Alaska? Wow! Big! Huge! Breath-taking vistas. Vast areas of taiga, so driving around can take days. Lots of wildlife left to be natural. Glaciers, glaciers, glaciers! Harsh weather–a friend who lived and worked many years in Alaska says that the effects of climate change are very apparent here: more severe weather, warmer, colder, wetter.
I'm grateful that I had the opportunity to visit such a spectacular natural area. It really is one of the top areas in the whole world.