Judy and I came to love Thailand, and returned many times. During one stay in Bangkok, I began studying Chen Tai Chi with a club in Bangkok.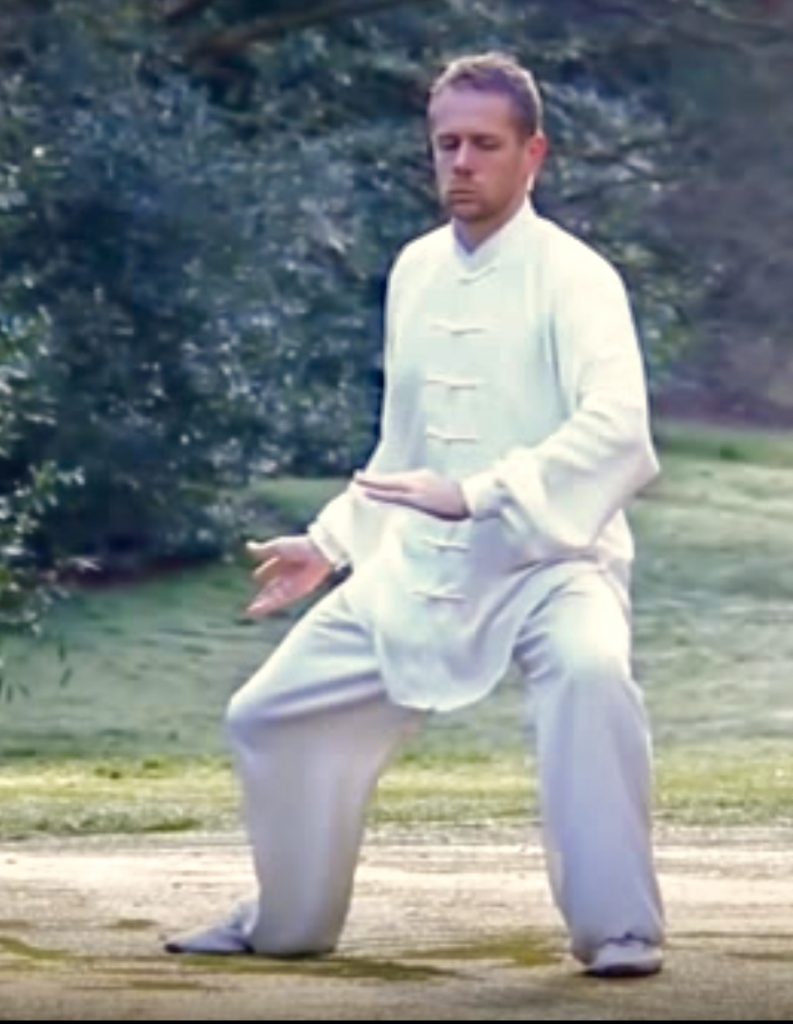 Tai Chi is very good exercise, and also has a meditative component.
Now I have come back to Thailand to practice. I've settled into a routine of early morning Tai Chi warmup and practice on the 40th floor roof deck (while it is cool), then a swim in the pool, sweat in the sauna, swim again to cool off. Later in the day, exercise in the cooled gym area. Then walk out in the city, and have lunch. Sometimes get a therapeutic massage for about $12 for an hour. Come home in the afternoon and study Thai language and programming for the Mac OS a bit, then read iBooks or stream a movie. Later, go up on the roof deck and watch the sunset and all the city lights come out.
These are views from the apartment I am staying in on the 36th floor of a modern 41 story building overlooking the Chao Phrya river. Tall buildings are sprouting up all over Bangkok, and the latest are more than 60 stories tall.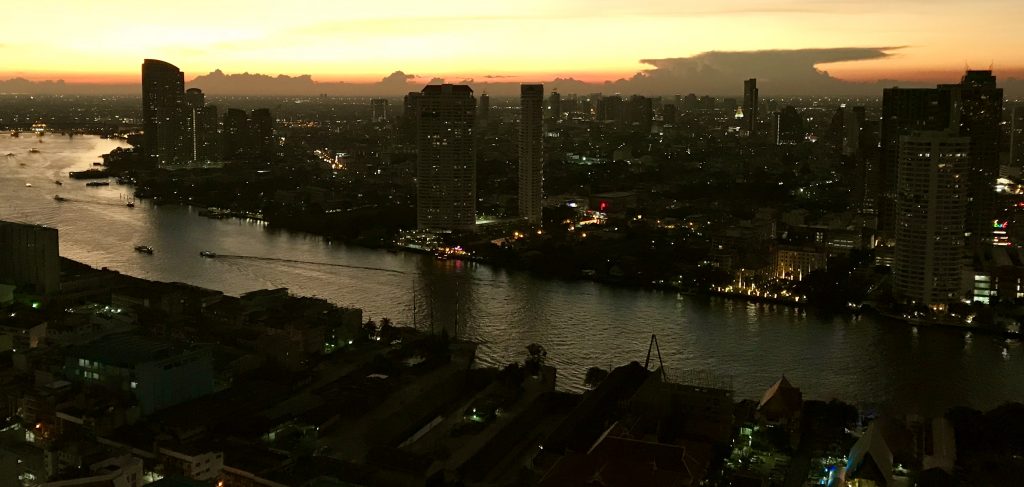 The variety and quality of fruit in Thailand is amazing. It seems like there are 100 varieties of bananas, from tiny finger-sized on up. This is 'rambutan', a relative of lychee.
One of my lunch favorites in the neighborhood, spicy Thai chicken salad and rice. At $3.26 USD, it sure beats having a Big Mac at a higher price. Later, I'll show pictures of more of my Thai favorites.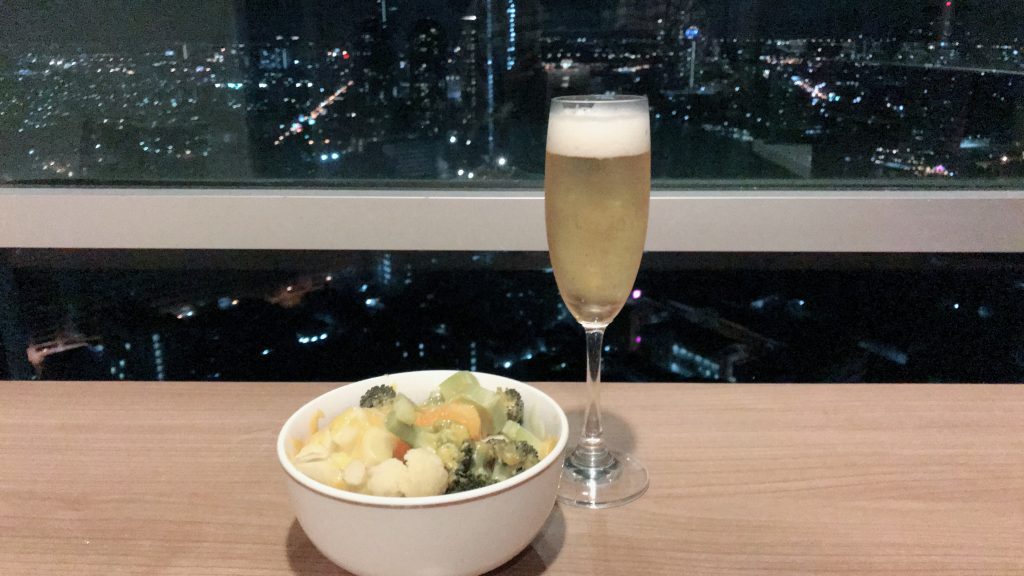 What I like to make at home: steamed cauliflower, broccoli, red and green peppers and carrot, with melted cheddar cheese on top. Yum!
While up on the roof deck at night, I came upon some building residents who were having a Thai boxing lesson:
Thai boxing practice from Mel Malinowski on Vimeo.
Looks like good exercise! I had an interesting discussion with the instructor during a break. He instructs Thai special forces troops, and notes that they are taught to use whatever weapons they have as a first resort, as someone with a weapon has an advantage over someone with bare hands only.
I commented that during my brief 'Krav maga' lessons, my instructor said he didn't like to teach Krav Maga to 18 year old boys, as they were impetuous and too likely to show off and hurt someone. He (like my Tai Chi instructor) said it is always better to avoid the fight, as there is always risk of injury to yourself or others. Good advice.
After showing a little Tai Chi to the father of the girl taking the lesson, he remarked that, based on how I moved and looked, he would have guessed that I was in my 50s. I appreciated the thought, and hope to do what it takes to stay fit and strong like my father was into his late 80s.
It's also nice to see someone staying fit and encouraging his daughter to do so. Here is a snippet of him practicing:
Thai Boxing 2 from Mel Malinowski on Vimeo.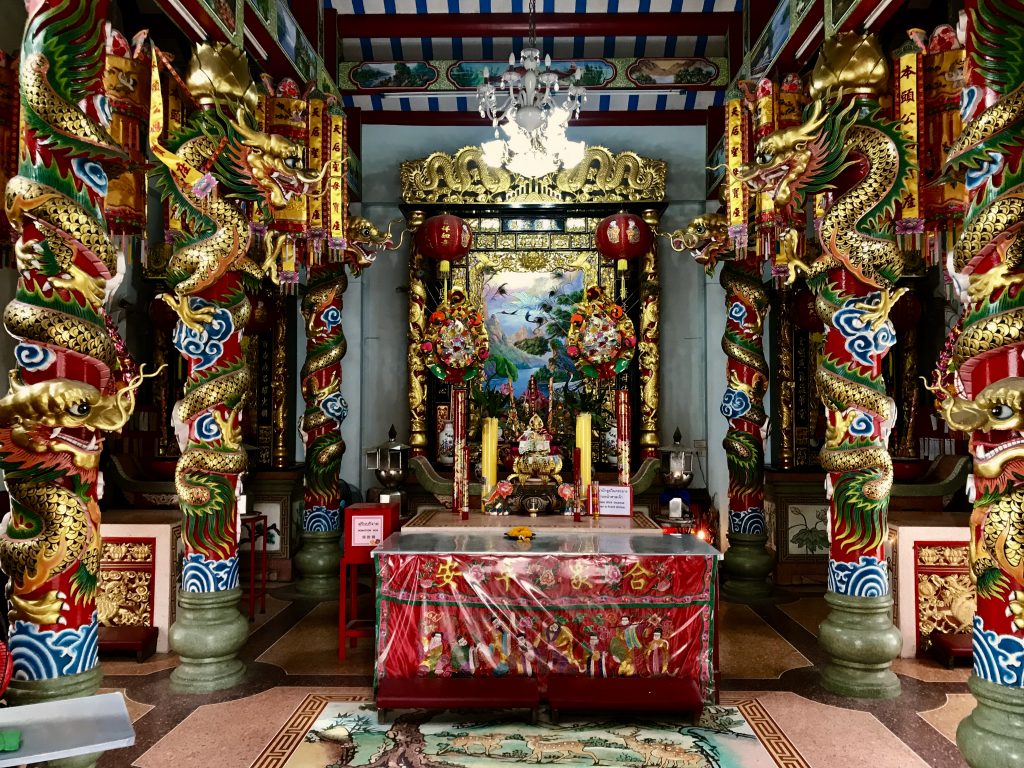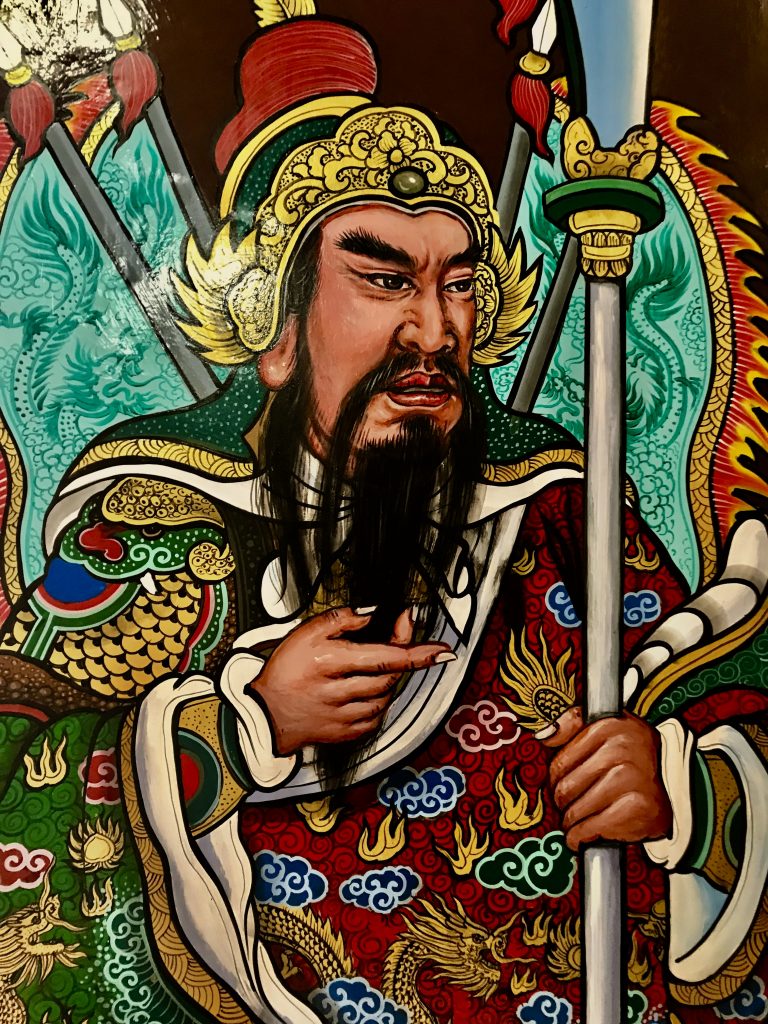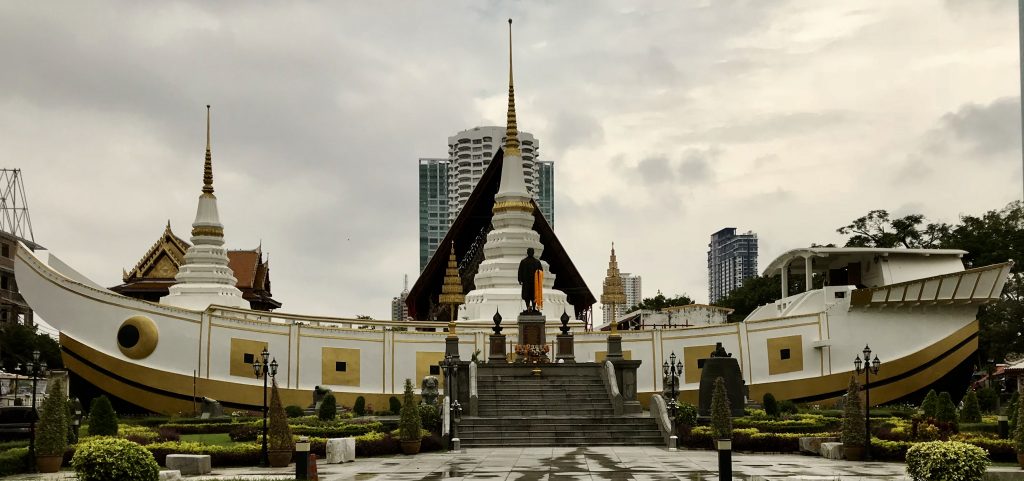 One of the most popular attractions of Bangkok is the "Grand Palace". We had avoided it as being just too mobbed with tourists, and too big (it sprawls out on a huge area). A Thai friend assured me it was well worth the effort, and took me there as my tour guide. It is free for Thai, and costs 'farang' (foreigners) about $15 USD admission.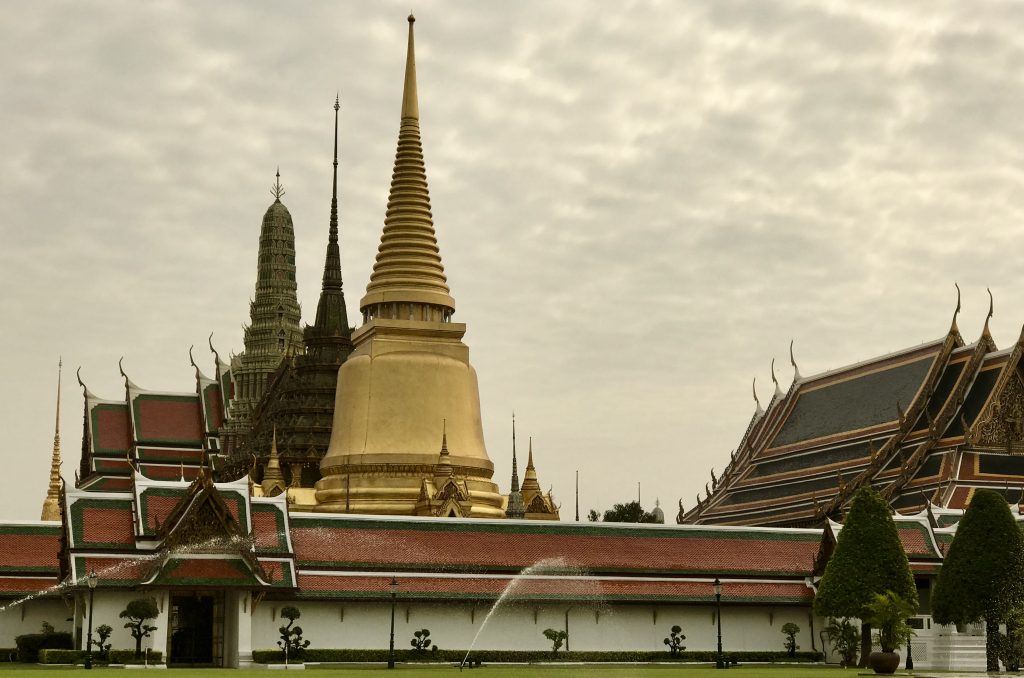 We approach the Grand Palace.
It becomes clear that the Grand Palace is like the Louvre Museum: you could spend a week here, it has so much to see.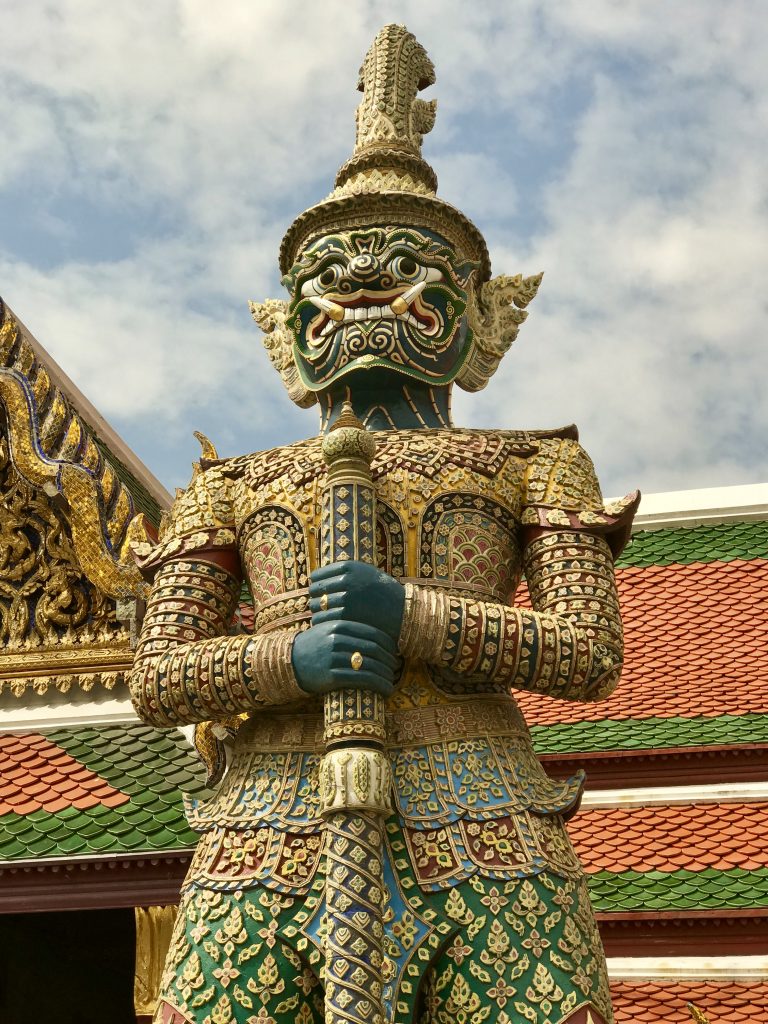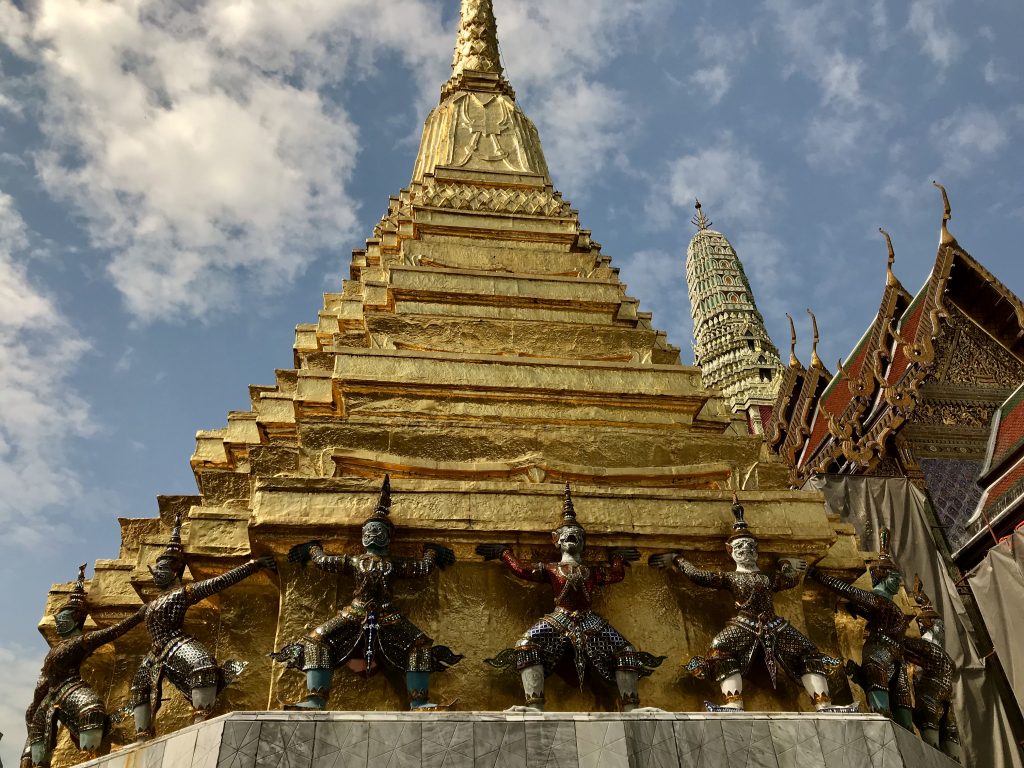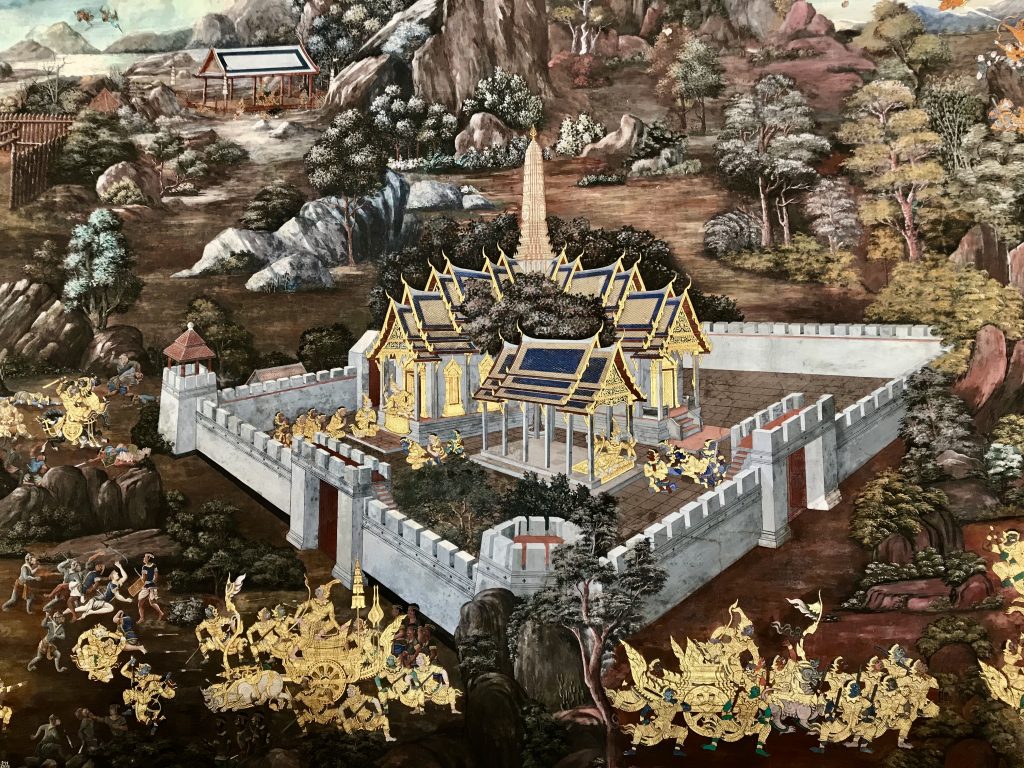 One building is ringed by epic murals.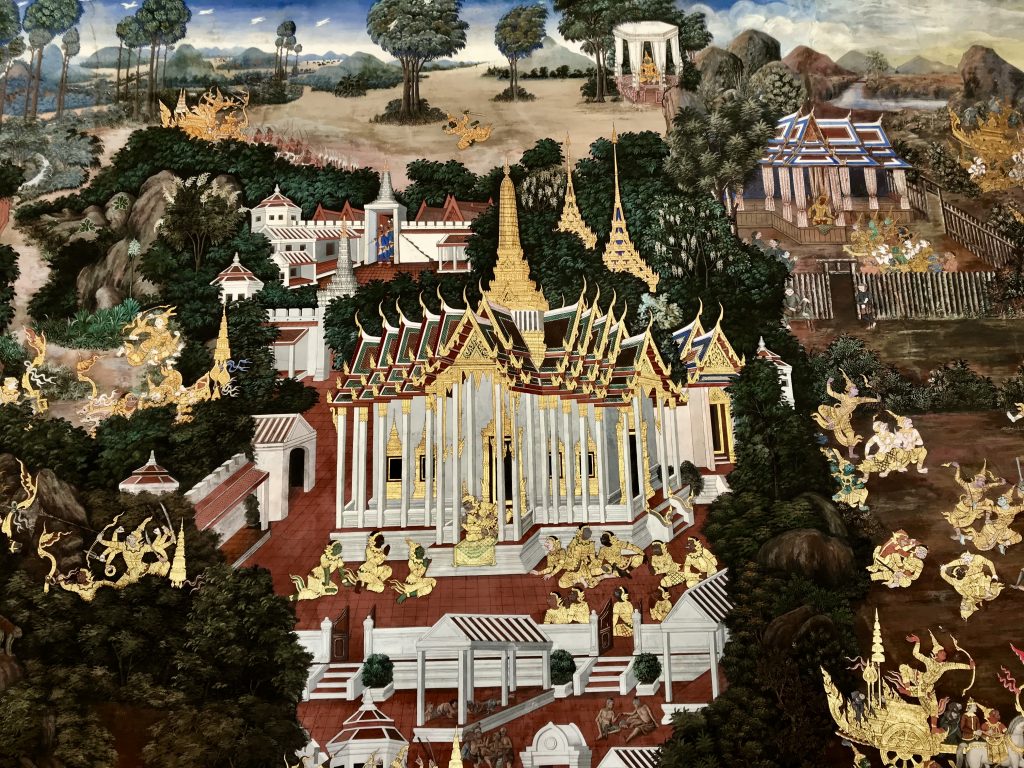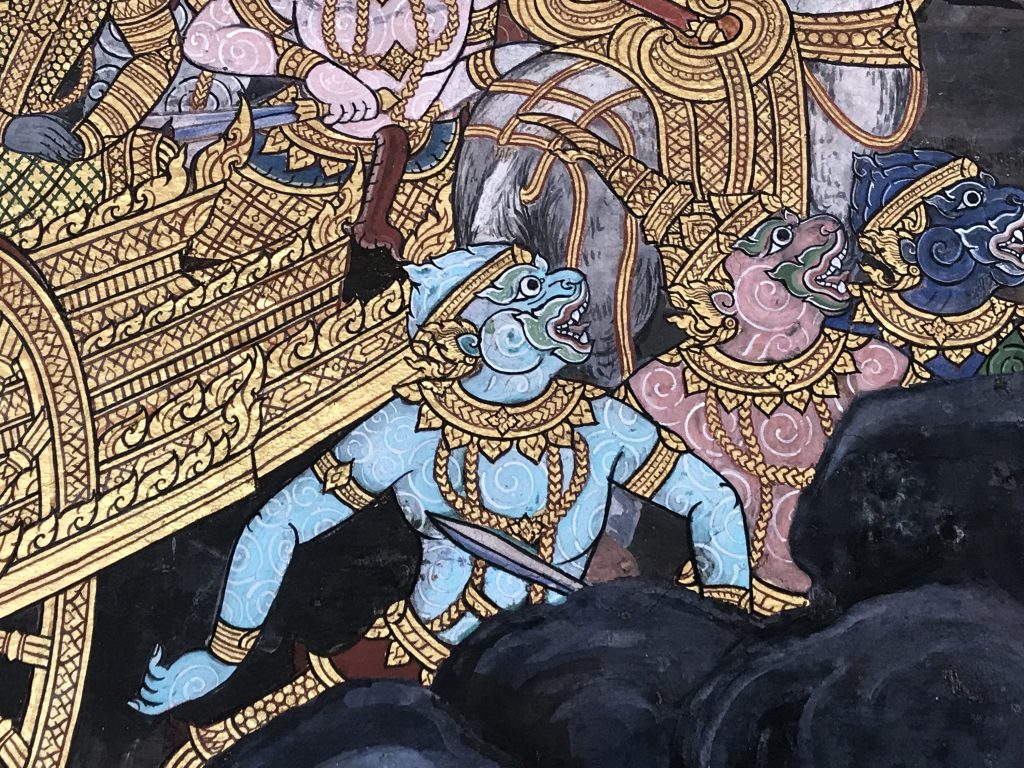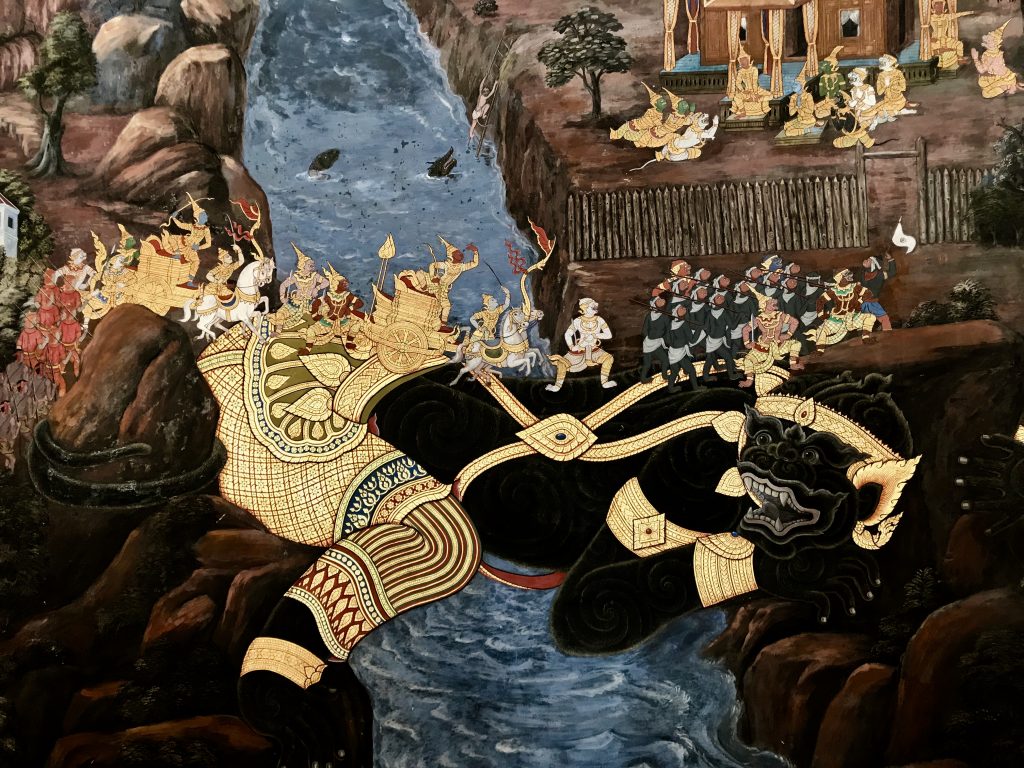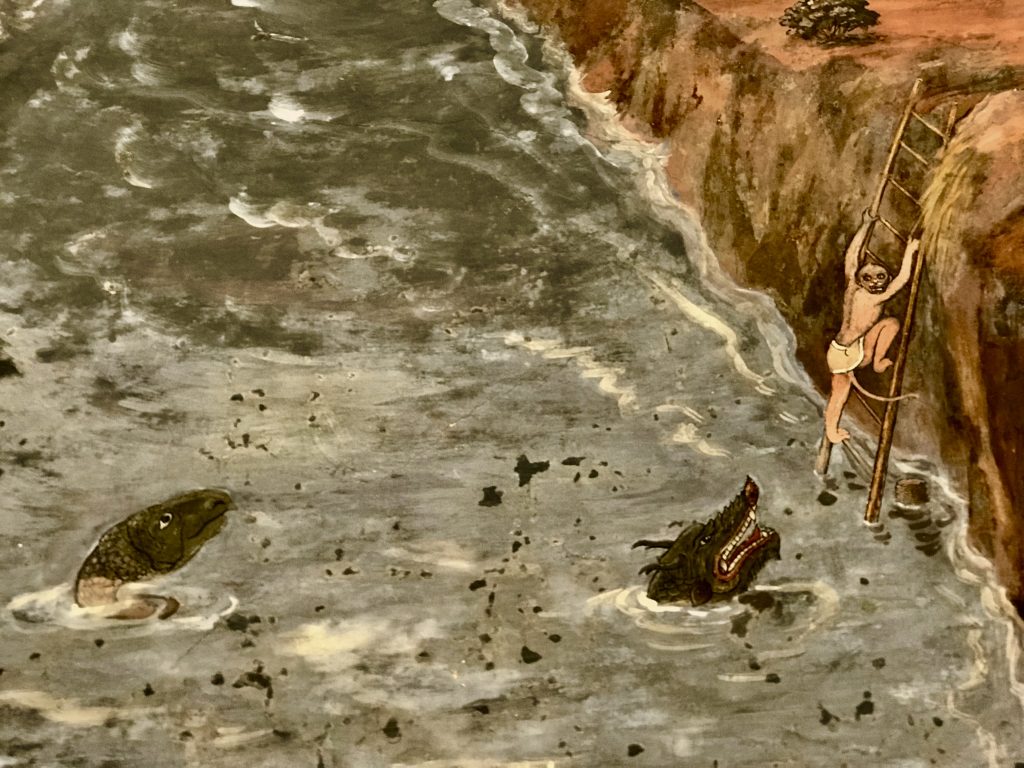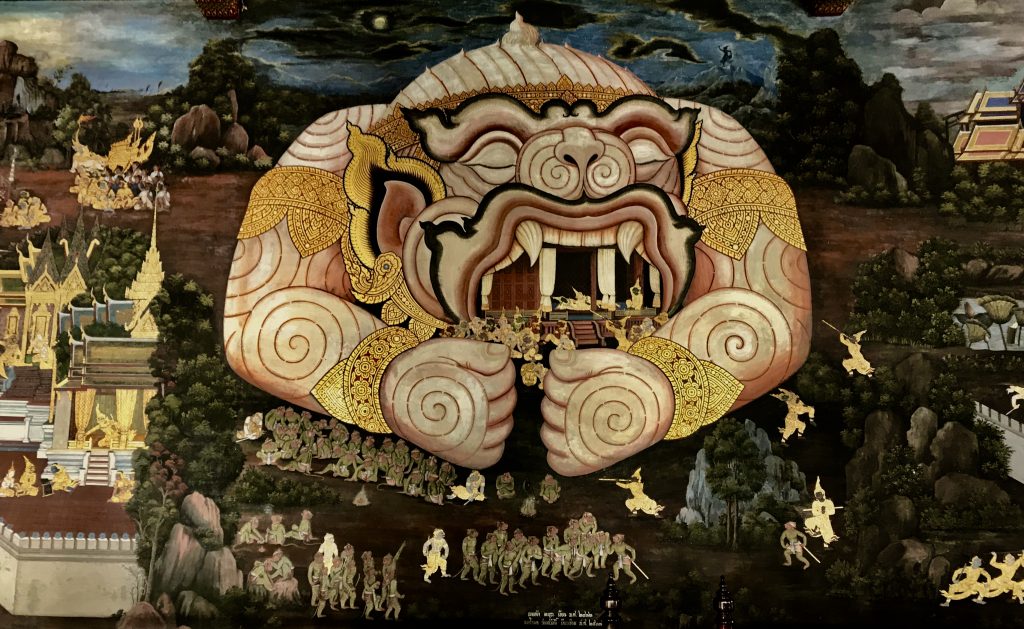 I could have spent hours just looking in fascination at these murals.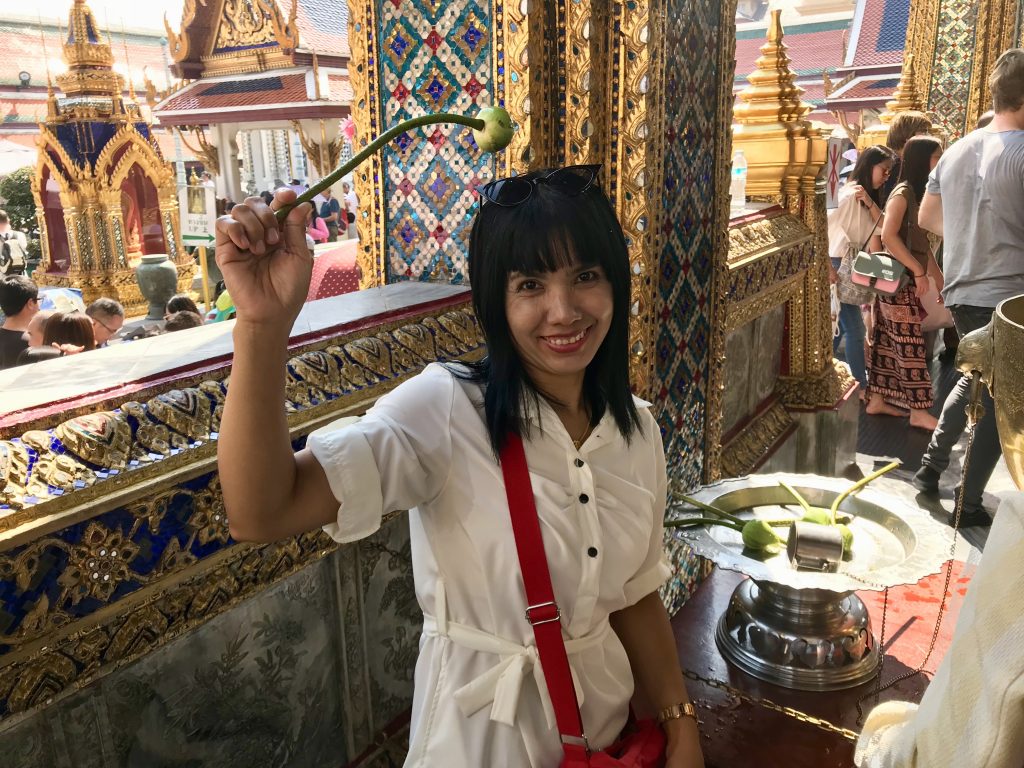 My guide, Pin, pouring symbolic water over her head at the nearby Temple of the Reclining Buddha.