Travel day! Car, plane, bus, train, car took me from Glasgow to the Dingle Peninsula via Cork, Ireland. I am not trying to see all of Ireland (it's big!), nor even saying what is the best to see. I decided to limit my explorations to the southwestern areas west of Cork, Ireland.
Dingle is on the Wild West coast of Ireland, with rugged rocky hillsides, and very old geology and history dating back thousands of years. It ranks very high on most 'must see' lists. It was my first destination, driving out from Cork.
I stayed in an old Irish farmhouse now being used for guest accommodations. A simple, traditional design.
The living room is heated by a stove fired with compressed peat. A first for me. It looks a lot like dirt, but burns. Those are compressed blocks of peat in front of the stove. I suppose it is about one step this side of being coal.
On one night, a group of two French guys and a Korean woman were in the other part of the house. We had a shared bath. In the middle of her shower, the fuse blew, and the water went from hot to icy in a quick second. No electricity until 9am the next morning. Oh, well. We were all good sports about it.
On the mantle were lots of family pictures, including this one of the owner's sister. Wanna bet she had red hair?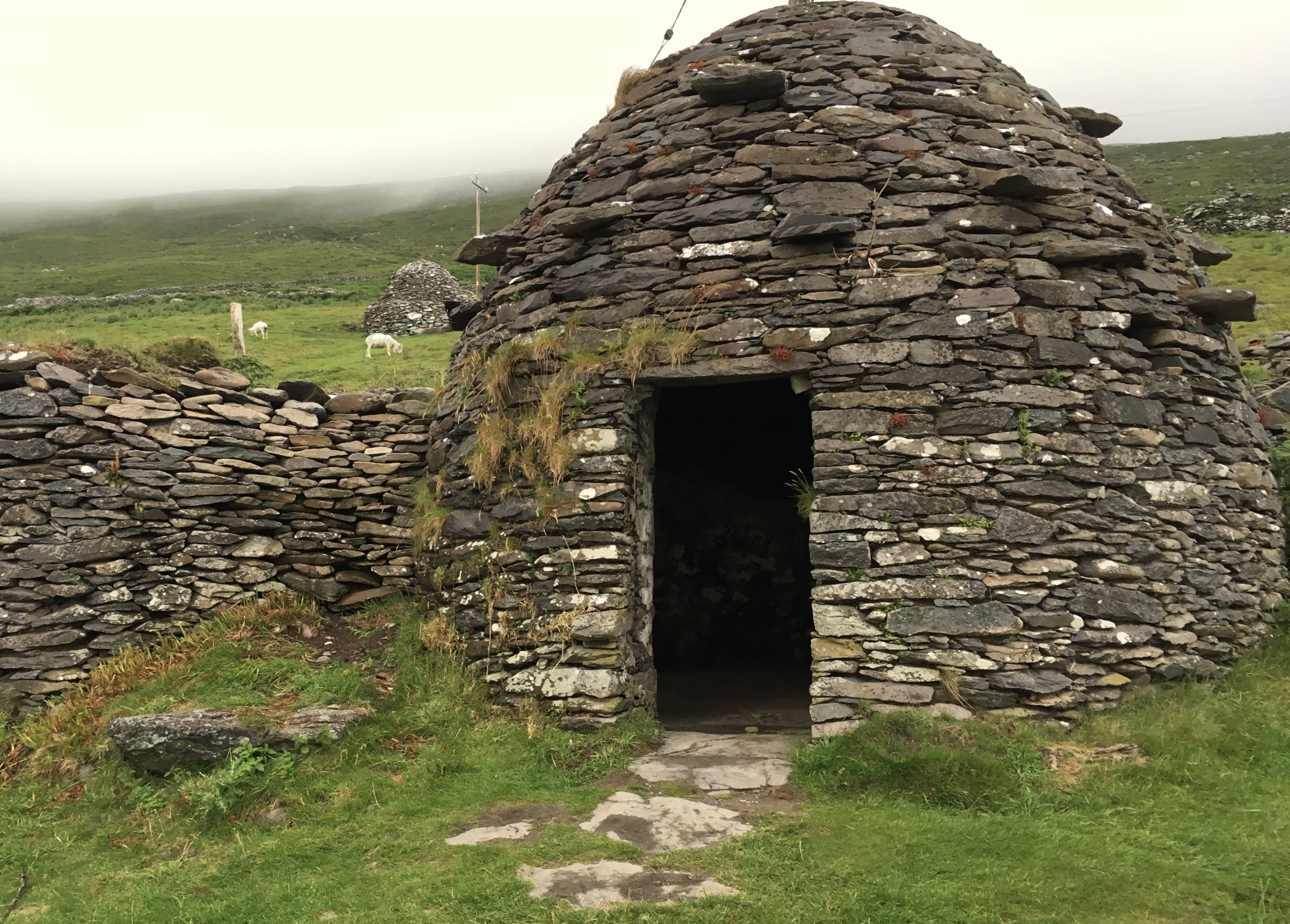 Next to the house is one of the remaining 'beehive huts' dating to 500BC. The plentiful flat stones of the area were laid up sloping out slightly, so the huts were watertight.
Here are partial remains of a bigger one, just a bit along the coast. You can see the farmhouse at the top left of the picture. This is a very rugged coastline! As you can see, the walls of these huts are quite thick.
Heading north along the coast. These 'dry stack' walls are everywhere.
There are some beautiful sheer bluffs.
There are some lovely and amazing rock formations and wildflowers on these rocky points:
This bluff has the remains of a watchtower originally built around 1810, after the French tried to invade Ireland. A series of them were built within sight of each other, like the towers on the Great Wall of China, so they could signal each other. This was later improved and used in World War II.  It is hard to imagine how much work it was to haul all this material up to the ridge top with just horses and carts.
Just below this, a film company recently built a set for the next Star Wars movie. All traces except the footprints of the village are gone. I'll try to find pictures of the set and add them in here. If you look closely, you can see where the village building were (the square bare patches just before the bay).
On the trail up Mount Brandon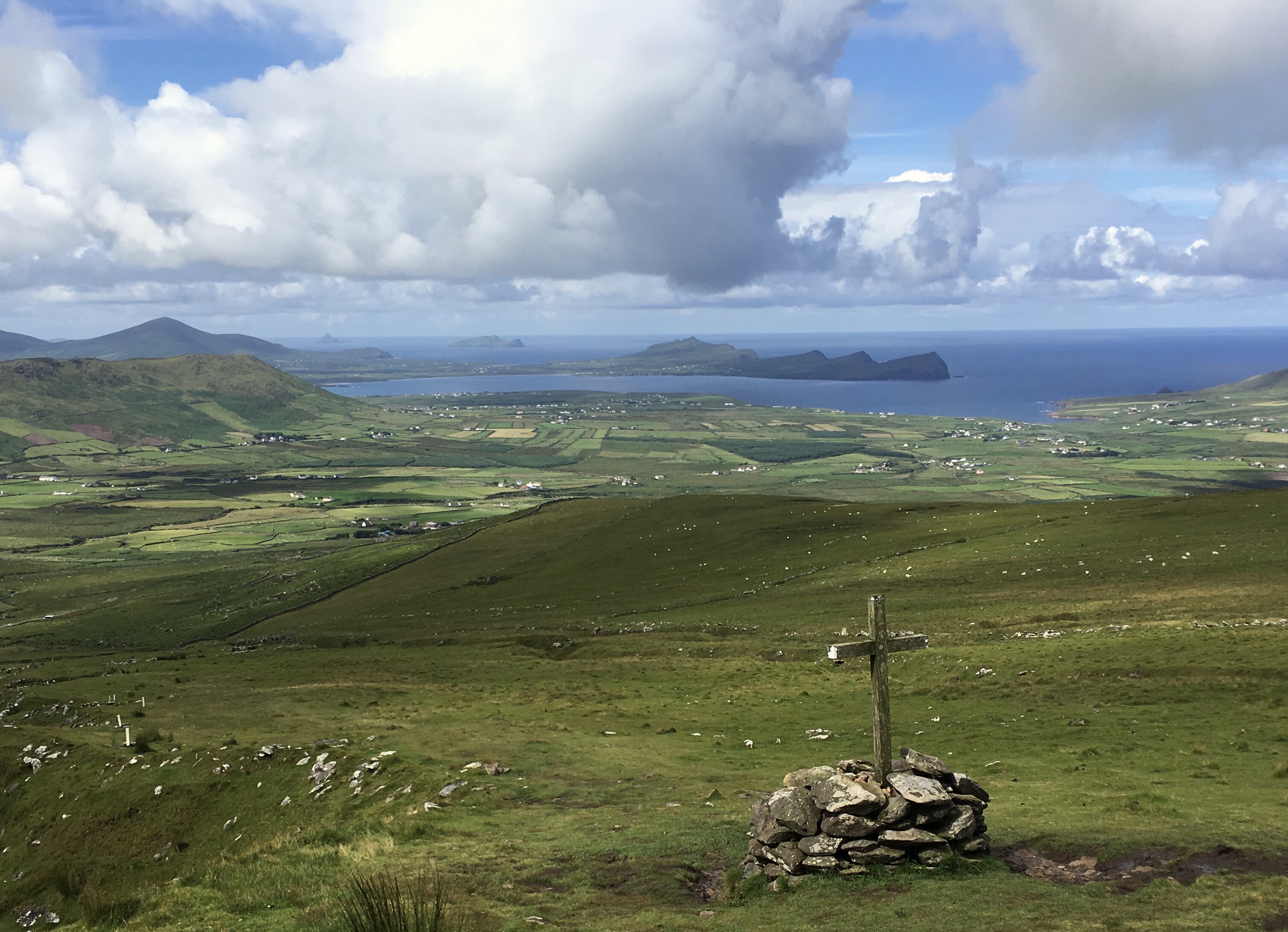 Another day, I set off to climb the highest mountain on the Dingle Peninsula (2nd highest in Ireland), Mount Brandon. Named after an Irish Saint, Brenden, it has 'Way of the Crosses' crosses numbered 1 to 14 along the pilgrimage way up.
Off in the distance, you can see what are called "The Three Sisters" at the end of a narrow peninsula.
I was the first on the mountain trail, but soon noticed someone a ways behind me. I stopped at as I was about to enter the cloud enveloping the higher reaches, and had a bit of lunch. This fellow caught up with me, and we hiked the rest of the way up and down together. His name is Morris, and he was born near here, in the town of Dingle. He is 79 years old, and has climbed this path more than 100 times in his life. One tough Irishman! This picture is at the summit.
After three nights at the farmhouse, I headed further south to the Ring of Kerry and the Ring of Beara. Rings are not like those in Lord of the Rings (rings of power), but rather just designations for roads that ring around the outer edge of a peninsula.
Southwestern Ireland, and my route. Many kilometers of one lane roads! Some slightly wider.
The bluffs at the tip of Kerry near Portmagoo are about 600 feet high and quite spectacular. Several species of sea birds glide on the updrafts west of these massive cliffs. But it'll cost you 4 euros to see them in this private property. Amazing it is not a park.
I found the Kerry peninsula more touristy and less interesting than Dingle. Too many big tour buses,
Onward to the Beara peninsula to the south!
I've been driving the "Wild Atlantic Way". Not an overstatement. Parts of it are one lane carved into some very high cliffs.
And some rather narrow roads, just slightly wider than my small car. Google Maps routed me on this road as the shortest way to Lauragh. I was soon wondering just how isolated the spot I would emerge at would be! I was lucky, and met no other car on the way.
Down in this area, the roads are often fringed by these flowers.
And so I arrived at the pier at the little village(?) of Lauragh.
I decided to put my fate to the wind. Here is what I found at day's end: Helen Moriarty's B&B at Lauragh. It's the only choice, but fortunately, it is lovely and comfortable inside.
The view from my room. 30 euros with its own bath, and a full Irish cooked breakfast. Good value. Later, some local fresh brown crab on toast for dinner at the pub downstairs, with a pint of local ale. Good evening.
The next day dawned with hardly a cloud in the sky. In more than a month in Northern Europe in June and early July, it's the first pure blue sky morning I have seen. I must disclose that it rained by afternoon…but that blue sky morning was sweet, and reminded me of how pretty lush green Ireland can be in the sunshine.
A modern Irish home along the road on the Beara Peninsula.
Some sort of aquaculture here in the shallow bay. The owner of the house above tried explaining it, but between his thick Irish accent and some language issues, I still am not sure what is being cultivated. I believe it is some kind of seaweed, but it could be something else!
Horses grazing on the rocky hillsides that are typical here.
More rocks than grass in some cases.
On to Cork, to see a bit more of urban Ireland.
Blarney Castle, near Cork. Bigger than it seems in this picture, and it looks defensible. You can 'kiss the blarney stone' and reputedly be given the gift of eloquence. If you look a little beyond the selling pitch, it actually is about having the gift to lie convincingly (as in diplomacy). That I do not need, and as getting to the stone involved shuffling along in a line of tourists for 1 ½ hours, I decided to skip the blarney in favor of the very interesting and extensive gardens.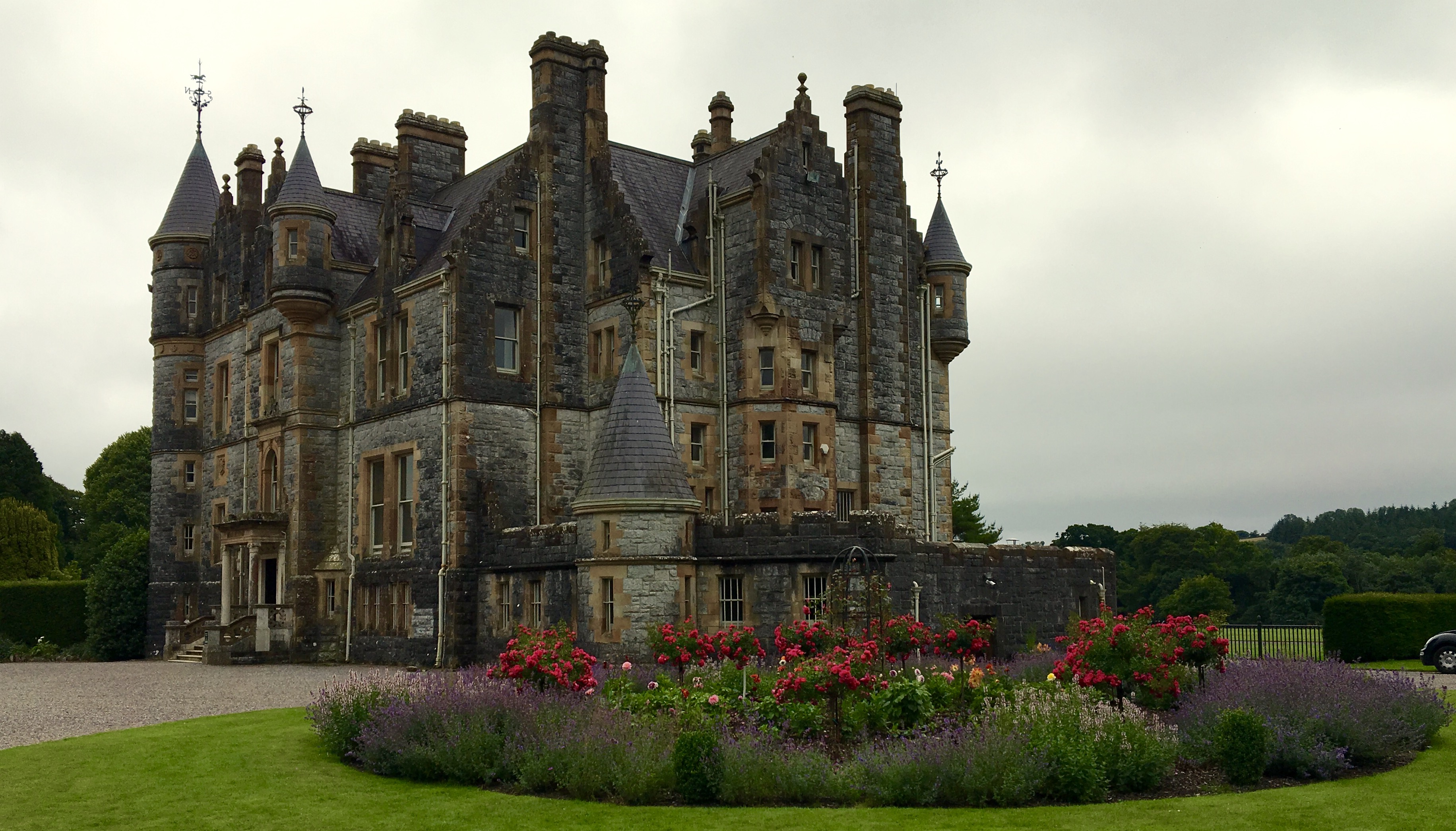 Blarney House
This is a VERY old rhododendron, more than 30 feet high!
The trunks of this rhododendron are more than 12″ in diameter.
The "Witch's Kitchen"
And lots of beautiful and unusual flowers.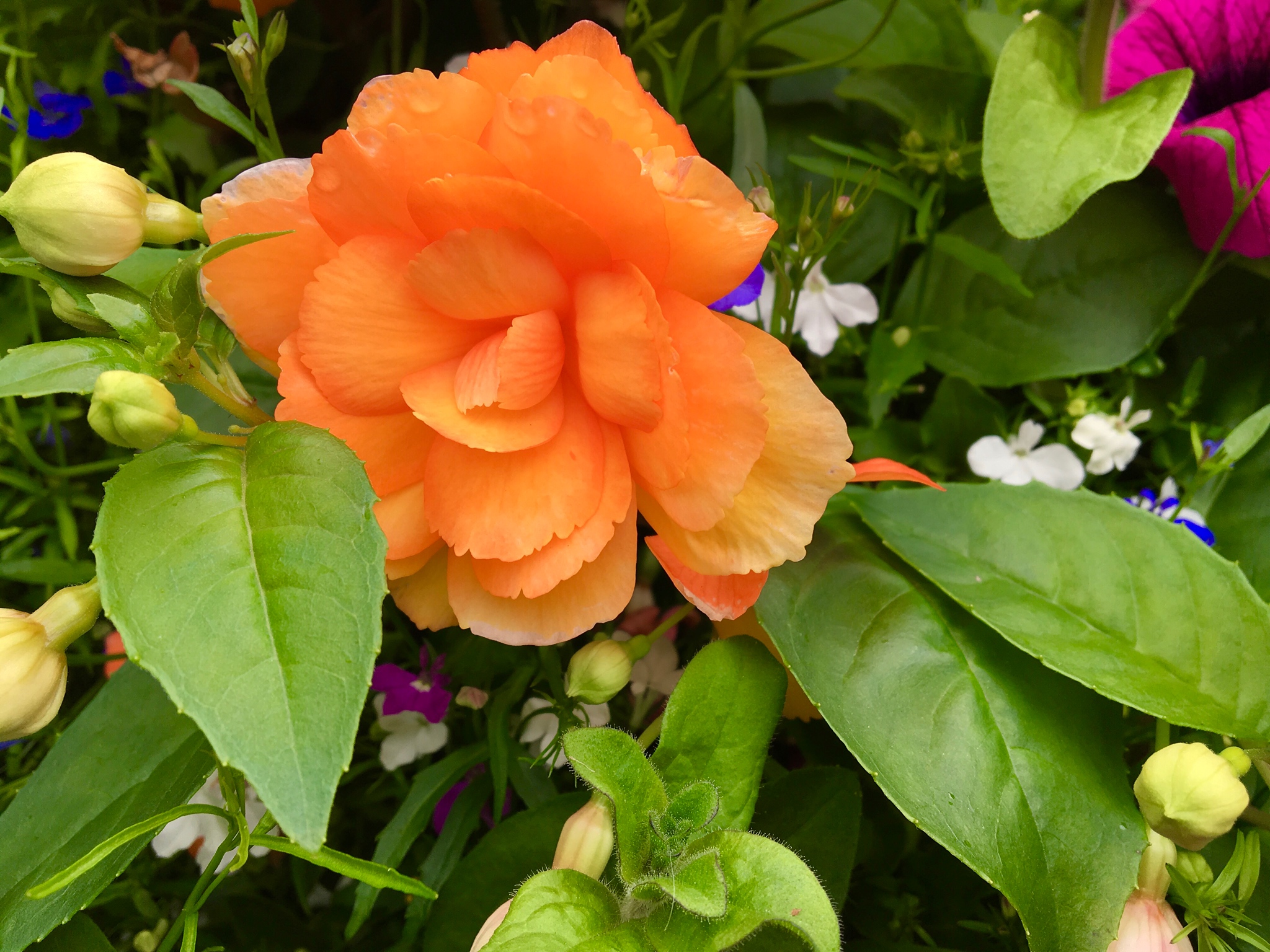 On an overcast Saturday morning, I took a walk through the nearby campus of the University College of Cork. It is a charming, attractive campus.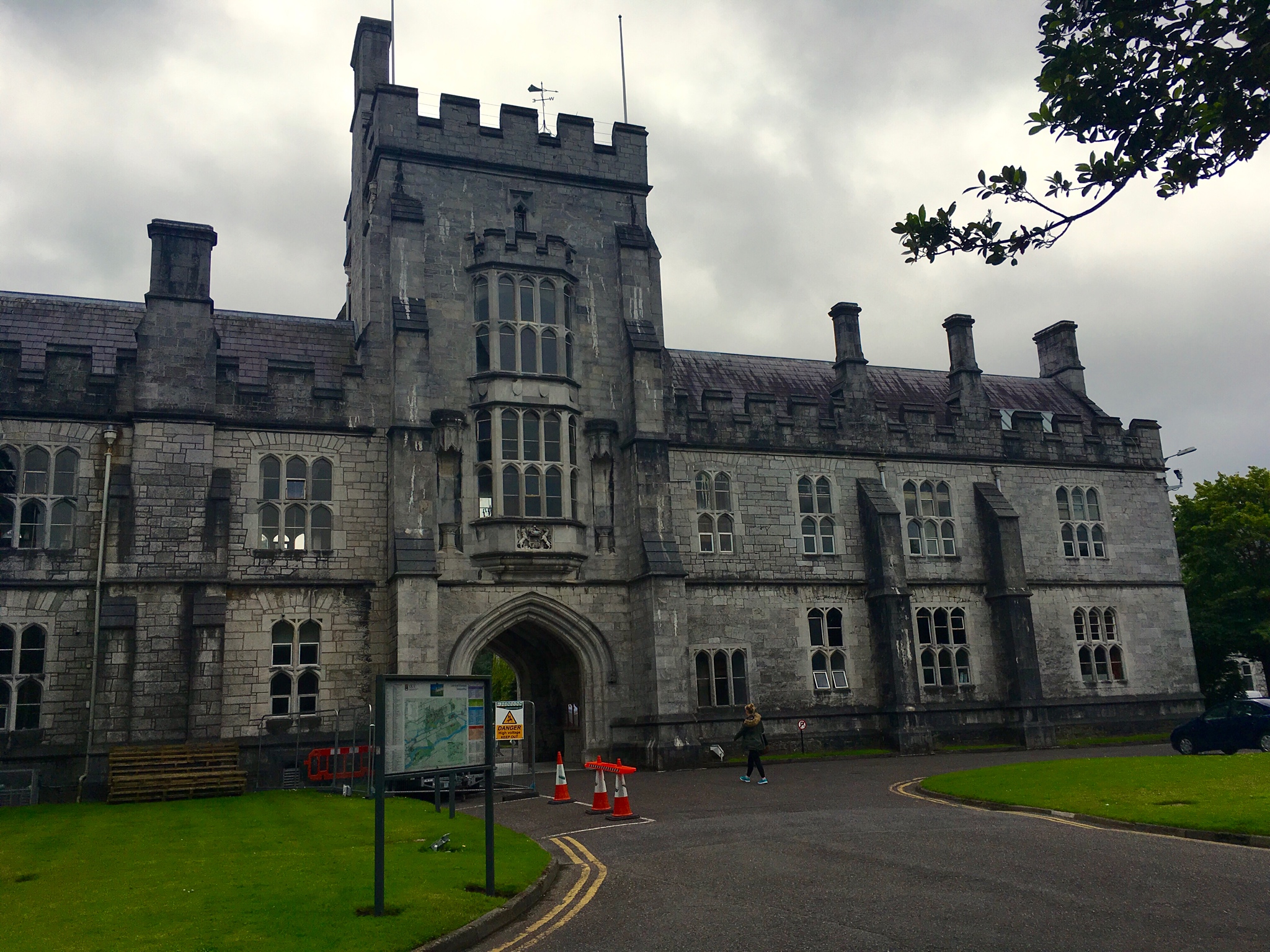 The main Quad
A meeting in the Aula Maxima in main Quad
Another large meeting room
The Honan Chapel
Unusual rounded ceiling and Windows inside!
I had not realized the connection of Cork to one of the legendary figures of mathematics, George Boole. His contributions are still having an impact today.
A group of Irish students sitting outside the student building were quite friendly, and agreed to be included here. This is Jessica.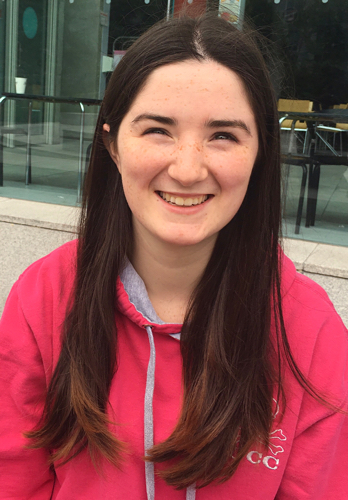 And this is Niamh (a Gaelic name).  Both girls and their friends told me that UCC is an excellent University. In July, it is on break, of course.
I walked back along the Mardyke Walk. This is a classic building, with a Tesla S parked in front. The old and the new.
The River Lee flows through Cork.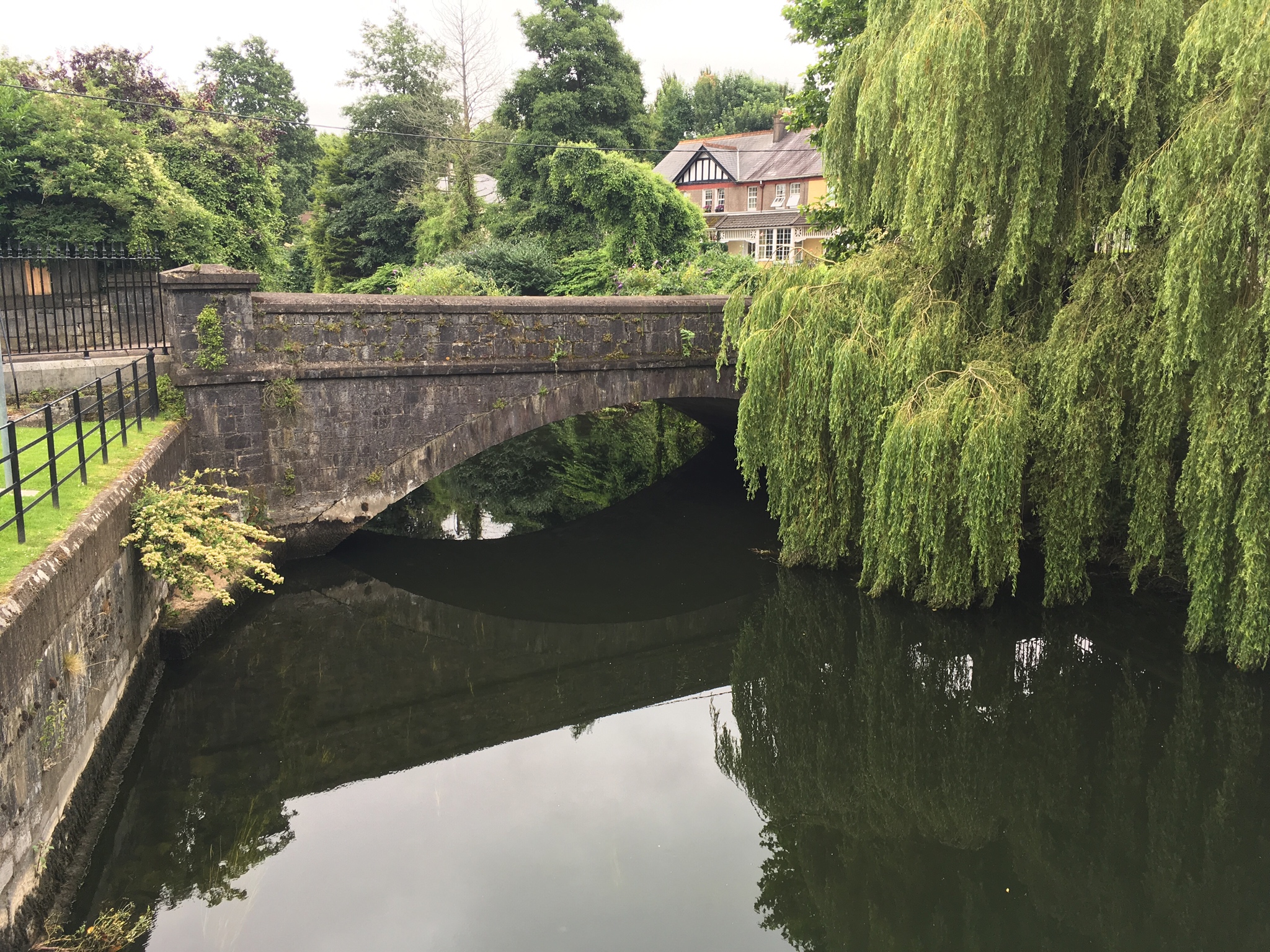 A rather unusual structural design for a pedestrian bridge over the River Lee.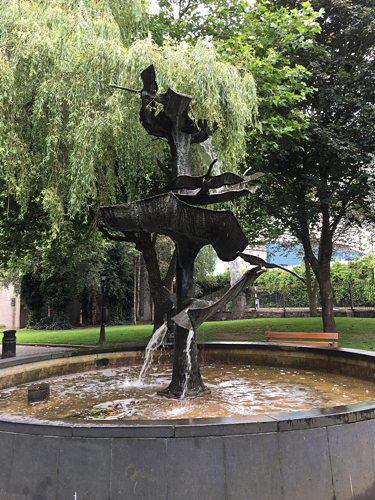 A sculpture at the Cork Airport
Ireland has no shortage of tall church steeples.
The River Lee is quite deep well into the middle of town, as this rather large ship proves.
I found Cork to be an attractive middle-size town. I actually liked it better on the whole than Dublin, which is more industrial.
Tomorrow, back to Dublin for a few days before departing for Portugal. I have added more pictures and comments to that post about those days.