December 2015
First, you make an hour long drive up a gravel road from Wanaka, fording numerous streams (if the water flow allows).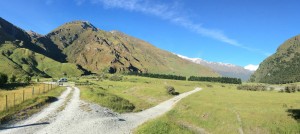 To the Raspberry Creek Parking Lot (trailhead). Mt. Aspiring off in the distance.
On our way to the Aspiring Hut.
Up the valley next to the glacial melt stream–bridge to Rob Roy Glacier ahead.
A side hike. I'll do this on the way back.
The trail passes through a sheep ranch along the way. Free range sheep?
Several icy streams to cross.
Almost there!
Aspiring Hut coming up.
Made of local fieldstone.
This area is a World Heritage Area.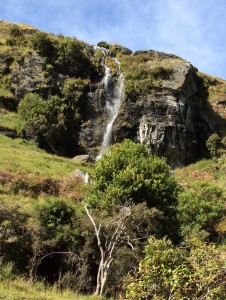 I saw more waterfalls in a few weeks in Fiordland than I have in the whole rest of my life.
Back down to the Roy Roy Glacier bridge. Time for a little side hike.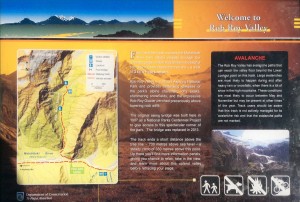 And you arrive at the hanging edge of the Rob Roy Glacier. It's big!
Which made for my biggest hiking day in NZ: more than 16 miles and 2500 feet climb.
Time for a nice hot bath!