South Kaibab trail, Grand Canyon
I stood on the south rim of the Grand Canyon several years ago, and marveled at its size, complexity and beauty. I decided to see it closer by rafting down the whole length of the canyon, 224 miles. The canyon is so popular now that the National Park Service limits the number of rafters allowed so as to preserve the natural beauty. You need to plan a year ahead, and go with one of the commercial outfitters who are authorized to make this trip. I choose one of the best, Canyon Explorations. Their 'hikers special' trip appealed to my desire to explore the many side canyons only accessible to rafters.
To get there, we had to cross the Colorado River at one of the few bridges.
Navajo Bridge 1928
Looking upstream from Navajo Bridge. The Colorado River was a lovely shade of clear green.
With our gear packed up in watertight bags, our six rafts were ready to launch.
This is not intended as a guide to the river, and the pictures are not in order. My purpose is to simply give a feeling for the incredible sights and variety.
I picked this time of year because the weather is cooler. In the summer, the canyon bottom swelters, often above 100°F. The weather was as expected, very pleasant temperatures. The humidity is extremely low, 10% or less being common, so everything, including your skin, dries out quickly . The water is always cold, as it comes out of the Glen Canyon Dam at about 52°F.
We camped on sandy areas next to the river, sometimes putting up our tents, other times sleeping under the stars. Every day, we'd pull in to a riverside camping area, and the whole group would help unload the gear and food before choosing a place to sleep. The rafting staff provided us with delicious, healthy meals. The sun was our clock: to bed at dusk, up at first light (about 5am), breakfast, pack up and head on down the river.
The rock layers are colorful, enormous and quite varied.
Periodically we would stop and hike into side canyons, sometimes climbing very high above the river.
Food was stored in these enclosures high above the river by local Indians.
View from the Granaries looking down the Colorado River.
We stopped to enjoy the warmer, colorful waters of the Little Colorado River
Another pretty outdoor sleeping spot. It never rained during our trip, only spitting on us briefly once, so you could safely sleep outside without a tent. There were few bothersome bugs, although sometimes big red harvester ants would resent you camping on one of their trails. In that case, a tent would keep you clear of them.
Local Indians chiseled petroglyph drawings into the rocks
Stalactites made of salt
Intrusive volcanic rock that cooled into black basalt rock. Each day, most of us waded into the river and rinsed off ourselves and our clothes. In the extremely low humidity, our clothes dried very quickly. You could do your laundry at night, hang it on the mesquite bushes, and it would be dry by morning.
Amazing side canyons to hike in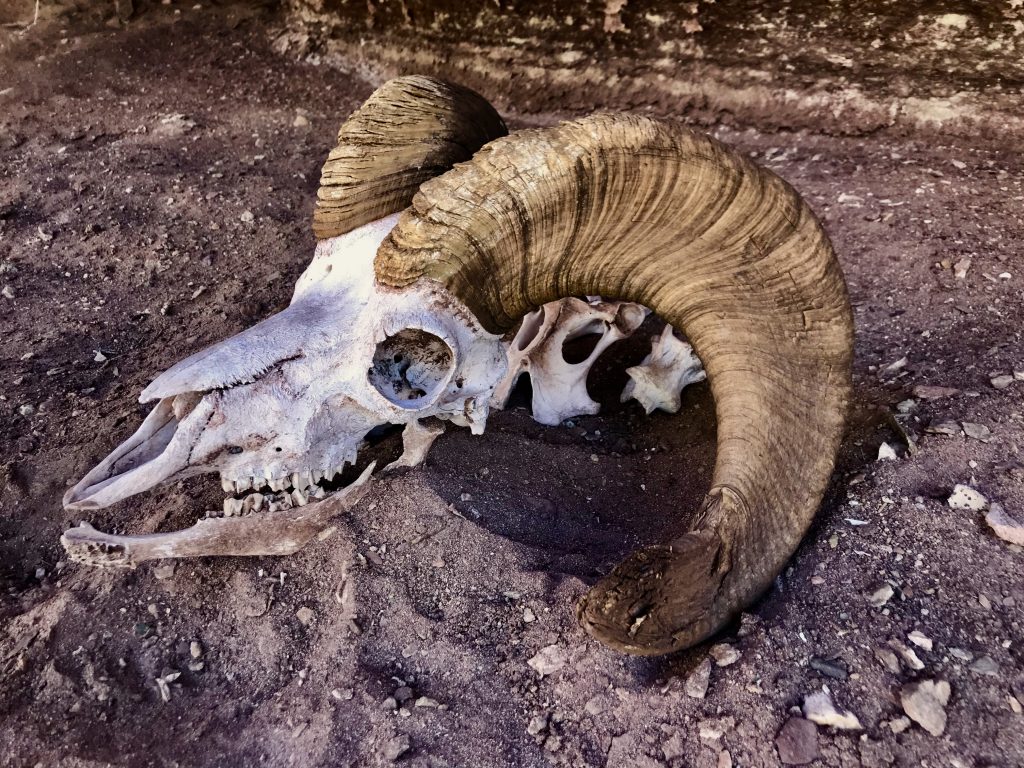 A Big Horn sheep
On the way to Thunder Creek falls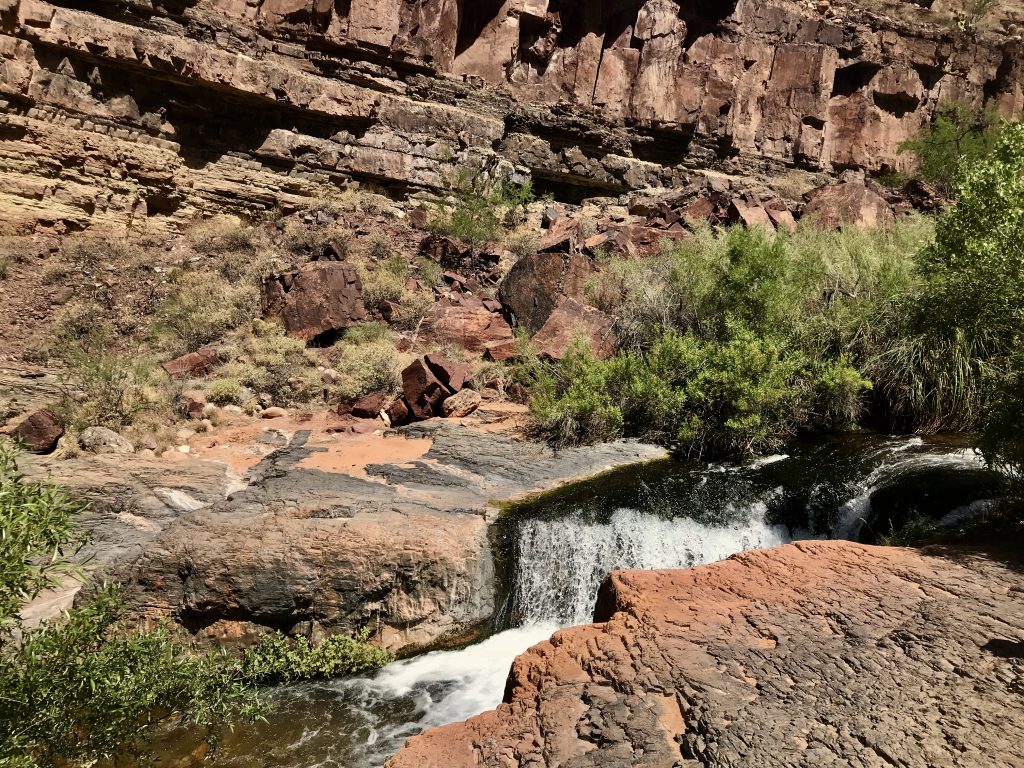 One of my favorite waterfalls anywhere…
Deer Creek falls
Just climb up and over this rock
Sam, our trip leader, shows how to squeeze up through a small opening
Scouting Lava Falls, difficulty 10 of 10
LAVA FALLS FLIP from Mel Malinowski on Vimeo.
Sam and Josh perform in the Grand Canyon from Mel Malinowski on Vimeo.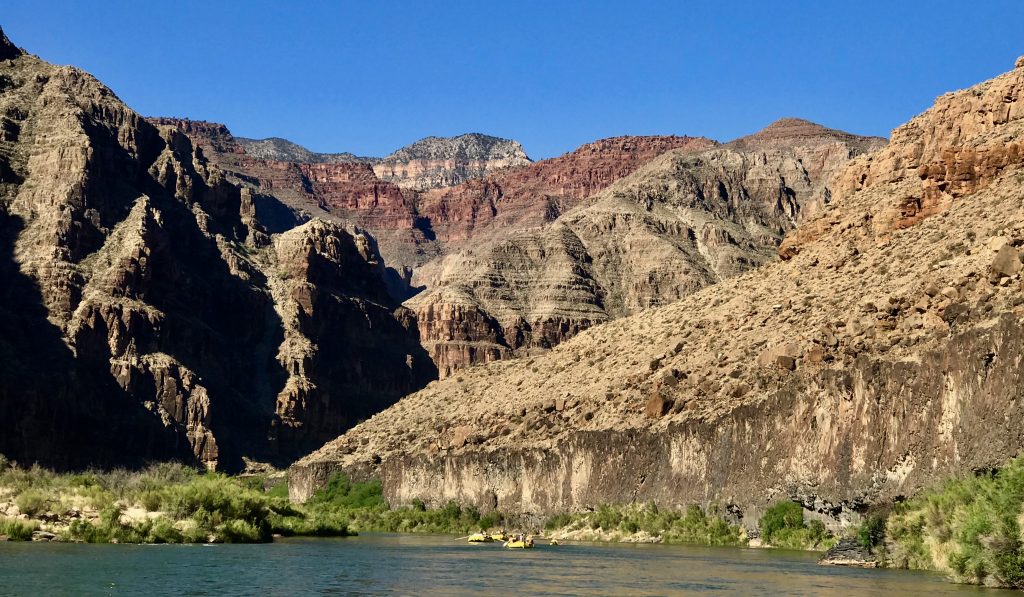 Diamond Peak, as we near the end of the trip. And what a trip it was!
It is simply impossible to convey how dramatic and unusual such a journey through the Grand Canyon is. It has to be seen to be believed. I hope this has given you at least a taste of the grandeur.